How to Open a Used Car Dealership in Georgia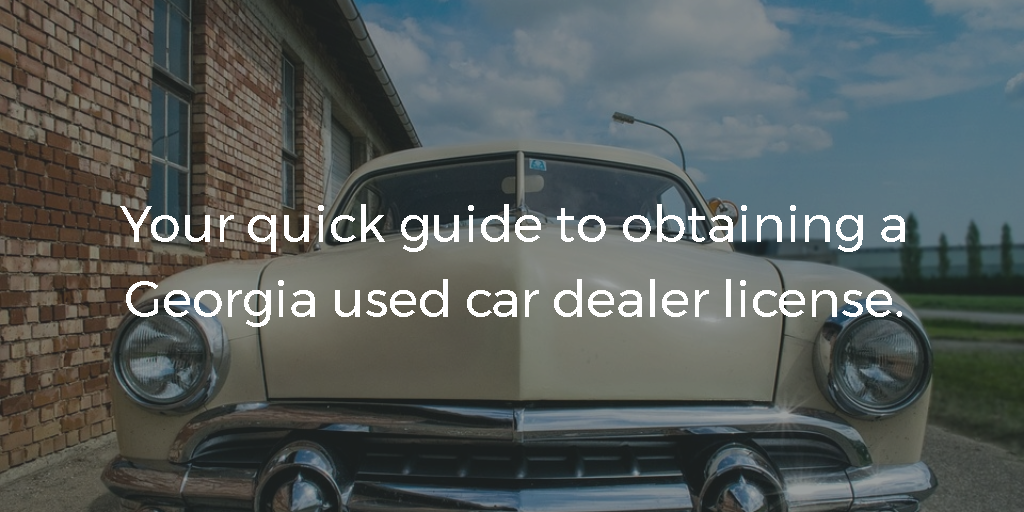 Are you considering starting a used car business in the state of Georgia? Everyone planning on selling 3 or more used vehicles per year in the Peach State must get a Georgia dealer license.
Note that in Georgia the new and used car dealer application processes differ. Used car dealers, also known as independent dealers, have to apply for a license at the Georgia Board of Used Motor Vehicle Dealers. The application process includes several different requirements which will be detailed in the guide below.
New car dealers in Georgia do not require an auto dealer license as they are franchisees and must have an agreement with a car manufacturer instead. Just like used car dealers, however, they must get registered with the Georgia Department of Revenue – Motor Vehicle Division.
Let's take a look at a more detailed breakdown of what you need, in order to open a used car dealership in Georgia.
Georgia Dealer License Application Requirements
Before downloading and filling your used car dealer application, you need to ensure you cover all licensing requirements. These include: taking a training course, establishing a place of business with a permanent sign, and setting up a landline phone.
Once you make sure you're eligible, based on the preliminary requirements listed above, you can go on and apply for the license. Here's a step-by-step guide to what you need to do:
1. Register a business
Before you can proceed with completing the licensing requirements, you must register your business entity at the Georgia Department of Revenue.
You can learn more about the registration process from the Quick Instructions Guide at the Department website.
2. Establish a place of business
You must establish a place of business for your dealership that complies with all local zoning requirements and ordinances.
Your place of business must include a salesroom or office and have a working landline phone that's listed in your trade name. You must also have a sign that makes it clear that this is a used car dealership.
Note that your dealership will need to pass an inspection before you are issued your license. If your dealership is not compliant with location requirements, your license application will be delayed until you become compliant.
You will need to submit a zoning compliance certificate as part of your license application packet, as well as photographs of your dealership.
3. Attend a pre-licensing seminar
You must attend a pre-licensing seminar with one of the Board approved education providers. These are E-Learning, GIADA, and Ron Widener.
4. Apply for a sales tax number from the Department of Revenue (DoR)
You need a sales tax number from the state DoR. See the detailed instructions on how to apply at the Motor Vehicle Division's website.
5. Pass a fingerprint-based background check
A fingerprint background check is a mandatory part of the Georgia used car dealer license application process. You must register at the website of the Georgia Applicant Processing Services website, and follow the instructions.
Note: If you answer any questions in the Background section of your application form, you must include further information about any convictions and arrests.
6. Obtain an original certificate of insurance
Liability insurance coverage is a central licensing requirement. You can either obtain insurance in the following amounts 50K / 100K / 125K or a single limit of $125,000.
Automobile liability only is not accepted, you must also have garage liability coverage.
7. Get a Georgia auto dealer bond
You must also obtain a Georgia auto dealer bond in the amount of $35,000.
This bond protects your customers and makes sure you will run your business in compliance with Title 43, Chapter 47 of the Georgia Code.
Keep in mind that the amount of the bond is not the actual cost you pay as a dealer. The final bond cost you will be paying is a fraction of the bond's amount, usually between 1% and 4%.
So, this means the bond premium for the $35,000 will be anywhere between $350 and $1,400 per year. The bond's overall cost depends on your general financial situation and mostly on your personal credit score. Get a free quote on your bond by completing the form below!
Get Your FREE Bond Quote Instantly
FREE Instant Online Quotes - All 50 States - All Credit Types
Get a FREE Bond Quote

Instant ballpark estimate

Tell us about your business

powered by

Get your FREE quote today!
8. Complete the Georgia used motor vehicle dealer application form
When you've completed all of the above requirements and have assembled all supporting documents, you can go ahead and complete the used car dealer application form.
Once you've completed the form, attach all supporting documents, and you are ready to submit it to the Board.
9. Submit your application packet and pay fees
You can now proceed with submitting your Georgia auto dealer license application. Send your application packet to the Board at the address below.
Make sure to include a $170 licensing fee in the form of a check made payable to the Used Motor Vehicle Dealer Board
State Board of Registration of Used Motor Vehicle Dealers & Used Motor Vehicle Parts Dealers
Used Motor Vehicle Dealers Division
237 Coliseum Drive
Macon, Georgia 31217
Processing your application may take about 15 days after its submission. You can check the License Verification page on the Board's website to determine if your license has been issued. If more than 15 days have passed since you have submitted your application, contact the Board to inquire about it.
Georgia Dealer License Renewal
Used car dealers in the state of Georgia are required to renew their licenses every other year. It's important to remember that licenses expire on March 31 of even-numbered years. That means the license is valid for 2 or years less, depending on the date of issue.
You can learn more about the renewal process from our Georgia dealer license renewal guide.
If you have any questions about getting a Georgia auto dealer bond, feel free to contact our experts at 866.450.3412!
---