How to Get Your California Auto Dealer License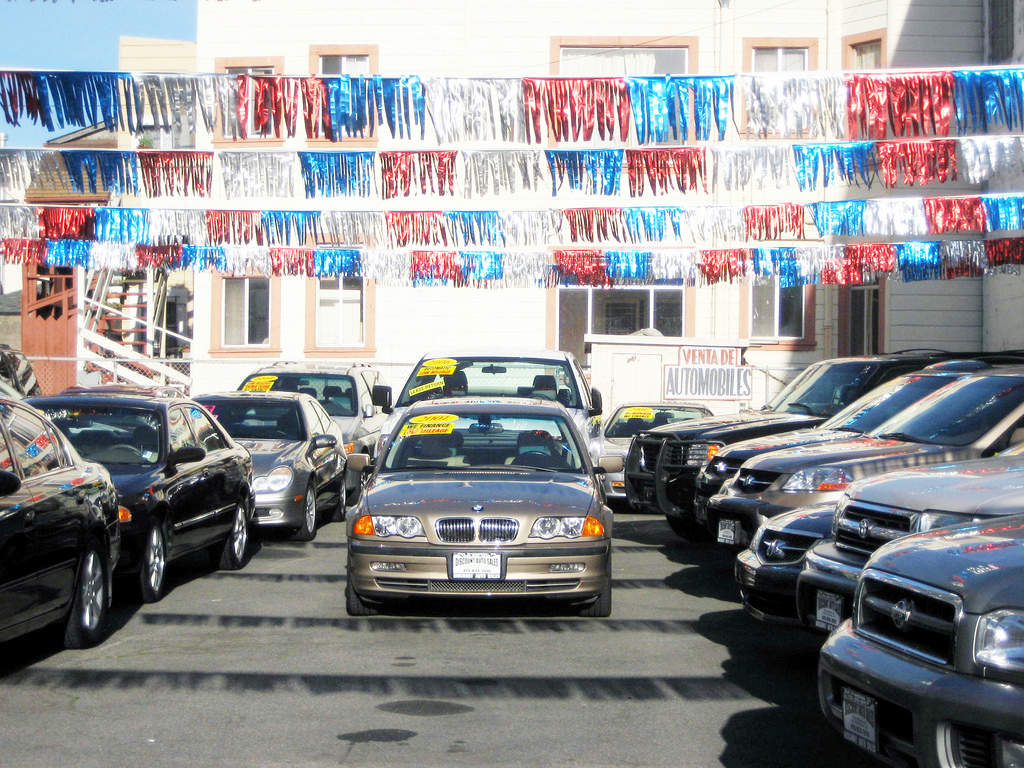 Becoming a licensed auto dealer in any state usually involves a lot of thorough preparation. Getting an auto dealer license in California is no different. Numerous applications need to be filled in, relevant additional documents submitted, and sometimes an applicant even has to go through an educational program.
In order to avoid the DMV's overly complex descriptions, we've prepared a breakdown of the most important aspects of the licensing process. This will prepare you and help you get an auto dealer license in California more smoothly.
Learn how to start your own car dealership and even more details about the licensing process by downloading our FREE ebook guide!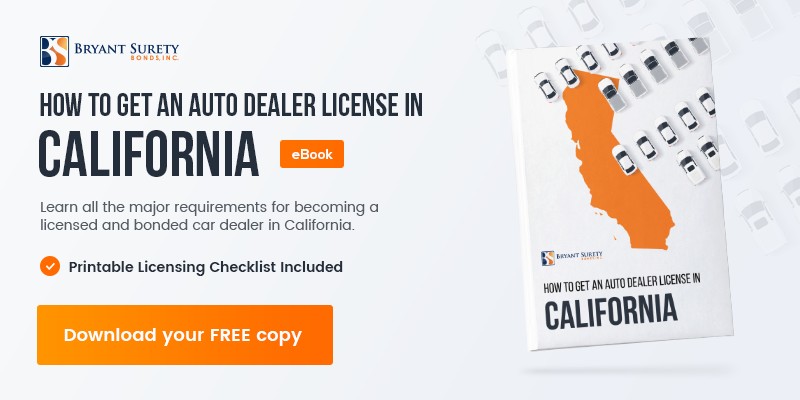 Read on below to find out what steps you need to take to get your California auto dealer license and your California auto dealer bond.
Step #1: Understand which California Auto Dealer License you need
Depending on the type of license you are applying for, there are certain differences in the application process. The California Department of Motor Vehicles (DMV) specifies 4 different types of licenses.
If you plan on selling only new cars, you will have to apply for a new dealer license. If, on the other hand, you plan on selling used cars, or you want to be a wholesale dealer or an auto broker, the licensing process and application are somewhat different.
Step #2: Applying for your California Auto Dealer License
New Dealer Licenses
If you are applying for a new dealer license in California, you can begin by reviewing the New Dealer License Checklist provided by the DMV. The application process for a new dealer license involves completing and submitting a number of documents, such as:
an application for original occupational license part C
an original application for occupational license Part A
a California auto dealer bond form underwritten by an agency such as Bryant Surety Bonds
an authorization form
property use and zoning verification form
a personal history questionnaire
a certificate of the proposed franchise
a number of other documents
All of these documents can be found bundled together as New Dealer Application Forms, but the DMV's website also offers them as separate documents.
A guide about the information you need to provide to fill in your application can be found here. This will include photographs of the physical location, all of which are described in a detailed manner in the above guide.
Once you take care of these, you will have to pay your application fee and a few other fees, and then you can submit your application.
Used, Wholesale and Autobroker Dealer License
The most significant difference between applying for a new dealer license and a used dealer license or a wholesale dealer license is that for the latter two there's a requirement to undergo a dealer education program.
Applicants for these two licenses must go through an educational program at one of the following DMV education providers in California. They will also have to pass a written examination upon completing the program, as you can see on the checklist for used, wholesale and autobroker dealer licenses. Furthermore, those who have such licenses are also obliged to attend continuing education programs every two years in order to keep their licenses.
A link to the bundled application forms for those licenses can be found here.
Step #3: Get your California Auto Dealer Bond
Part of the licensing requirements for California auto dealers is that they are bonded through a surety bond agency. Surety bonds are an important part of the licensing process for many types of businesses. Their main purpose is to provide a guarantee that auto dealers will act according to industry standards and state regulations.
They also offer financial protection and compensation for obligees, i.e. for the public and the state, if an auto dealer is found to be dishonest or has not complied with state regulations. This is why all auto dealers need to obtain a California auto dealer bond before they can go into business.
To get an exact surety bond quote, complete our online application form below. It takes 2 minutes and it's completely free.
Get a FREE Auto Dealer Bond Quote Today!
No Obligation - Fast and Secure - All Credit Types
Tell us about your business

powered by

Get your FREE quote today!
Step #4: California Auto Dealer License Application Fees
The application fee for your license is $175. There are a number of additional fees you may have to pay, depending on the type of license you are obtaining.
There is the $300 New Motor Vehicles Board fee, which applies to new dealers and there are also fees for dealer plates but their exact amount will depend on the number of plates. There are also fees for additional branch locations but these, too, are dependent on your particular case.
Step #5: Submitting Your Application
Once you pay your fees, get bonded, and submit your application, the DMV may take up to 120 days to review your application and contact you about the result. During this time, the department will most likely perform site inspections to check whether you comply with all licensing requirements.
Need Help Getting Bonded?
Bryant Surety Bonds is able to underwrite auto dealer bonds in California and can help you get bonded! We also have a bad credit program for applicants who have less-than-perfect credit and all our rates, both standard market and bad credit ones, are among the lowest in the state.
Give us a call at (866) 450-3412 or contact us through our website if you would like to know more. We will be happy to help you out and respond to any questions you may have about California auto dealer bonds!
---