Georgia Implements New Bond Rules for Oil and Gas Well Permits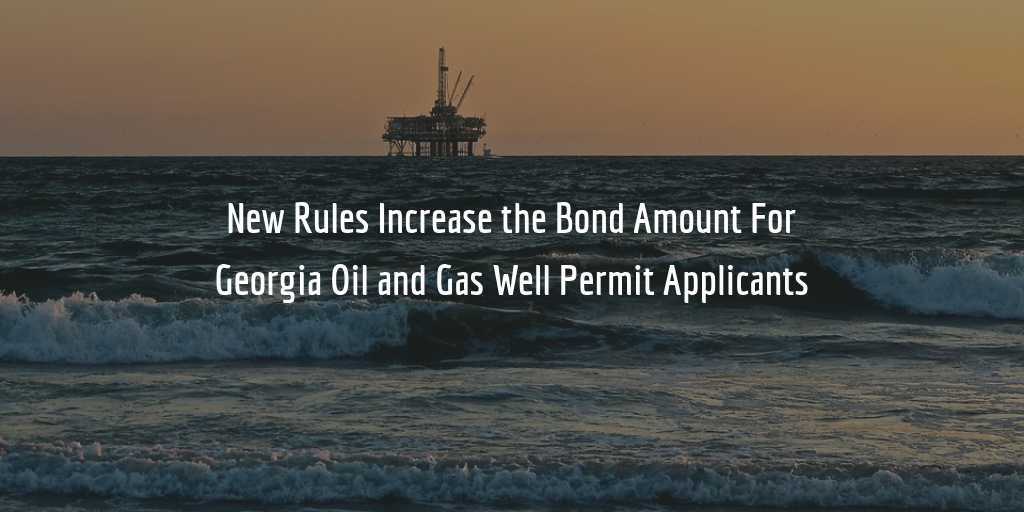 Several months ago, the state of Georgia introduced new rules for oil, gas and deep drilling operations.
Among other things, these rules changed the permit requirements for such operators, including the amount of the oil and gas surety bond that permit applicants need to provide. They also introduced a comment period that will allow the public to comment on the issuance of any particular permit.
To learn more about these amendments and the new Georgia oil and gas wells bond requirements, see below!
Amendments to Georgia Oil and Gas Drilling Rules
As of July 2019, Chapter 391-3-13 of the Rules of the Department of Natural Resources has been amended. This chapter applies to permits issued to oil and gas, and deep drilling operations in the state by the Environmental Protection Division (EPD), part of the Department of Natural Resources (DNR).
New surety bond requirements
The most significant change to the chapter is the requirement for permit holders to submit a surety bond before they can commence work on a well. Previously, bond amounts for operators ranged between $10,000 and $40,000, depending on the depth of the well they were permitted to drill.
Now, bond amounts have been increased in the following way:
$20,000 bond for depths of less than 5,000 feet

$40,000 bond for depths between 5,000 and 10,000 feet

$60,000 bond for depths between 10,000 and 15,000 feet

$80,000 bond for depths over 15,000
Moreover, if a well operator or owner wishes to keep a well open for testing after its drilling rig has been removed, the Director of the Division may require them to post an additional $25,000 bond. 
Finally, applicants for permits for multiple wells are also allowed to submit a blanket bond in the amount of $100,000.
Other amendments
In addition to changing the bonding requirement, the new rules also introduce several other changes:
License fees for well permits are increased from $25 to $500

More detailed illustrations and narrative material need to be provided by permit applicants

In addition to general requirements, applicants for hydraulic fracturing operations must provide further details about their planned operations

A public notice will be posted on the Division's website for every permit application received by the Director; this will begin a 30-day public comment period which will allow citizens and anyone who may be impacted by such operations to submit comments

Permits expire one year after they have been issued if spudding operations on a well have not begun
Georgia Oil and Gas Well Bond Requirement and Cost
The bond required of permit applicants is intended to guarantee their compliance with the rules inscribed in Chapter 391-3-13. The amount of the bond depends on the depth of the well for which a permit is issued.
The cost of the bond is equal to a fraction of its full amount. Depending on applicants' credit score, and certain other financial factors, the cost of getting bonded may vary between 1% and 5% of the total bond amount.
You can get a free and precise quote on your bond by clicking on the banner below and completing our bond form. If you have any further questions about getting this type of bond, call us at 866.450.3412 anytime!
---