How to Get a DC Motor Vehicle Dealer License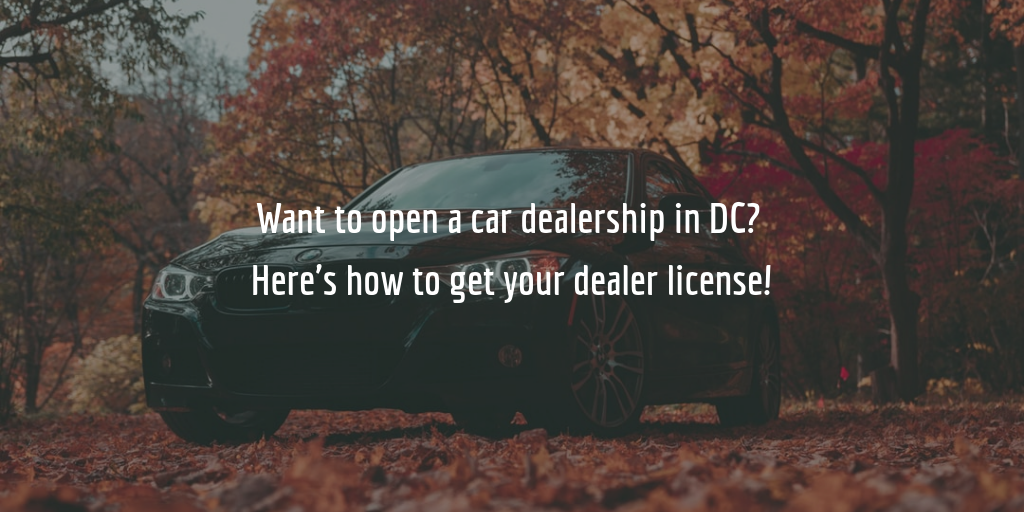 To become a dealer of new or used vehicles in D.C., you must apply for a basic business license at the Department of Consumer & Regulatory Affairs (DCRA) and then for a dealer registration at the Department of Motor Vehicles (DMV).
Obtaining your DC auto dealer license and registration will require you to complete a number of steps. This includes registering your business, providing a criminal history report, posting a $25,000 auto dealer bond, and several others.
For a detailed overview of the licensing and registration process, see below!
How to Get a DCRA Basic Business License
To get a DCRA basic business license in the motor vehicle dealer category, you will need to complete a list of requirements. This includes both individuals who wish to sell new and used vehicles. The process is as follows:
1. Register your business
You will need to register your business with the Corporate Division of the DCRA as a prerequisite to applying for a license.
2. Get a clean hands certificate
To certify that you do not owe more than $100 to the government of DC, you will need to complete the Clean Hands Self-Certification.
3. Apply for a tax number
As a dealer, you will require a tax number. To get a tax number, you will need to complete the FR-500 New Business Registration. As part of your application, you may be asked to provide a FEIN, a Federal Employer Identification Number which you will require if you will be hiring other people to work at your dealership. You can get a FEIN by applying online at the Internal Revenue Service.
4. Obtain an occupancy permit
To operate your dealership in a certain location, you will need a certificate of occupancy provided from the Office of the Zoning Administrator. The certificate guarantees that your dealership is in compliance with local building and zoning codes.
5. Apply for a criminal history report
To successfully obtain your business license, you will need to get a police criminal history report. If you are in a partnership, then the president, vice president, secretary, and treasurer must all provide such a report.
Residents of DC must get their report from the DC Metropolitan Police Department, Police Criminal History Report Division, whereas non-residents must apply at their local jurisdiction.
6. Provide a car order and bill of sale
Prepare a blank preprinted sample of your car order, bill of sale and/or conditional sales contract. You can find samples of these on the DCRA website and you will need to submit them along with your license application.
7. Attach a certified letter of authorization
Anyone in a corporation who will sign a car order, bill of sale or sales contract must provide a certified letter of authorization as part of the license application.
8. Provide a list of salespersons and a salesperson designation letter
You must attach a list of your salespersons to the application, along with a motor vehicle salesperson application for each of them. The application is available at the DCRA dealer licensing website. At a minimum, at least one such application must be submitted.
9. Obtain an auto dealer surety bond
All applicants for a dealer license must get a $25,000 surety bond as a form of financial security.
10. Submit a land plat
If your dealership will have any outdoor facilities, you will also need to submit a plat that accurately identifies the property which you will use.
11. Complete your license application and pay a licensing fee
You can submit your application, along with all additional documents either online, in person, or via mail. Along with your application, you will also need to pay a total fee of $556.60.
Once you have applied, it may take up to 30 days for the Department to check your documentation and approve your license.
How to Become Registered as a DC DMV Dealer
The dealer registration at the DMV is much simpler than the licensing process. For your registration you will need to submit the following:
Your Clean Hands Certificate

Your basic business license from the DCRA

Your occupancy permit

A copy of your federal tax ID form

A copy of your driver's license or other ID

Each salesperson's DCRA license

A copy of salespersons' driver's license or other ID

Proof of your

dealership's insurance coverage
Once you have all of these at hand, you can proceed with completing and submitting your DMV registration online. Make sure to print and notarize your application when you submit it.
After submission, you will receive an email from the DMV for an appointment date at which to finalize your registration. At the time you will need to bring along all of the documents required for the registration as well as your notarized application.
DC Auto Dealer Surety Bond Requirement
Applicants for a dealer license in DC are required to post a $25,000 surety bond as a guarantee that they will comply with the DC Code and the DC Municipal Regulations (DCMR). The bond thereby serves as protection for the government of the District of Columbia and the public if a dealer should violate any of the laws that apply to them.
To get bonded, applicants for a DC auto dealer license don't need to pay the full amount of the bond. The cost of getting bonded is equal to a small percentage of the full amount. That percentage is based mainly on how high or low your personal credit score is. The higher your score, the cheaper it will be for you to get bonded.
Want to know how much your bond premium will be? Get a free and exact quote on your bond by completing our quick bond form.
Get a FREE DC Auto Dealer Bond Quote Today!
No Obligation - Fast and Secure - All Credit Types
Get a FREE Bond Quote

Instant ballpark estimate

Tell us about your business

powered by

Get your FREE quote today!
For any additional questions about getting a DC auto dealer bond, call us at 866.450.3412!
---