How to Get a Money Transmitter License in Texas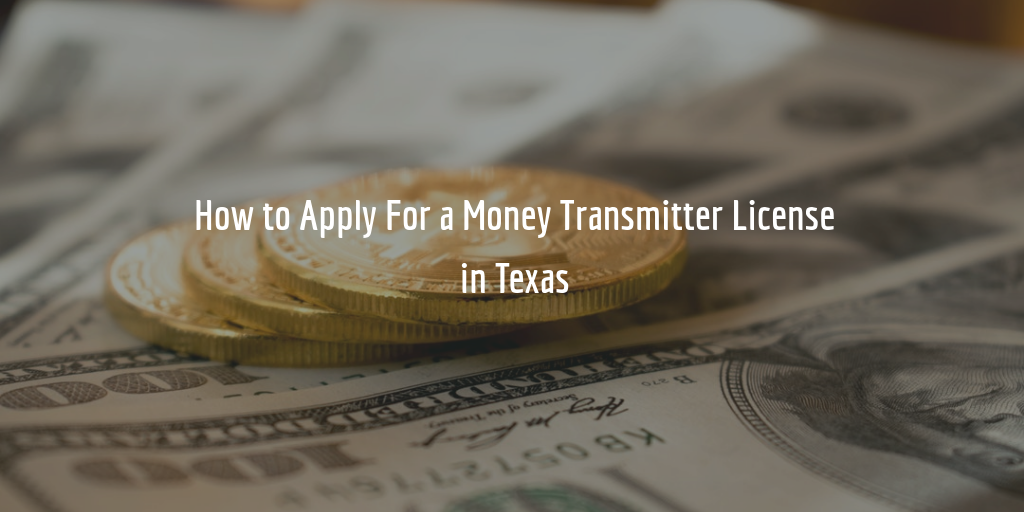 Anyone who wants to conduct business as a money transmitter in Texas must obtain a license from the Texas Department of Banking (TX-DOB). To apply for a license, applicants must use the Nationwide Multistate Licensing System & Registry (NMLS) platform.
During the application process, you will be required to comply with various licensing requirements. These include the submission of several forms, maintaining a certain amount of net worth, and posting a money transmitter surety bond.
See the sections below for a step-by-step guide for getting a money transmitter license in Texas.
Who Needs This Type of License?
Chapter 151 of the Texas Finance Code defines money transmission as involving the:
Selling or issuing stored value or payment instruments

Receiving money or monetary value for transmission

Providing third-party bill paying services

Transporting currency
According to the Code, anyone who wishes to engage in any of these activities in Texas must obtain a money transmitter license.
How to Apply For a Texas Money Transmitter License
Before you can apply for your license, you first need to register at the NMLS website. Once you have access to your personal profile, you can begin with the application process.
As you can see from the checklist provided by the NMLS, there are several different types of requirements you will need to cover. First, there are a number of forms you need to complete within the NMLS system itself. Second, there are some documents that you need to attach to your NMLS application online. Third, you must mail several additional documents by mail to the Texas Department of Banking.
The following is a list of the forms and documents you need to complete and submit through the NMLS. Below them, you can find an additional list of the items you need to mail directly to the TX-DOB.
Company form MU1 (primary application form) which includes information such as:
Individual form MU2 (required for applicable control person, executive officers, directors, and responsible individuals) which includes:

Disclosure questions for every person in the form with detailed explanations for every "yes" answer
A criminal background check authorized through NMLS

An Anti-Money Laundering (AML) / Bank Secrecy Act (BSA) policy that complies with Title 31 Code of Federal Regulations §1022.210

Financial statements (must illustrate net worth)

Interim financials (required if your fiscal year ends 120 or more days prior to the date of application)

A detailed business plan

Prepaid access plans, virtual currency, and accelerated payment programs (if applicable)

Certificate of Authority

Formation documents

Samples of the documents you will use in the regular course of business

A Flow of Funds Structure that describes every type of transaction or service you will conduct

Management and organizational charts

A surety bond in amount between $300,000 to $2,000,000 (see bond section below)
The above is, in a nutshell, all the information you will need to complete or submit to NMLS. On top of that, you will also need to mail the following to the TX-DOB:
A copy of the NMLS Texas money transmitter license checklist

Your original surety bond (if a paper bond, otherwise you can submit an electronic surety bond through NMLS)

A list of your business locations and information about them

A list of other jurisdictions in which you operate or want to operate

Information about the business you have already conducted in Texas (if applicable)

Evidence of your FinCEN registration

Various supplemental forms

A statement of commitment to provide the required security

An ACH Debit form

A certification of regulatory compliance form

A letter from your bank's compliance officer
You can find links to the official forms for all of these documents in the NMLS checklist. You must mail these completed forms to the TX-DOB at the following address:
Texas Department of Banking
Corporate Activities Division
2601 North Lamar Blvd. Austin, TX 78705-4294
Finally, you must pay a $10,000 filing fee upon submitting your application. Pay great attention to the requirements for your submission, because your application may be returned if it is not completed correctly.
Once you've submitted your application, you can expect to hear from the DOB within a few weeks time about the issuance of your money transmitter license.
Surety Bond Requirement for Texas Money Transmitters
Applicants for this type of license must post a surety bond as part of their application.
The amount of the bond must be the greater of $300,000 or 1% of the transmitter's total yearly dollar volume of transmission in Texas or the projected amount for the first year (for first-time applicants). The maximum amount of this bond is set to be $2,000,000.
The amount of your bond is not the same as the cost of your bond. The cost of your bond is determined by the surety when you apply. It is primarily based on your personal credit score . Want to know how much your bond will cost? Complete our bond form below and we will provide you with a free and exact quote on your bond.
---