How to Get a Nevada Contractor License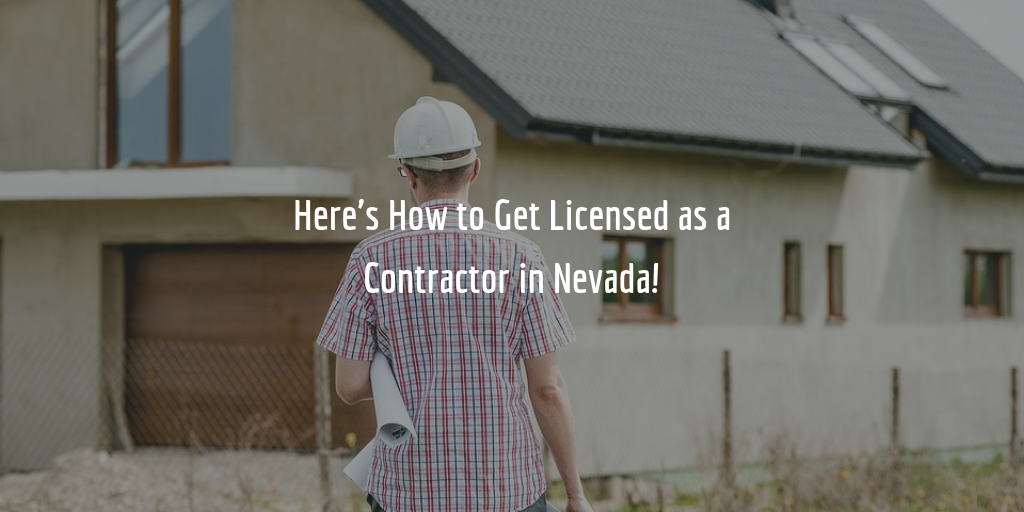 To perform any work as a contractor in the state of Nevada, you must get licensed. Licenses are issued by the Nevada State Contractors Board after an application is submitted, along with the completion of all other licensing requirements. Among other things, applicants must also submit a Nevada contractor license bond in order to finalize their application.
For a simple and straightforward guide on applying for your Nevada contractor license, see below!
Cover Pre-licensing Requirements
To qualify for a contractor license you need to have at least four years of experience in the contractor classification that you will be applying for. Experience must be either as a journeyman, foreman, supervisor or contractor.
You may also be able to satisfy up to 3 years of experience by providing proof of education, technical or apprenticeship training at an accredited college or university.
If you have the necessary experience to qualify for a license, you can proceed with the following steps.
Obtain a Nevada Business ID Application
Prior to applying for a contractor license, you will need to file for a business ID. You can get your Nevada state business license and ID through the Business Portal's website. Once you have completed this process, you can start with your application.
Choose a Nevada Contractor License Classification
When applying for a license, you will need to pick a contractor license type that you want to obtain. There are three classes of licenses and each of them has numerous subtypes (specialty classifications). The main classes are:
Class A – General Engineering Contractor
Class B – General Building Contractor
Class C – Specialty Contractor
While Class A and B are primary and each has a number of subclasses, Class C includes 36 separate primary license classes, each of which has several subclasses.
You can view a complete list of all classifications and subclassifications in Chapter 624.140 of the Nevada Administrative Code. If you want to obtain different primary license classifications, you need to submit separate applications. If instead, you want to apply for one primary classification and several of its specialty classifications which you qualify for, you can do so with one application.
Complete Your License Application
To continue with the application process, complete the Nevada contractor license application form along with all forms included in the document. During this step you will need to provide:
Business name and address, as well as employee information

At least 4 reference certificates for any trade qualifier, i.e. for any classification, you are applying for

A detailed resume of experience

A business statement, as detailed in the application form

Fingerprints, a background check, and financial disclosures

Additional documents
Once you have completed the application form, you will need to submit it to one of the offices of the Nevada State Contractors Board at the addresses listed on the application. When submitting your application, you also need to pay an initial non-refundable $300 application fee.
Pass a License Examination, Submit a Surety Bond and Insurance
After you submit your application, you will need to wait for it to be approved by the Board. When you receive approval, you will be required to pass a business and law exam and a trade exam. Certain applicants may be able to waive the exam requirement. To find out whether you might be able to do so, you will need to contact the Board.
Upon approval, you will also need to submit a contractor license surety bond in an amount determined by the Board. The amount of the bond may vary between $1,000 to $500,000 and is influenced by the type of license you are applying for, the monetary limit of the license, your experience, and more.
At that point, you will also need to submit proof of Industrial insurance coverage (Workers' compensation), as well as register with the state Residential Recovery Fund.
Finally, you will need to pay a licensing fee of $600 which will cover your licensing costs for two years.
If you require more specific information about the license requirements for contractors in Nevada, see here for a detailed explanation of all requirements and exemptions.
Nevada Contractor License Bond Requirement
The surety bond required of contractors in Nevada is intended to guarantee their compliance with Chapter 624 of the NAC. In particular, the bond is put in place to guarantee that compensation will be made available to claimants in several instances.
A claim against a contractor bond can be made:
If a contractor enters into a contract and does not perform according to its conditions, and causes losses or damages to the person having contracted them

If they do not pay their employees or material suppliers

If anyone is injured due to an omission or violation of a contract
In any of these cases, a claim can be filed against the bond to secure compensation which can be as high as the full amount of the bond itself.
The cost of the getting bonded is not the same as the amount of the bond though. Your bond premium, or rate, depends on several factors, among which your personal credit score is the most important. Applicants with high credit scores, above 700 FICO, are typically offered the lowest rates. Rates for these applicants can be as low as .75%-1.5% of the full bond amount.
To find out how much your bond will cost, complete our bond application form below and we will contact you with a free and exact quote! It takes 2 minutes and it's completely free.
Get a FREE Contractor License Bond Quote Today!
No Obligation - Fast and Secure - All Credit Types
Get a FREE Bond Quote

Instant ballpark estimate

Tell us about your business

powered by

Get your FREE quote today!
If you have any further questions about getting a contractor license bond in Nevada, call us at (866)-450-3412!
---