How to Get a Landscape Contractor License in North Carolina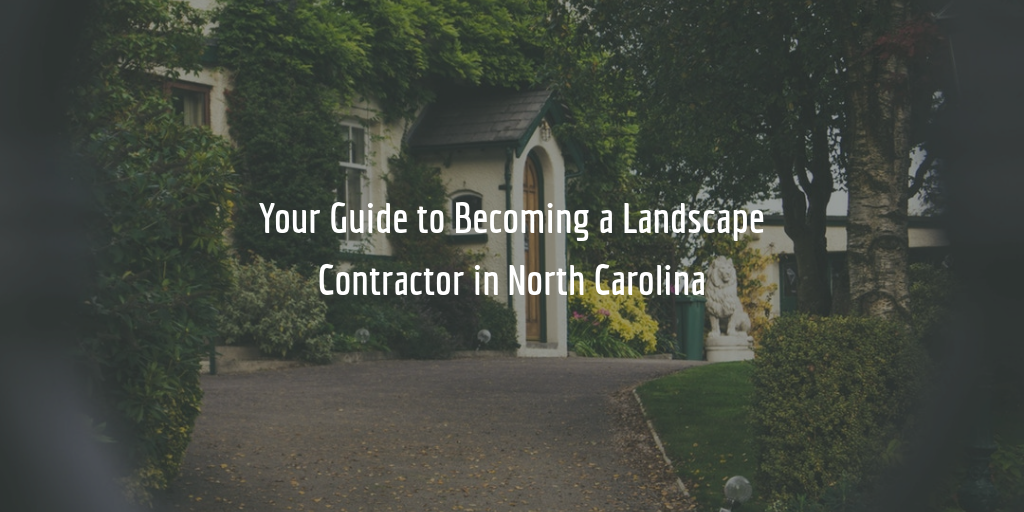 To perform work that falls within the category of landscaping, individuals in North Carolina require a license. This license is issued by the NC Landscape Contractors' Licensing Board (NCLCLB).
To get licensed, applicants need to complete a number of application requirements, such as to provide a landscape contractor bond and pass an examination.
Keep reading for a step-by-step guide on how to get your North Carolina landscape contractor license.
Who is Required to have a Landscape Contractor License in NC?
§89D-11 of the NC Landscape Contractor Licensing Statutes defines the specific type of work which falls within the definition of landscape construction and contracting. Accordingly, to perform this type of work, a landscape contractor license is required if the value of the work performed is $30,000 or more.
Moreover, landscape contractors are not allowed to perform any tasks or work that are legally defined as being part of the role of general, electrical, plumbing or other contractors.
For example, a general contractors license will be required on projects of $30,000 or more where the work performed by a landscape contractor does not fall within the definition of decorative utilitarian treatment as defined by the statutes.
Landscape Contractor License Application Process
The application process consists of several simple steps. These are the following:
#1 Complete your application form
To begin, you need to complete the relevant license application form. Licenses can be individual or corporate. To obtain a corporate license, you must have at least one individually licensed landscape contractor!
As part of the individual application form, you are required to provide:
3 personal references in a sealed envelope with complete contact information of the people providing them

2 professional references in a sealed envelope with complete contact information of the people providing them
*Note: People providing one type of reference may not provide the other type of reference as well
#2 Attach an original surety bond
Before submitting your application, you must attach an original landscape contractor surety bond in an amount of $10,000. It is important that you attach the original and not a copy.
Estimate your surety bond cost with our free surety bond cost calculator.
Surety Bond Cost Calculator

Tell us where to send you your
FREE

estimate

SEND ME MY ESTIMATE!

We'll never share your information with third parties

Thank you

for your request!
The ballpark estimate on your premium is: $100 - $167
We've sent a copy of your estimate on your email as well.
Want an exact quote? Simply fill out our online application It's fast and 100% free!
Get a free exact quote
Get another estimate
Please call one of our surety bond experts at 866-450-3412 if you need any further information about your surety bond.
#3 Pay an application fee and submit your documents
You need to pay a $75 application fee along with submitting your application. Once you submit your application, the Board will review it for its accuracy as well as consider the provided references.
#4 Schedule and pass a licensing exam
After the Board reviews and approves your application, you will be notified that you are eligible to take the landscape contractor licensing exam. You can then go ahead and schedule an exam, along with paying a $150 exam fee.
The exam will be based on the information provided in the professional study manuals. The exam includes parts on general knowledge, plant ID, and site plan.
#5 Pay a license fee and receive your license
You will be notified upon passing your exam. In order to complete the application process and become a licensed North Carolina landscape contractor, you will need to pay a $60 license fee.
#6 License renewal process
Licenses are renewed yearly by August 1. If you do not renew your license by that date it is revoked.
To renew your license, you need to have completed 7 hours of Board Approved Continuing Education (CE) throughout the licensing year. You need to submit proof thereof along with your license renewal application.
Licenses that are revoked can be reinstated against a $100 reinstatement fee, a $60 renewal fee, and a $25 late renewal fee. You must also complete 7 hours of CE in order to reinstate your license. Note that the 7 hours of CE required to reinstate a license are in addition to the 7 CE hours required to renew your license!
Surety Bond Requirement for Landscape Contractors
A $10,000 surety bond is required of all applicants for a landscape contractor license in North Carolina. Here's how much it may cost to get bonded, and why applicants required this bond.
How much does the landscape contractor bond cost?
The cost of your bond is equal to a percentage of the total amount of the bond. It is determined on the basis of your personal credit score. Sometimes, other factors such as your personal or business financial statements may also be taken into account by the surety.
Applicants with a high credit score, one of 700 FICO or above, can expect to get the lowest possible rates on their bond. For this type of bond, such applicants may be able to get bonded for as little as $100.
Why is this bond required?
Applicants North Carolina landscape contractor license need to furnish this bond as a guarantee that they will comply with the provisions of the North Carolina General Statutes.
The bond further guarantees that any defect to work performed by the contractor due to a violation of the statutes must be remedied. Such remedy must occur within one year of its performance, and within 48 after receiving notice from the Board.
Want to get a free and exact quote on your bond? Complete our bond form, and we will get in touch with you shortly!
---