How to Get an HVAC License in North Carolina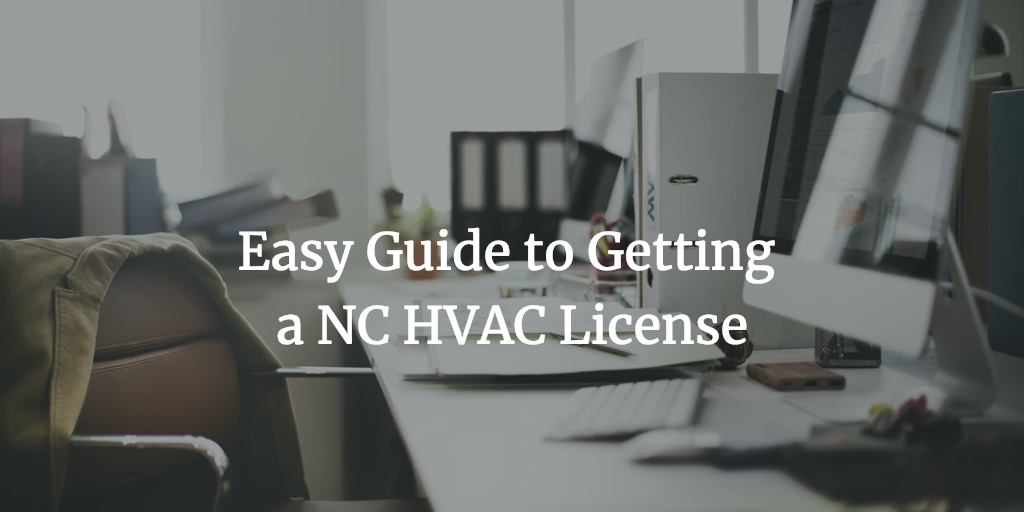 If you're mechanically minded and enjoy physical labor, being an HVAC technician can be a great career. However, if you want to enjoy all the perks of being an HVAC technician in North Carolina, you need the right licenses. Keep reading to learn all the details about how the licensure process works in North Carolina.
Who Needs an HVAC License?
North Carolina has fairly strict rules about who can and cannot work on HVAC equipment. Anyone who wants to independently perform any work on an HVAC system in exchange for money must have a license. Unless you are a licensed technician, you cannot work without supervision, start your own business, or get hired at any reputable HVAC company.
Operating without a license is a very serious crime in North Carolina, so you should not work unless you have the appropriate credentials. Operating without a license can result in serious fines and bar you from getting a real license in the future. Depending on your situation, it can also count as fraud and result in fines and/or imprisonment.
The State License Types
To understand the North Carolina licensing process, it's important to understand their licenses. North Carolina actually offers six different HVAC licenses. Depending on the type of work you do, you may need one or more of these licenses.
Refrigeration license
The refrigeration contractor license allows technicians to work on commercial refrigeration units and HVAC systems.
Heating and cooling H1 Class 1
This lets you work in any water-based system for any residential, commercial, or industrial building.
Heating and cooling H1 Class 2
This license is similar to a Heating Group 1 license, but it only lets you work in any water-based HVAC system in a single-family home.
Heating and cooling H2
Technicians with an H2 license can work on any forced-air HVAC system of more than 15 tons.
Heating and cooling H3 Class 1
This license allows you to work with forced-air heating and cooling systems with a weight of fewer than 15 tons.
Heating and cooling H3 Class 2
The class 2 license allows technicians to work on forced-air HVAC systems of less than 15 tons in residential homes only.
In addition to these classes, licenses are also divided into contractor and technician categories. For example, someone could have their Heating Group 3 Class 1 contractor license or their Heating Group 3 Class 1 technician license. Technicians are the base level of HVAC workers and must be employed by someone else. Meanwhile, HVAC contractors do not need to have an employer. They can run their own business and work for themselves.
Cost to Get an HVAC License in North Carolina
The base charge for getting a license is very small. Licensing fees shift a little each year, but North Carolina law does not allow the license fee to exceed $150. It is typically somewhere between $65 and $130 to get your North Carolina HVAC license for the first time, while renewal fees are as little as $25.
Keep in mind that it can cost a little more to actually start working. Private contractors also have to pay a surety bond premium of around $2,000. This HVAC bond helps to guarantee your work and provides compensation if you mess up. However, depending on where you work, your employer might pay this fee for you.
In addition to these fees, there may be added costs associated with education and training. Though going to college is not a technical requirement, it is a path many prospective technicians take. People who plan on taking educational courses to become HVAC professionals should expect to pay somewhere in the $5,000 to $8,000 range.
The NC HVAC License Requirements
The main requirement for a license is having a lot of experience. All classes of HVAC contractors need 4,000 hours of on-site training. This is equivalent to two years of full-time work. HVAC technicians will need 3,000 hours of on-site training. How do you get experience if you can't work without a license? On-the-job training is usually done by working alongside a licensed HVAC contractor. They will oversee your work and assist you in learning about HVAC tasks.
If a two-year apprenticeship program sounds too long, you have other options. North Carolina allows contractors to substitute up to half of their on-site experience for education from an accredited program. Each semester hour is equivalent to roughly 66 hours of on-site training, so you'll need 30 semester hours to count as 2,000 hours of work experience.
Regardless of the type of license you apply for, the main requirements remain the same. The only difference between licensing types is the sort of exam you take. Every person must pass an exam in the relevant category to get their license. This exam will ask about industry-specific knowledge for your desired type of work. Though your work experience is certainly useful for passing the exam, keep in mind that you'll also need to know very specific things about North Carolina building codes, EPA guidelines, and other legal matters.
Steps to Get an HVAC License
The North Carolina HVAC licensure process isn't overly complicated. You just have to get your training, pass an exam, and pay your contractor license bond. Following this guide will help you become a licensed HVAC provider as soon as possible.
Training Options
If you're interested in getting an HVAC license, you'll need to start by considering your training options. Depending on your budget and learning preferences, you can try one or more of the following choices.
On-the-Job Training
Anyone can get training by simply applying for a job in the HVAC field. You'll need to check with local HVAC companies and contractors to see who is willing to take on an extra worker. Getting accepted for training can take a little time, but once you have a position, all you need to do is be willing to work hard and learn new skills.
Technical School
There are a variety of trade schools and community colleges that offer educational programs for prospective HVAC workers. These programs require you to take classes about HVAC equipment, building codes, and EPA guidelines. In addition to shortening the amount of experience you need, going to HVAC school also makes it easier to get on-site training. Many schools run programs that connect their students with local HVAC companies.
Apprenticeship Program
Like a technical school, an apprenticeship program is a clearly defined course of training, and you might have to pay some money for it. Apprenticeships make it easier to get someone to agree to take you on as a trainee, and they don't require you to pass tests or sit through lengthy classes. This is a good option for someone who doesn't like formal education but can benefit from a little structure during their training.
Clear Licensing Exam
After you get all the necessary training, it will be time for your license exam. This is typically a 4-hour exam that covers all the basics of the type of HVAC work you want to do. Your training and your school will have prepared you for this. There are also study books the state suggests for those who want to ensure they know all topics on the exam.
If you want a contracting license, you'll need to take a second licensing exam in addition to the basic 4-hour exam. This secondary exam is a 1.5-hour exam on business and law. The examiners use the business and law exam to make sure contractors have the legal and financial knowledge needed to treat customers and employees fairly.
Getting Your Contractor License Bond
The final step in applying for your license is paying all the fees and bonds. Technicians usually don't have to pay a North Carolina bond because they're covered by their employer's bond. However, contractors will need to purchase a bond to guarantee their work. Depending on the type of work you do, this bond will need to have between $175,000 and $1 million worth of coverage.
License Expiry and Renewal
Once you get your license, it's only valid for a set amount of time. Under North Carolina law, every license expires on December 31 of the year after they were issued. You can renew your license starting in October of the year it expires by submitting a renewal form and a payment.
If you let your license lapse, you have to pay a late fee of $25 to renew it. If you do not renew your license within three years of expiration, you will need to pass the entire licensing process again. Losing your renewal eligibility will involve sitting through the exam again and paying additional fees.
FAQ
Still have questions about how the licensing process works in North Carolina? Here are some other details you should be aware of.
What Can and Can't I Do in North Carolina Without an HVAC License?
Without a license, you can only perform HVAC work as a trainee. This involves accepting less pay and always performing every job while someone supervises you. Once you get a technician license, you can apply for better-paying HVAC field jobs and perform tasks without someone watching you the whole time. If you get a contractor license, you can work independently instead of being an employee at an HVAC company.
How Long to Get HVAC License North Carolina
The bare minimum amount of time to get a license is 18 months. This amount of time will give you the training to get a technician license. To get a contractor license, you'll need to spend two years getting training or education.
How to Check for North Carolina HVAC License
Visit the North Carolina State Board of Examiners of Plumbing, Heating, and Fire Sprinkler Contractors' website. They have a License Search tab where you can input a person's or business's name to see what licenses the entity has.
As you can see, the steps to get an HVAC license in North Carolina don't have to be super challenging. With a little hard work and patience, you can get everything you need to start your HVAC career.
---