How to Get an Auto Dealer License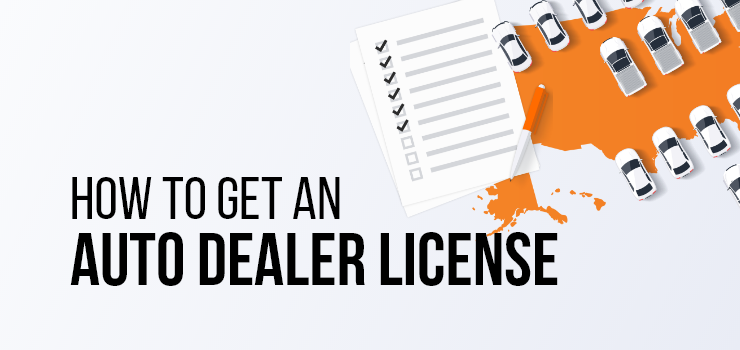 If you're interested in becoming an auto dealer, you'll probably spend a lot of time focusing on things like setting up a shop and acquiring vehicles. However, don't let all these important tasks distract you from the legal details. To be a car dealer, you need to get the right license. This license will help you prove that you have the skills and credentials to handle car sales. How do you get this license? Read this guide to find out.
What Are the Requirements for an Auto Dealer License?
Requirements for an auto dealer license can vary quite a bit depending on the state you live in. Some regions might have fairly relaxed requirements, while others will have a lengthy list of conditions to meet. Your requirements can also vary depending on what type of dealer you want to be. There may be different regulations for those who want to be a motorcycle dealer, a new motor vehicle dealer, a used vehicle dealer, a vehicle wholesale dealer, or even for trailer dealers.


Therefore, one of the first things you should do is contact local officials or check out your secretary of state's website. In most states, the Department of Motor Vehicles (DMV) is the one responsible for licensing requirements, so you just need to start by visiting the DMV.gov site for your individual state. However, in some regions, there will be a Department of Licensing (DOL) that handles requirements to become a dealer to sell a new motor vehicle.

Almost all states have the same basic set of requirements. You need to do things like verify your identity, show a driver license, and pass a background check. Often, prospective dealers will need to attend a seminar or pass a test to show they understand the basics of being a car dealer. You will also need to show that you have a car dealer surety bond and a business insurance policy. There is typically a license fee you have to pay as well. Some other potential requirements include:
A properly registered business name




No outstanding taxes with the Department of Revenue




A business space that meets zoning regulations




A certificate of completion from a new dealer class




Approval of your business and location from your local Department of Business




A hazardous waste generator number for your repair shop




Passing a car dealer license test




Completing probation or follow other steps to restore rights after a felony
How Much Does a Dealer's License Cost?
In almost all locations, you have to pay some sort of fee to get your license. Typically, the costs are the same regardless of if you want your trailer dealer's license, ATV dealer's license, motor homes license, new motor vehicle dealer's license, used vehicle dealer's license, or other type of dealer's license. However, some states may have different charges for those handling larger vehicles or other types of licenses.

Find Out Your Dealer Bond Cost
No Obligation - Fast and Secure - All Credit Types
Get a FREE Bond Quote

Instant ballpark estimate

Tell us about your business

powered by

Get your FREE quote today!
The cost will vary depending on where you live. In most states, it is somewhere between $200 and $500. However, keep in mind that you might have other expenses besides the basic licensing fee, such as sales tax. In some areas, you have to pay an additional fee to submit or process an application. If you live in a region where taking a class is a requirement, you might also need to pay for this course. Ultimately, some people may end up paying up to $750 for their dealer's license.
Another cost to be aware of is the cost for your dealer plates. These are not a license, and they are not technically necessary. However, this type of plate lets you easily transport vehicles and offer on-road test driving to customers. Since you typically get your auto dealer license at the DMV, applications also often include the option of getting dealer license plates. This usually costs around $50 to $100 for each plate that you need.
Is an Instant Dealer License Legit?
When you are in a hurry to set up your business and start selling new or used cars, it might be tempting to go with a service that promises to get you an instant business license. However, it's important to be cautious. Car license scams are actually a major issue in the distribution and sales industry.
Most of these scams are online, though you can run into them in person as well. A business will claim to help you with all aspects of starting a dealership for one lump fee. Though this sounds helpful, it can actually just end up being a big problem.
At best, these sorts of instant dealer businesses are overcharging you. It is almost always cheaper to handle things yourself instead of paying a middleman. Talking to the DMV, visiting insurance companies, and getting a dealer surety bond are tasks you can complete on your own. Having someone do all this for you usually costs a few thousand extra dollars, and it barely saves you any time.
Unfortunately, a lot of these scams do worse than just charge you too much money. In some cases, these scams steal your private information. Another issue is that some instant dealer scams will give you an out-of-state or fake license. They do this because it is cheaper and easier for them, but it means you end up operating your dealership without a proper license. When the government notices this, your business might be shut down and you might end up needing to pay a lot of fines.
Depending on where you live, it is possible to get a license with an online application. However, this does not mean you should just put all your private information into a random website. It's important to only work with reputable government websites. Start with official .gov websites and only trust links they send to you. A little caution can help prevent you from getting stuck dealing with scams.
How Do I Apply for an Auto Dealer License?
Ready to get your motor vehicle dealer license and launch your business? All you need to do is follow these easy steps.

1. Research the Requirements
Start by checking out your state's rules for licensed dealers. Make a list of everything you need to get your license, so you can avoid forgetting anything important. Once you know the requirements, it's time to start taking the steps to fulfill each part of the licensing requirements.

2. Decide What Vehicles You Want to Sell
Part of figuring out the requirements for a license is figuring out what sort of vehicles you want to sell. The majority of states have at least different licenses for wholesale dealers, new vehicle dealers, and used car dealers. Some may also have specific licenses for people selling things like ATVs or motor homes. Since these different licenses can have different rules, you need to settle on a type of vehicle to sell before getting your license.

3. Set Up Your Place of Business
Almost all areas require you to have a physical business location before you get a license. This does not necessarily mean you have to go ahead and pay for a massive lot and a fancy display area. However, you do need some sort of established place of business. You will usually need to have a copy of your lease or property deed when you fill out your application.

4. Create Your Business and Business Plan
Your license application will also ask for information about your business itself. You will need some sort of business name and defined company. Depending on your business, you might want to create an LLC, DBA, or corporation before you get your license. Some states also require a business plan. This will discuss things like finances and the number of salespersons you want, and it can help you further clarify how you plan to handle your company.

5. Get a Vehicle Dealer Surety Bond
By the time you submit your application, you need to have everything required to run your dealership. An essential part of this is your surety bond. The surety bond protects customers against dealership wrongdoing.  The amount and term of the Surety Bond you'll be required to secure varies by state, so make sure to view our state-by-state auto dealer guides.

Find Out Your Dealer Bond Cost
No Obligation - Fast and Secure - All Credit Types
Get a FREE Bond Quote

Instant ballpark estimate

Tell us about your business

powered by

Get your FREE quote today!
6. Complete All Educational Requirements

If your state has educational or dealer training requirements, make sure you satisfy them. This might mean taking a class and getting a certificate of completion, or you might have to pass a test.


7. Fill Out Your Dealer License Application Form

Once you have all the documents you need, it's finally time to apply for your license. In some areas, you can apply online and fax or email in your documents. In other regions, you might need to visit the DMV or another government office.

As you can see, there are quite a few steps involved in getting an auto dealer license. However, the whole process doesn't have to be confusing or time consuming. Bryant Surety Bonds can assist you with essential steps like getting your auto dealer bond.

---