How to Get a North Carolina Dealer License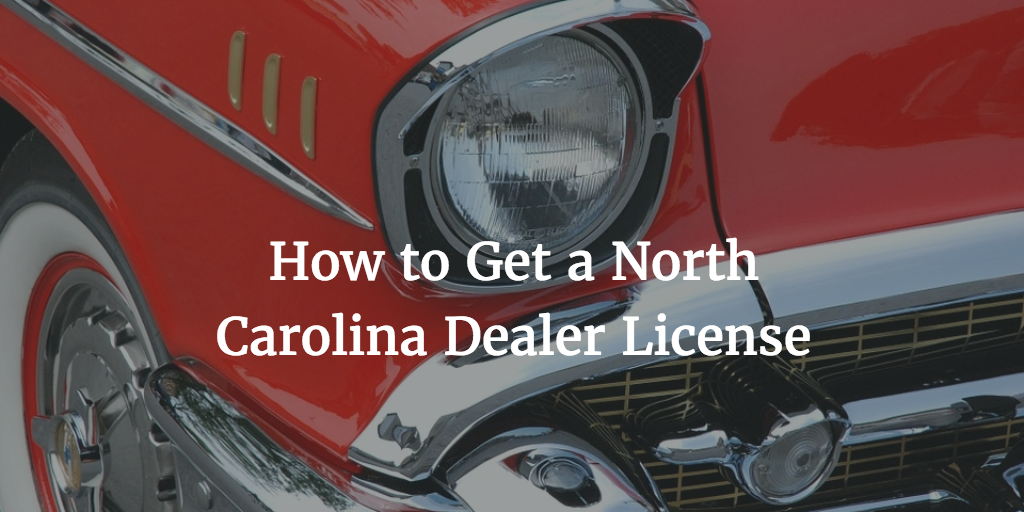 Similarly to most other states, North Carolina requires aspiring auto dealers to get licensed. The North Carolina dealer license is issued by the state Division of Motor Vehicles.
You need to meet a number of requirements so that you are granted the right to operate in the state. One of the main criteria that you have to meet is to obtain a North Carolina auto dealer bond.
Here are the main steps that you have to follow in order to start your auto dealership in North Carolina.
Acquainting yourself with the licensing process
How to get a dealer's license in North Carolina? The process is not complicated but involves meeting a number of administrative steps. As in most other states, you need a dealer license in North Carolina if you want to sell more than five vehicles per year. The licensing body is the Division of Motor Vehicles' License and Theft Bureau.
In order to get a dealer license application, you have to complete the official form provided by the Bureau. Together with this, you have to provide a number of documents that prove you are suitable to conduct business as an auto dealer in the state.  
Download our FREE ebook guide to learn everything about getting licensed as a dealer in North Carolina!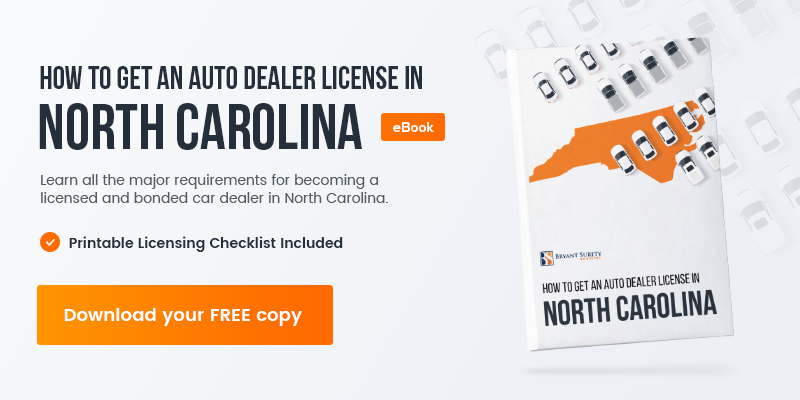 Meeting the Dealer License Requirements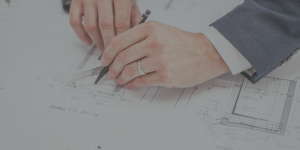 The North Carolina DMV imposes licensing criteria for auto dealers in order to guarantee they have the needed means and qualifications. Here are the main requirements you need to meet:
Retail dealers have to get a showroom of at least 96 square feet

Wholesale dealers need to get an office space of at least 96 square feet

All showrooms and offices must meet the local zoning rules

Provide your physical address and business phone number

Showcase your business sign

Proof of an assumed name with your county's Register of Deeds

Traders license from your municipality and county

Used car dealers have to undergo a licensing course  

Business entity documents  

Liability insurance

$50,000 auto dealer bond for your first location and $25,000 for each additional one
You also have to pay the applicable fees. The dealer licensing fee is $90, while the salesperson certificate is $20. Dealer registration plates cost $36 each for the first five plates, and $18 for each additional one.
After your application is reviewed, your offices and showrooms will be inspected by DMV officers. If you have met all the needed criteria and your location is up to the required standards, you will be issued a North Carolina dealer license.  
The full list of requirements is available in the list provided by the Bureau. You can also consult the Motor Vehicle Dealer and Manufacturer Regulation Manual.
Getting your North Carolina dealer license bond
In order to complete all licensing requirements, you have to get a surety bond. The bond amount is $50,000 for your first location. If you want to license an additional location, you have to get an additional $25,000 bond for each. You have to use the official bond form when submitting your application.
The purpose of the bond requirement is to provide additional security for the state and your customers. In case you transgress your legal obligations, it can provide compensation for any affected parties.
You have to pay a percentage of the bond amount so that you get bonded. This is your surety bond price, which is typically between 1%-3% for dealers with solid finances. This means that you may have to pay only $500-$1,500 for a $50,000 bond if your overall profile is strong.  
Get a FREE quote on your dealer bond
FREE Instant Online Quotes - All 50 States - All Credit Types
Tell us about your business

powered by

Get your FREE quote today!
Still have questions about the licensing and bonding process for auto dealers in North Carolina? Don't hesitate to call us at 866.450.3412 and we will help you out.
---