North Carolina Auto Dealer License Guide (8 Steps)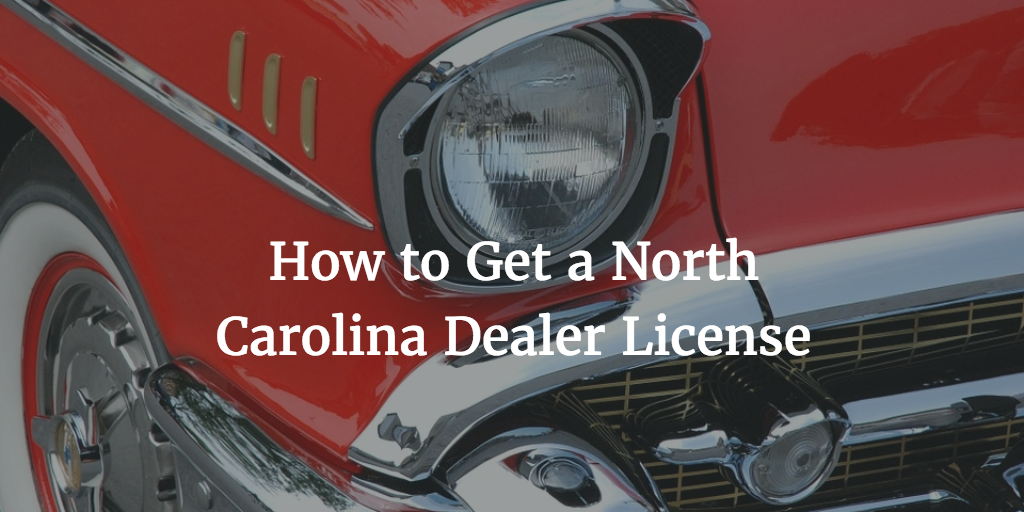 Like most states, auto dealers in North Carolina are required to get licensed before they can legally operate their businesses. If you plan to sell, exchange, or engage in other vehicle transactions in the state, you will need to meet the state's requirements for licensed auto dealers and submit an application to the Division of Motor Vehicles with the North Carolina Department of Transportation (NCDOT).
To get a dealer's license in North Carolina, you will need to complete the steps below.
1. Determine the Dealer License Type You Need
You need to know the licensing class you will need to operate your business. North Carolina has five different types of dealer licenses, including the following:

• New vehicle dealer license – For people who sell new vehicles
• Used vehicle dealer license – For people selling used vehicles
• Wholesale dealer license – For wholesalers selling used vehicles to dealerships
• Distributor license – For distributors selling new vehicles to new vehicle dealers
• Manufacturer license – For vehicle manufacturers that work with distributors that distribute vehicles
2. Meet the North Carolina License Requirements
Your dealership will need to meet multiple requirements before you can obtain an auto dealer license. You will need to have a place of business that meets the state's requirements, provide information about the owners and officers of your dealership, provide business entity information, and others. The dealer license requirements are discussed in detail below.
3. Complete the Auto Dealer License Class
If you plan to sell used vehicles, you are required to complete a 12-hour pre-licensing course within 12 months before the date that you apply for your license. The course must be one that is approved by the Division of Motor Vehicles. You can find more information about auto dealer courses on the division's dealership resources page. 
4. Schedule Your Inspection
Before you apply for your license, you must have your business location inspected by the NC License and Theft Bureau. The inspector will confirm that your business location conforms to the state's minimum requirements.
5. Complete the Application Packet
Once you have completed the previous steps, you will need to complete the dealer license application and submit it to the state. The information you provide will be checked to confirm that you have met all of the requirements.

You will also need to submit the following documents with your application:

• Proof that you have met all of the zoning ordinances for your dealership
• If operating your business under a name other than your own, an assumed business name from your county's Register of Deeds office
• Trader's license from your county and city
6. Purchase a North Carolina Auto Dealer Bond
One of the most important requirements for auto dealers is to secure a North Carolina auto dealer bond. The bond protects consumers and guarantees that you will comply with the North Carolina General Statutes. If you violate the law and cause harm to the public or the state, a claim can be filed against your bond.

For your first dealership location, you must have a $50,000 bond. For each additional location you open, you will need to secure an additional $25,000 bond. To obtain a bond, you will need to meet the requirements of the surety company and go through the underwriting process. The cost of your auto dealer bond will depend on your underwriting factors and will be a percentage of the maximum bond amount. 
Estimate your surety bond cost with our free surety bond cost calculator.
Surety Bond Cost Calculator

Tell us where to send you your
FREE

estimate

SEND ME MY ESTIMATE!

We'll never share your information with third parties

Thank you

for your request!
The ballpark estimate on your premium is: $100 - $167
We've sent a copy of your estimate on your email as well.
Want an exact quote? Simply fill out our online application It's fast and 100% free!
Get a free exact quote
Get another estimate
7. Submit Your Application Documents
You can submit all of your application documents by mailing your paperwork to the following address:

North Carolina Department of Transportation
Division of Motor Vehicles
License and Theft Bureau
Raleigh, NC 27697-0001

You will also need to include the required fees. 
8. Renew Your License Annually
You will need to renew your license each year. It will be valid for 12 months from its issuing date. If you do not renew your license, it will expire, and you will not be able to continue legally operating your dealership. Make sure to complete your renewal paperwork in plenty of time. 
North Carolina Dealer License Requirements
The North Carolina dealer license requirements include the following:

• Business location has a salesroom with at least 96 square feet of floor space
• Business located in a permanent, enclosed building that is separated from any living space and with a separate entrance
• Wholesalers have established offices with at least 96 square feet of floor space in which the required records and files are kept
• Salesroom and building comply with all county and local zoning ordinances
• Sign in block letters of at least 3 inches high with a contrasting background listing the business's trade name
• Auto dealer bond of $50,000 for the first location and $25,000 for each additional location
• Proof that an assumed name was filed with the Register of Deeds in your county
• Articles of incorporation if the business will operate as a corporation that must have been filed with the North Carolina Secretary of State
• First page of the corporate charter sent with the dealer license application
• Foreign corporations have a certificate of authority from the Secretary of State to receive a license to operate
• Comprehensive liability insurance policy or garage coverage form for auto dealers
• Binder or supplementary schedule policy that covers dealer plates
• Accurate description of the business location, including its physical address even if a PO Box is used
• Contact phone number for wholesale license applicants where the Division can contact them about records or transactions
• Proof of completion of a 12-hour pre-license dealer course within the last 12 months for used vehicle dealer applicants
• Proof of completion of an approved course of six hours for renewals of used car dealer licenses
• Record of inspection of the business location
How Much Does It Cost to Get a Dealer's License in North Carolina?
How much it might cost you to obtain a dealer license in North Carolina will vary. However, the following base fees apply:

• Dealer license certificate – $97.50
• First five dealer plates – $38.75 per plate
• Additional dealer license plates – $19.50 per plate
• Additional dealer transporter plates – $19.50 per plate
• Temporary markers – $25 for a set of 25, but a minimum of two sets must be purchased if applying by mail
• Dealer licensing class – $325
• Auto dealer bond – From $500 to $1,500

Is It Worth Getting a Dealer's License?
If you plan to sell more than five vehicles in a year, you must get an auto dealer license. You cannot lawfully operate a dealership without the required license, bond, and liability insurance.

Once you get your auto dealer license, make sure to comply with all laws and operate your business ethically. If you violate the laws, claims could be filed against your bond, and you could end up losing your license and be forced to close.

Download our FREE ebook guide to learn everything about getting licensed as a dealer in North Carolina!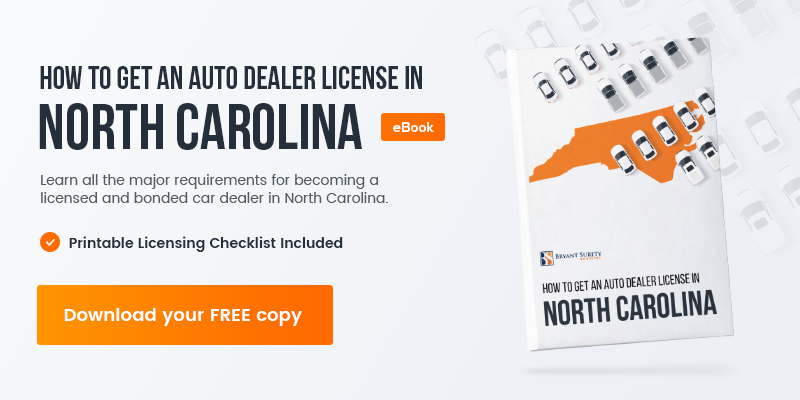 ---