How to Get an Indiana Dealer License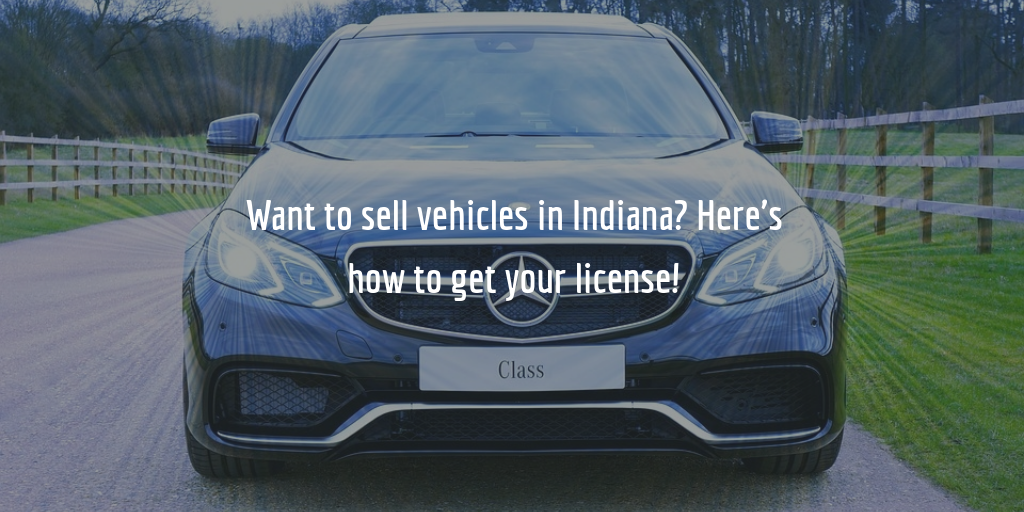 If you're looking to open a new or a used vehicle dealership in Indiana, the Auto Dealer Services Division has plenty of resources to help you in the endeavor. This guide will also help you navigate the entire process.
Before discussing the breakdown of dealership requirements, let's make sure that you understand the basic steps for how to get a license. We'll first start with the location requirements for a dealership and the types of dealer licenses.
Step 1: Pick the Location for You Dealership
According to the law, a dealership's location can't be a residence or a temporary setting. Moreover, the dealership must be accessible to the public, and it should be open at least 30 hours a week during regular business hours.
The entire retail space must be at least 1,300 square feet including a minimum of 100 square feet reserved for the office. The office should be appropriately furnished and serviced to reflect a functional site.
Similarly, the physical location must have enough space for at least 10 display vehicles, excluding space for customer parking. The building must be well-lit during hours of operations, and it should display a prominent sign with the same name as the one on your license.
The physical location must not house a secondary business, and you can't operate it from inside a retail complex. There are some exceptions to the rules. If you think you cannot fulfill one or more of these requirements, submit your query to [email protected].
Step 2: Determine the Type of Indiana Dealer License
The Auto Dealer Services Division issues eight types of dealership licenses in Indiana. For the sake of this discussion, the three most relevant licenses are dealer license, distributor license, and auto auction license. Here is a brief overview of each:
Dealer license: If you sell, offer to sell, or advertise for sale at least 12 vehicles every year, you need to get this license. The license is needed to sell both new and used vehicles. The physical requirements for the dealership location are the same as listed above.
Distributor license: If you're engaged in the business of selling motor vehicles to dealerships in Indiana, you need a distributor license for both the parent and branch office. Agents selling on behalf of a distributor also requires a distributor representative certificate.
Auto auction: If your primary business is arranging, managing, sponsoring, advertising, hosting, carrying out, or facilitating an auction of three or more vehicles within 12 months, apply for the auto action license.
Besides these, the SOS Auto Dealer Services Division offers five other types of licenses: automotive salvage recycler license, converter manufacturer license, manufacturer license, transfer dealer license, and watercraft license. We will only discuss the dealer license, distributor license, and auto auction license. The steps for other types of licenses are quite similar. You can use this guide to get an idea of the basic requirements.
Step 3: Obtain Your Indiana Auto Dealer Bond
A surety bond is a type of insurance that protects your customers from any fraudulent practice, error, and misleading business practices. If a claim is filed by the customer, the surety company will compensate the client.
The license application should be accompanied by evidence of a bond for $25,000. Your credit score is the main factor that determines the rate of the bond. Usually, the bond cost is anywhere between 1% and 3% of $25,000.
It's easy to get your Indiana auto dealer bond, but make sure that you get it from a reputable bond provider who can assist you in a time of crisis. In most cases, you just need to visit the website and fill out a brief application to receive a free quote.
After you get the bond, make sure to sign the bond before submitting it. According to officials, this is one of the most common errors car dealers make when applying for a license. When the bond is about to expire, you must submit a new bond because the dealer license is void during any lapse in the bond coverage.
Step 4: Satisfy All Requirements & Submit Your License Application
There are eight major steps to applying for an Indiana auto dealer license:
Background check
Business entity documentation
Certificate of insurance
Indiana Vehicle Merchandising Certificate/Bond
License fee
Photos of the location
Retail Merchant Certificate (Indiana Department of Revenue)
Zoning affidavit
Background Check: Anyone applying for a dealership must pass a background check. You can easily complete this step by visiting the IdentoGo website and scheduling an appointment. It's important to note that it can take up to 30 days to get your results. If a background result is more than 60 days old at the time of the dealer license application, it will not be accepted.
Business Entity Documentation: Before applying for a dealership license, it's your responsibility to register your business with the local authorities. There is a lot of content on the internet that can guide you on how to do it properly.
For your convenience, the local government also offers a one-stop source for business registration. Visit INBiz to register your business if you haven't done so. The website allows new business owners to register their business with the Secretary of State and file tax documents with the Department of Revenue and Workforce Development.
Remember, INBiz is not the only source for business registration. You can register your business with any reliable source that can help you get registered.
Certification of Insurance: To protect your dealership from loss and lawsuits, you need to apply for a certificate of insurance after registering your business. The type of coverage will mostly depend on the services and your needs; however, the most basic coverage includes commercial liability insurance, commercial property insurance, and workers' compensation. If you're not sure what suits your dealership, talk to a representative at 317-234-7190, or contact the dealer account helpline at 317-576-2568.
Indiana Vehicle Merchandising Certificate/Bond: Besides insurance, auto dealers must apply for a bond. The bond protects third parties such as the dealer's customers and creditors rather than the dealer. Read the next section for more information on this critical requirement.
License Fees & Requirements: The fee for a new or used dealer license is $30. Distributors and wholesale dealers, who sell vehicles to dealers, pay an identical fee.
You will also need to pay a separate fee for dealer license plates. Licensed dealers use these special license plates to allow their customers to legally test-drive unregistered cars on public streets. For new and used car dealerships, the fee is about $45. For additional automobiles, it's $15 per vehicle.
Photos of the location: You need to take photos of your established place of business. These include photos of the exterior, signage, and interior of the structure. Exterior photos must include the advertising sign, display area, and customer parking. Interior photos must show office furniture and proof of utilities.
According to the Auto Dealer Services Division website, a single photo can satisfy more than one requirement. Irrespective of the requirements, it's better to take multiple photos, so you're not delayed by a request for additional photographs. Although photo requirements are often similar, they may differ based on the type of license you're applying for.
Retail merchant certificate: If you're selling merchandise in Indiana, you must receive the retail merchant certificate from the Indiana Department of Revenue. It legally allows you to conduct retail sales in the state and collect a 7% sales tax.
The retail merchant certificate should be displayed prominently at your office. If you have more than one business location, an additional certificate is required for each location. To get started, file a Business Tax Application with the Indiana Department of Revenue, and indicate that you will collect tax on the sale.
Zoning affidavit: Your license application cannot be processed until a completed Zoning affidavit is received. The affidavit confirms that the proposed location is zoned for the operation of the business for which the applicant seeks a license. Visit the Secretary of State Auto Dealer Division Services website to download and fill out the document.
Once you've filled in the Indiana Auto Dealer Application (Form BMV 4555) with the above information you will need to pay the $100 application fee and any additional fees for dealer plates.
Finally submit the completed application, supporting documents, surety bond, and fees to the Indiana Bureau of Motor Vehicles (BMV)
Estimate your surety bond cost with our free surety bond cost calculator.
Surety Bond Cost Calculator

Tell us where to send you your
FREE

estimate

SEND ME MY ESTIMATE!

We'll never share your information with third parties

Thank you

for your request!
The ballpark estimate on your premium is: $100 - $167
We've sent a copy of your estimate on your email as well.
Want an exact quote? Simply fill out our online application It's fast and 100% free!
Get a free exact quote
Get another estimate
FAQ: Frequently Asked Questions
How Many Cars Can You Sell in a Year in Indiana Without a License?
If you deal in new or used vehicles, you can sell 11 motor vehicles without a license, but you need a license to sell 12 or more. These include semitrailers, trailers, off-road vehicles, snowmobiles, mini-trucks, and recreational vehicles. You also need a license to sell three or more manufactured homes.
The terms for auto auction are a bit different. In this case, you will require a license when facilitating the auction of more than three motor vehicles or watercraft within 12 months.
How Much Does It Cost to Get a Dealer's License in Indiana?
Getting a dealer's license costs approximately $100. You may only need to pay the license fee and a fee for the dealer's license plates. The overall cost can increase as you complete requirements for business registration, surety bonds, and background checks.
When Do You Need to Renew an Indiana Dealer License?
Both dealer licenses and dealer license plates expire annually. The expiration month depends on the letter that the dealer's business name starts with. Therefore, it is important to remember the license expiration month.
If the license renewal date is six weeks away and you haven't received a notice, contact the Secretary of State Auto Dealer Services Division. It's better to subscribe to an online dealer account, so you can submit the license and the dealer license plates on time.
For further questions, visit the SOS: Auto Dealer Services Division website. The website section dedicated to dealerships is nicely organized. It's easy to navigate, and you can also contact their representative during regular business hours. For the auto dealer surety bond, contact a reliable provider.
---