How to Get an Indiana Dealer License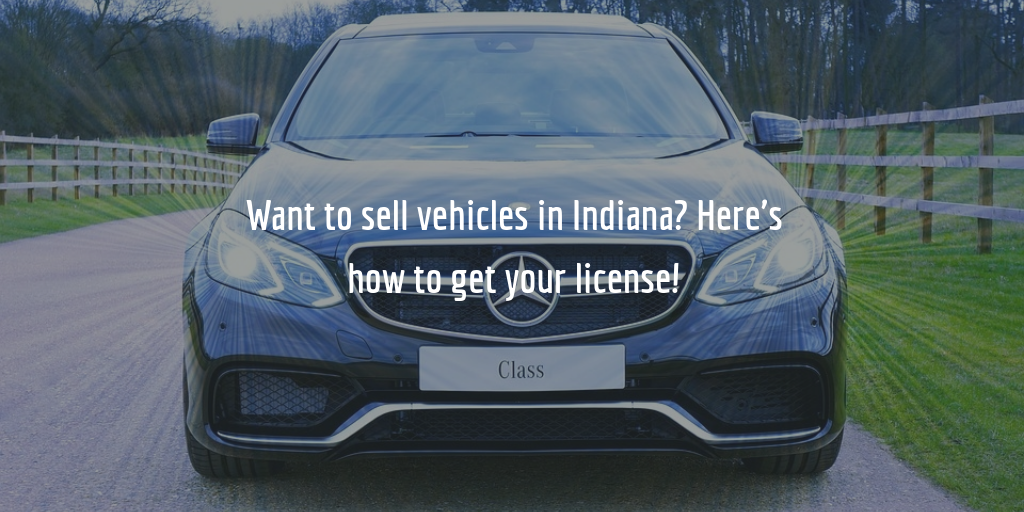 If you're selling or advertising for sale 12 or more vehicles per year in the state of Indiana, state law requires you to obtain an Indiana dealer license.
To obtain your license you will need to secure a business location that complies with state requirements, fill in an application, and post an Indiana auto dealer bond, among others.
Read on for an overview of the process and the license requirements.
Types of Indiana dealer licenses and vehicle types
There are 8 major dealer license types in Indiana which applicants can obtain at the office of the Secretary of State. These are:
Dealer

Manufacturer

Distributor

Automobile Auction

Converter Manufacturer

Mobility Dealer

Watercraft Dealer

Transfer Dealer
Additionally, when applying for an Indiana dealer license, applicants must also indicate the types of vehicles that they, as dealers, intend to "sell, offer to sell or advertise for sale". These are:
Cars

Trucks

Motorcycles

Mobile homes

Trailers

Recreational vehicles

All-terrain vehicles (ATVs)

Boats

Other
For any of these vehicles, license holders can also indicate the state of the vehicles they intend to sell, offer or advertise – new only, used only or new and used.
Read on below for a breakdown of the Indiana dealer license requirements.
Breakdown of Indiana dealer license requirements
Applicants for an Indiana dealer license are encouraged to review the relevant state statutes and regulations prior to getting started with their application. These are the 'Indiana Code (IC) 9-32 Dealer Services' as well as the Indiana Administrative Code (IAC) Title 75.
Once you have familiarized with the statutes, you can proceed with filling in the Indiana dealer license application (SF 13215). When completing the application, you will need to meet the requirements for your place of business, and provide proof thereof. You can find the requirements in the IC 9-13-2, IC 9-32, and 75 IAC 6 or on the licensing requirements page of the Indiana Auto Dealer Services Division.
You will also need to provide your Federal Identification Number (FIN) when applying for a license, so if you don't have one, you must obtain one from the Internal Revenue Service (IRS). Further details and documents which you will need to provide when completing your dealer license application include:
A national criminal background check

Your certificate as a registered retail merchant from Indiana Department of Revenue

A $25,000 Indiana auto dealer bond

Liability insurance meeting the minimum required by Indiana law

Copy of valid photo ID

A zoning affidavit

A copy of your franchise agreement (if you intend to sell new vehicles)

All necessary business documents, detailing the name and address of your business as well as photographs of the business location (see licensing requirements page)
Upon applying for your license you will also be required to pay an application fee for an initial license in the amount of $30.
If you are uncertain about any of the requirements, make sure to contact the Dealer Services Division to clarify them and seek further advice!
Obtain your Indiana auto dealer bond
The auto dealer bond is a central licensing requirement for Indiana dealers. This bond serves as protection to the state of Indiana and the dealer's customers. It guarantees compensation to these parties if a legitimate claim is filed against the dealer's bond in response to his or her violation of Indiana state statutes and regulations.
To obtain the bond, dealers must pay a surety bond rate which is not the same as the $25,000 bond amount. The cost of the bond is determined by sureties on an individual basis for each applicant. It is based on a consideration of the financial status of the applicant, with the most important criteria being their personal credit score. Other indicators such as their financial status, liquidity, assets and prior work experience also impact the final cost of obtaining the bond.
As a rule, applicants with a good score can expect a rate between 1% and 3% of the total bond amount or, in this case, between $250 and $750.
Estimate your surety bond cost with our free surety bond cost calculator.
Surety Bond Cost Calculator

Tell us where to send you your
FREE

estimate

SEND ME MY ESTIMATE!

We'll never share your information with third parties

Thank you

for your request!
The ballpark estimate on your premium is: $100 - $167
We've sent a copy of your estimate on your email as well.
Want an exact quote? Simply fill out our online application It's fast and 100% free!
Get a free exact quote
Get another estimate
To get your Indiana auto dealer bond, fill in our online surety bond application form. Completing and submitting the application is not binding in any way. Once you have submitted it, we will contact you with a free quote on your bond and you can then proceed with finalizing your application.
Call us at 866.450.3412 to speak to one of our experts anytime, if you have any questions regarding the bonding process!
---