How to Get an Ohio Dealer License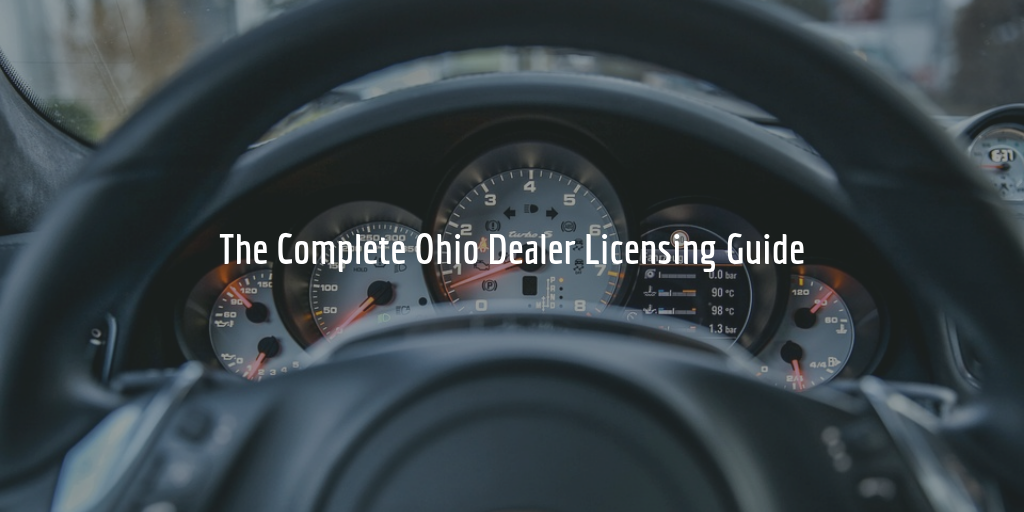 You will need to get an Ohio dealer license if you wish to sell more than 5 vehicles during the course of 12 months in the state. The state Bureau of Motor Vehicles (BMV) issues these licenses, and the application process for both new and used dealers is fairly similar.
Licensing requirements include getting a dealership location, obtaining an Ohio auto dealer bond, submitting fingerprints, and securing a net worth of at least $75,000.
See our full guide below to learn how to get a dealer's license in Ohio!
1. Pick Your Ohio Dealer License Class
The BMV issues two main types of licenses:
New motor vehicle, motorcycle, APV or camping trailer dealer license

Used motor vehicle, motorcycle or APV dealer license
The application procedure for these two license types is largely the same with a few small differences which will be clearly noted below.
2. Register Your Business
Before you proceed with covering the Ohio dealer license requirements, you first need to register your business in the state.
The easiest way to get registered is through using the Ohio Business Gateway. As part of the process, you will also get a registration with the Ohio Department of Taxation. The gateway provides a comprehensive breakdown of all the steps you need to cover. Simply register in the system, and get started.
Along with your business registration in the state, you may also have to obtain a Federal Employer Identification Number (FEIN) from the Internal Revenue Service (IRS).
Finally, you will also need to get a Vendor number from your county Auditor's Office.
3. Find a Suitable Location For Your Dealership
New and used dealers must comply with slightly different location requirements. However, both types of dealers must make sure their location:
Complies with all local zoning regulations and they have obtained proof thereof

Is used exclusively for the purpose of selling vehicles

Has a permanent sign with letters that are at least six inches high

Has a working business telephone which is listed and is answered in the dealership's name; the telephone number must be posted in public view
Additionally, new vehicle dealerships must have space under the roof of their dealership to display at least one vehicle, and space for the repair or servicing of at least one vehicle.
On the other hand, used vehicle dealers must meet several other location requirements, a list of which you can find on the BMV's website.
Note: Later you will need to submit photographs of your dealership location as part of your license application packet.
4. Complete a Dealer Training Course (used car dealers only)
You must complete a six-hour training course no more than six months prior to applying for your Ohio used car dealer license.
Upon passing the course, you will receive a certificate of completion. Consequently, you must submit a copy of the certificate with your application packet.
5. Pass a Criminal Background Check
Anyone listed on your dealer license application must pass a criminal background check and be electronically fingerprinted.
When you get your fingerprints taken, you must indicate that you want the result to be sent directly to "BMV Dealer Licensing".
6. Cover the Minimum Net Worth Requirement
Both new and used Ohio dealer license applicants must satisfy a minimum net worth requirement. Applicants must be able to demonstrate a net worth of at least $75,000 when requested by the BMV.
7. Get an Ohio Auto Dealer Bond (used car dealers only)
Applicants for a used car dealer license in the state must get an Ohio auto dealer bond. The bond must be in an amount of $25,000.
Estimate your surety bond cost with our free surety bond cost calculator.
Surety Bond Cost Calculator

Tell us where to send you your
FREE

estimate

SEND ME MY ESTIMATE!

We'll never share your information with third parties

Thank you

for your request!
The ballpark estimate on your premium is: $100 - $167
We've sent a copy of your estimate on your email as well.
Want an exact quote? Simply fill out our online application It's fast and 100% free!
Get a free exact quote
Get another estimate
This bond guarantees used dealers' compliance with the Ohio Administrative Code (OAC), and its funds are intended to compensate retail purchasers who have been harmed by a dealer.
8. Assemble Your Ohio Dealer License Application Packet
One of the final steps in the license application process is to complete your Ohio car dealer license application form, and assemble all other supporting documents.
Next, you must attach the following documents to your application form:
A copy of your business registration certificate from the Secretary of State, and all other

Proof of compliance with zoning provisions

Photographs of your dealership location – the required photographs are listed on your application form

A statement of Manufacturer/ Distributor Franchise – Form BMV 4319 – for every line make (

only for new dealer license applicants

)

Certificate of completion of the dealer training course (

only for used dealer license applicants

)

An Ohio auto dealer surety bond (

only for used dealer license applicants

)
9. Submit Your Ohio Auto Dealer License Application and Pay Fees
Once you have assembled your application packet, you can submit it to the BMV at the following address:
Ohio Bureau of Motor Vehicles
Attention: Dealer Licensing Section
P.O. Box 16521
Columbus, Ohio 43216-6521
You will also need to include the following fees when submitting your application:
$150 Title Defect Rescission Fund

$50 Permit

$50.25 Master Plate

$4.50 Postage

$10.25 for any additional plates (optional)
Finally, if your application is approved, you will receive a license within 4-6 weeks of submission.
10. Pass an Inspection
At any time before or after you receive your license, your dealership may be subject to a physical inspection.
If it does not comply with the requirements for an "established place of business" as defined in the Ohio Revised Code (RC) and the Ohio Administrative Code (OAC), your license may be revoked or suspended.
11. Ohio Dealer License Renewal
When your license expires, you can renew it online through the Ohio Department of Public Safety (ODPS) Identity Manager platform.
To learn more about the renewal process and the expiration date of your dealer license, contact the BMV at (614) 752-7636.
---