How to Get a Kansas Dealer License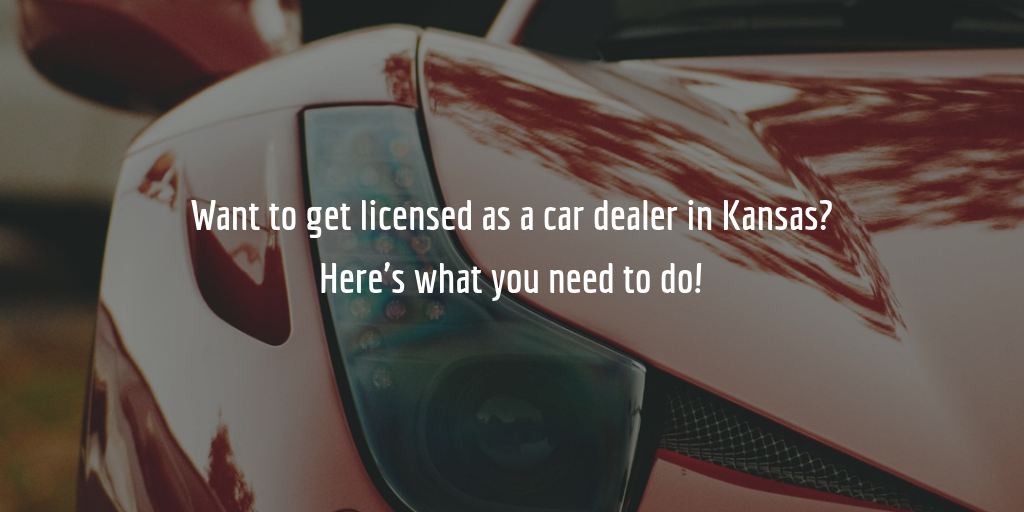 To sell vehicles in the state of Kansas, you will need to apply at the Kansas Department of Revenue to get licensed. The licensing process involves various requirements which you must meet, such as to be compliant with regards to your business location, to provide credit references, as well as to submit a Kansas auto dealer bond.
Want to get a Kansas dealer license? Read on for a full overview of the process!
Kansas Dealer License Types
Selling 5 or more vehicles a year in the state of Kansas without a valid license is illegal. You must, therefore, apply to obtain one of the following dealer licenses from the state Department of Revenue.
New/Used Vehicle Dealer

Used Vehicle Dealer

Salvage Vehicle Dealer

Wholesale Vehicle Dealer

Auction Motor Vehicle Dealer
The application process for either of these license types is more or less the same with the exception of certain documents or requirements which may be required of some but not all applicants.
Business Location Requirements
The place of business which you secure must comply with several requirements in order for you to be eligible to receive a license. If the location does not comply with these requirements, this may result in civil penalties. Here are the requirements you must meet for your location:
Own or lease a lot and location that are separate from your personal residence

The location must have sufficient office facilities to allow for business to be conducted

Your business location must have a place to receive mail

Your business name must match with the name under which you applied for your tax registration number

You must have an operable phone listed with the phone company in your business name

You must obtain zoning approval for your type of license from your local zoning office

You must have a business sign with your business name on it that is easily visible from the street
Statutory and Business Requirements
The following are the statutory requirements which you will need to meet when applying for your license:
Secure a place of business (see above)

Obtain a

tax clearance certificate

from the Division of Taxation

Obtain a separate personal property tax certification from your local county treasurer that you do not owe taxes

Provide a copy of your sales tax certificate

Provide three credit references (applicable for sole proprietorships and partnerships)

Submit your articles of incorporation (for businesses other than sole proprietorships)

Provide copies of your current certificates of insurance; must be on your place of business and in the following amounts:



$25,000 per person for bodily injury

$50,000 per occurrence

$10,000 property damage coverage
Submit and maintain a $30,000 auto dealer surety bond

Provide copies of franchise agreements and complete a D-100 New Franchise Certification for every franchise agreement (if you are applying for a new/used car dealer license)

Submit pictures of your place of business, of your storefront and sign

Complete and submit your

dealer license application form

Pay license and plate fees



$75 license fee

$275.50 fist dealer tag fee

$350.50 full-use plate fee

$25.50 additional dealer plate fee

$35 supplemental dealership location fee
Once you have completed all of the above requirements, you are ready to submit your documents to the Department at the following address:
Kansas Department of Revenue Division of Vehicles Topeka, Kansas 66626-0001
You will then need to wait up to 30 days for your application to be processed and approved, after which your Kansas dealer license will be issued.
Licenses expire yearly on December 31 and must be renewed before that date. If a license is not renewed in time, it expires and the dealer must go through the initial application process again!
If you need more information about the application process or details related to being a licensed dealer, see the Dealer License and Salesperson Handbook provided by the Department.
Surety Bond Requirement and Cost
The surety bond required of Kansas auto dealers serves as a guarantee that they will comply with the provisions of the Kansas Statutes Annotated, Chapter 8, Article 24 in the manufacture, sale, distribution, and disposal of vehicles.
If a dealer violates these provisions by, for example, defrauding their customers, a claim can be filed against the bond by those customers to request compensation. This compensation is extended by the surety but must ultimately be repaid to the surety by the bonded dealer!
The cost of getting bonded is determined largely by an applicant's credit score though sureties also take into account other factors. Applicants who have a high credit score, one of 700 FICO or above, can get their bond at a rate between .75%-1.5% of the total bond amount. Applicants with lower scores will get somewhat higher rates.
Submit our bond application form to find out how much exactly it will cost you to get bonded! We will provide you with a free and exact Kansas dealer bond quote, as well as with further details about the bonding process!
Get a FREE Dealer Bond Quote Today!
No Obligation - Fast and Secure - All Credit Types
Tell us about your business

powered by

Get your FREE quote today!
---