Kansas Auto Dealer License Guide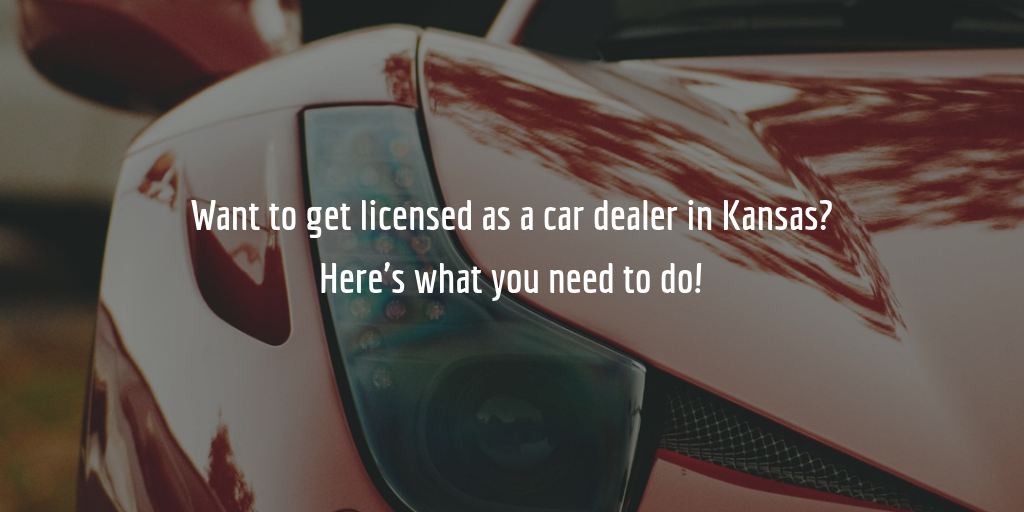 If you want to be a motor vehicle dealer in Kansas, there are multiple requirements you will have to meet. Most Kansas auto dealers are required to get licensed, and auto dealer's licenses have specific requirements that must be met before the state will issue them. One of the key requirements for auto dealer licensing is to secure an auto dealer bond. Here is some information about how you can get a dealer's license so that you can open the car dealership you have always dreamed of owning.
What Is a Kansas Dealer License?
A dealer license is issued by the Department of Revenue. It gives motor vehicle dealers the legal authority to sell the type of vehicles for which their licenses permit. If you do not have a dealer license, you will not be legally allowed to sell more than the threshold number of vehicles per year within the state.
Who Needs a Dealer License in Kansas?
Anyone who wants to sell more than five motor vehicles in 12 months in the state is required to get an auto dealer license. If you plan to sell five or fewer cars in the state in a 12-month period, you will not need a license.
How Much Does It Cost to Get a Dealer's License in Kansas?
There are several fees and expenses you will have to pay to get a dealer's license, including the following:
$75 license fee

$25.50 for each supplemental license tag

$350.50 for each full-use dealer tag

Bond cost as explained more fully below

$35 fee for each secondary dealership location
How Do You Get a Dealer's License in Kansas?
To get an auto dealer license, complete the following steps.
1. Figure Out Which License Type You Need
The Department of Revenue issues the following types of auto dealer licenses, depending on the types of vehicles you plan to sell and the actions you want to perform:

New and used vehicle dealer license if you want to sell both new and used cars

Used vehicle dealer license if you only want to sell used vehicles

Auction motor vehicle dealer if you want to sell vehicles at auction

Salvage vehicle dealer license if you want to deal in salvage vehicles

Wholesale vehicle dealer license if you want to serve as a wholesaler to other dealers or to a distributor
2. Familiarize Yourself With the Licensing Requirements
There are multiple requirements you must meet to get your motor vehicle dealer license. These requirements will be explained in more detail later in this article. However, some of the basic criteria you will have to meet include the following:

Provide personal details about each owner

Provide information about your business entity structure

Have a business location that is separate from your home that meets other requirements

Submit photographs of the place of business

If organized as a partnership or sole proprietorship, three credit references

Certificate of general liability and property damage insurance

Franchise certificate for new car dealers

Market area request if a new car dealer

$30,000 surety bond

KDOT certificate of compliance if a salvage dealer
For additional information about the requirements, you can review the Dealer Licensing and Salesperson Handbook.
3. Choose Your Business Structure and Register With the State
You need to determine how you will organize your business structure. There are several different types of structures that you can choose, including the following:

Corporation (S or C) – Requires a board of directors and is a separate entity from the shareholders

Limited liability company (LLC) – A pass-through entity that limits the owner's liability

Partnership – Structure formed under a partnership agreement between two or more owners

Sole proprietorship – Simplest structure with no liability protection
Once you have decided how to organize your business, you will need to register it with the Secretary of State. You will need to file your business formation documents and pay the registration fee.
4. Establish a Permanent Business Location
You will need to establish a permanent location for your dealership. This location must be separate from your home and must include a lot for the vehicles you intend to sell. It must include an office to retain records and have a business phone number in your business name. You must have a sign that is visible from the street with lettering at least 10 inches high that clearly identifies your business. Your business must also have proper zoning approval from the zoning board in your city or county. 
5. Get Appropriate Insurance Coverage
You are required to obtain auto liability insurance in your business name in the following minimum amounts:

$25,000 bodily injury for one person per accident

$50,000 bodily injury for two or more injured people per accident

$10,000 property damage coverage per accident
You are also required to get general liability coverage for your business and its inventory. Insurance companies should send proof of your coverage to the state.
6. Meet the Bond Requirement
To get your state of Kansas car dealer license, you will be required to purchase a $30,000 surety bond. A motor vehicle dealer bond is a legal contract between you, the state, and the surety company that issues the bond. It protects the public and the state and guarantees that you will follow the law when dealing in vehicles.

You will have to submit a bond application to the surety company along with some documents about you and your business. The surety company will complete an underwriting process to determine the level of risk you pose. If it agrees to issue a bond to you, it will provide you with a free quote. The quote will be for a bond premium you will have to pay to secure the bond and will be based on your credit score and other factors considered during the underwriting process. The bond quote is the amount you will have to pay upfront for the bond, and it can range from 1% of the total bond amount up to 10% or more. 
7. Complete and Submit Your Dealer License Application
Once you are ready, you will need to gather your documents and complete the dealer license application. Submit the application and all required documents to the following address:

Kansas Department of Revenue
Division of Vehicles
Topeka, Kansas 66626-0001

You will also need to submit the required licensing fees, full-use plate fees, and fees for your dealer plates together with your application and documents.

Once all of your documents, fees, and license application have been received and approved, you will receive an invitation to attend a training course. Once you complete the course, the license will be issued to you.
8. Keep Up With Your Annual Renewals
Your license will expire each calendar year on Dec. 31. If you want to continue operating your dealership, you will need to renew your license each year before its expiration date. You will also need to maintain your surety bond and insurance and pay your licensing fees. 
Kansas Dealer License Requirements
You must meet all of the license requirements before a license will be issued to you. A field investigator will also make routine inspections to ensure that you continue to comply. Here are the requirements you must meet to obtain and maintain your license:
Lot and office leased or owned in a structure that is separate from your home

Business address to receive mail at the licensed location

Working phone number listed in the business name

Zoning certificate

Insurance certificate in the business name

Personal property tax certification from the county treasurer verifying that all personal property taxes have been paid

Franchise agreement for a new vehicle dealer license

Storage certificate from KDOT for a salvage dealer license

$30,000 original bond form with power of attorney

Tax clearance certificate obtained

here

Sales tax certificate

Articles of incorporation if an LLC or corporation

Three credit references if a partnership or sole proprietorship

Photos of your established place of business, including the front and your sign

Fees
It is a good idea to keep copies of your application and all of your supporting documents in your records.
Is it Worth Getting a Dealer's License?
You can't legally operate a dealership or sell more than five vehicles in a calendar year without a dealer license issued by the Director of Vehicles. If you want to become a vehicle dealer and conduct business, you must get a dealer license.

Getting an auto dealer license allows you to legally conduct business in the state. Without a license, your business will not be operable. You must also get and maintain a Kansas auto dealer bond and ensure that you comply with all relevant laws. While the application process might be lengthy, you should view it as a cost of doing business.


Get a FREE Dealer Bond Quote Today!
No Obligation - Fast and Secure - All Credit Types
Get a FREE Bond Quote

Instant ballpark estimate

Tell us about your business

powered by

Get your FREE quote today!
---