The Full Guide to Getting Your Kansas Mortgage Broker License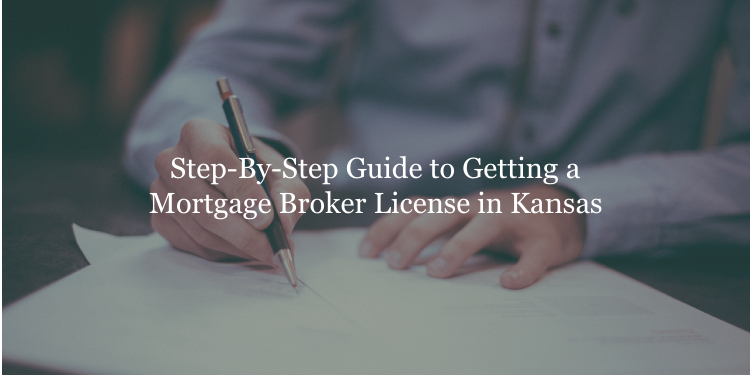 To act as a mortgage broker or to make supervised loans in the state of Kansas, you must get a license from the Kansas Office of the State Bank Commissioner (OSBC).
This license is issued and regulated by the OSBC but applicants must complete the application process through the Nationwide Mortgage Licensing System (NMLS).
Do you want to get a mortgage broker license in Kansas? Follow the steps outlined below!
1. Register Your Business in Kansas
Before you proceed with applying for a license, you must first register your business entity with the Secretary of State.
After you have filed for a business entity and received your formation documents, you can proceed with applying for your license.
2. Pick Your Kansas Mortgage Broker License Type
There are two different company licenses in Kansas that fall within the mortgage category. These are the mortgage company license and the supervised loan license.
Separately, there is the mortgage loan originator license which is an individual license. This guide will only focus on the company licenses in the state but if you'd like to know more about becoming a loan originator in Kansas, see the state requirements in NMLS.
3. Complete the Kansas Mortgage Broker License Requirements
To obtain a Kansas mortgage company license or a supervised loan license, you need to meet a number of licensing requirements. First, you need to register in the NMLS in order to gain access to your profile and application forms. As part of your application, you will then need to provide the following documents and forms:
Company form MU1
Individual form MU2
Credit report authorized through NMLS for persons in a position of control
Criminal background check authorized through NMLS
Financial statements
Formation documents
Certificate of Authority / Certificate of Good Standing
Business plan
Organizational chart
Management chart
Kansas mortgage broker bond
Credit notification filing (only for supervised loan license applicants)
Hiring practices and personnel screening procedures (only for supervised loan license applicants)
Additional information regarding other business in Kansas (only for supervised loan license applicants)
These are the documents that license applicants must provide when applying. If you'd like a detailed list of these requirements, see the official NMLS mortgage company license requirements checklist and the supervised loan license requirements checklist.
4. Get Your Kansas Mortgage Broker Bond
Applicants for both types of mortgage licenses need to obtain a surety bond.
Mortgage company license applicants must provide a $50,000 bond if they maintain a bona fide office in Kansas or a $100,000 bond if they do not maintain such an office.
Supervised loan license applicants must post a $100,000 bond for their first licensed place of business. A $25,000 bond must be posted for every additional licensed place of business, up to a maximum total amount of $300,000.
To get bonded you must pay a bond premium. This premium is equal to a percentage of the total amount of your bond. When you apply, the surety determines the percentage at which you can get bonded, based on financial indicators such as your personal credit score.
Want to get a free quote on your bond? Just complete the brief form below!
Get Your FREE Bond Quote Instantly
FREE Instant Online Quotes - All 50 States - All Credit Types
Get a FREE Bond Quote

Instant ballpark estimate

Tell us about your business

powered by

Get your FREE quote today!
5. Submit Your License Application and Pay Fees
After you have met all of the above requirements, you can proceed with submitting your application packet for review through the NMLS. Along with your application, you also need to pay the following fees:
$750 application fee
$15 credit report fee, per person
$36.25 criminal background check fee, per person
Upon approval, you will be notified that your license has been issued.
Do you have any additional questions about getting a mortgage broker bond in Kansas? Call our bond experts at 866.450.3412 anytime!
---