How to Get a Michigan Dealer License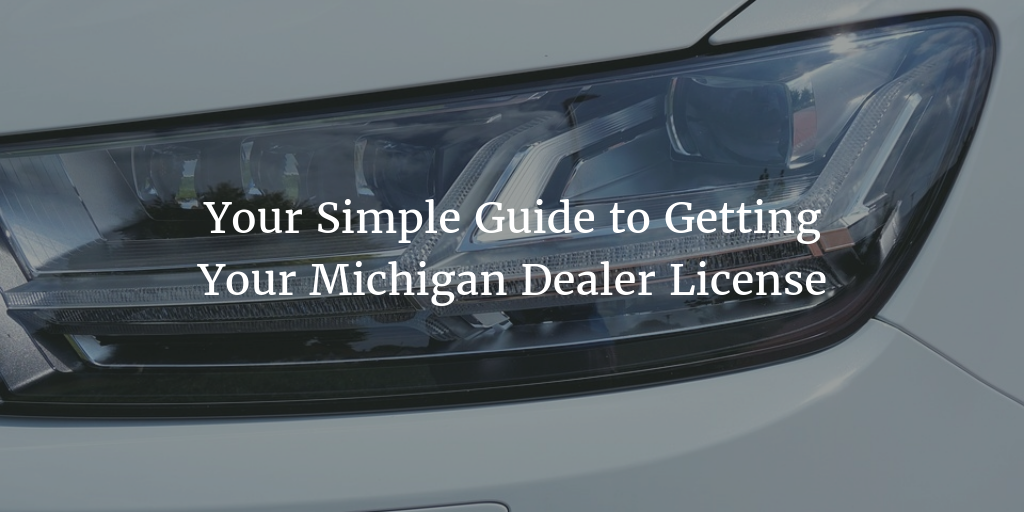 Michigan law requires anyone "buying, selling, brokering, leasing, negotiating a lease, or dealing in 5 or more vehicles in a 12-month period" to obtain a Michigan dealer license.
So if you'd like to open a dealership in the state that's known as the center of the U.S. automotive industry, buckle up! You'll need to submit a bit of documentation, pay your licensing fee, and obtain a Michigan motor vehicle dealer bond. Read on for the full details. 
Michigan dealer license types
There are 10 different types of dealer licenses in Michigan, depending on what exactly in the dealer industry you wish to do. Here's the full list:
New Vehicle Dealer (Class A)

Used Vehicle Dealer (Class B)

Used Vehicle Parts Dealer (Class C)

Broker (Class D)

Distressed Vehicle Transporter (Class E)

Vehicle Scrap Metal Processor (Class F)

Vehicle Salvage Pool (Class G)

Foreign Salvage Vehicle Dealer (Class H)

Automotive Recycler (Class R)

Wholesaler (Class W)
All of the above licenses are handled and issued by the Michigan Secretary of State (SoS). To get their licenses, applicants are required to fill in and submit an Original dealer license application to the SoS, as well as fulfill a number of additional requirements. Find the full list of requirements below.
Michigan dealer license requirements
Apart from the Michigan dealer license application, applicants for the various types of licenses must also fulfill a number of additional conditions. All dealers are required to:
Complete an application

Submit completed zoning and municipality approval forms (except Class H applicants)

Have an established place of business that meets the relevant requirements

Submit a copy of the business creation document/articles of incorporation or assumed name filing

Submit a signed receipt as proof of fingerprinting

Pay a license fee
In addition to the above, there are specific requirements that need to be met by the different license types. These are as follows:
Franchise agreement with manufacturer (Class A)

A completed Dealer Selection for Designated Branches Form (Class A & B)

Michigan No-fault fleet type insurance (Class A, B & W)

A registered repair facility or an agreement with a registered repair facility (Class A & B)

At least 2 dealer plates (Class A & B)

Evidence of Worker's compensation insurance or notice of exclusion (Class C & R)

A $10,000

Michigan

motor

vehicle dealer bond

(Class A, B & D)
If you have any questions regarding the above requirements, you can always refer to the Instruction Booklet for dealers provided by the Department of State or contact the business licensing section at the office of the SoS.
The following handy chart from the website of the SoS can also help you get a grasp on what you need or needn't do when applying for your license.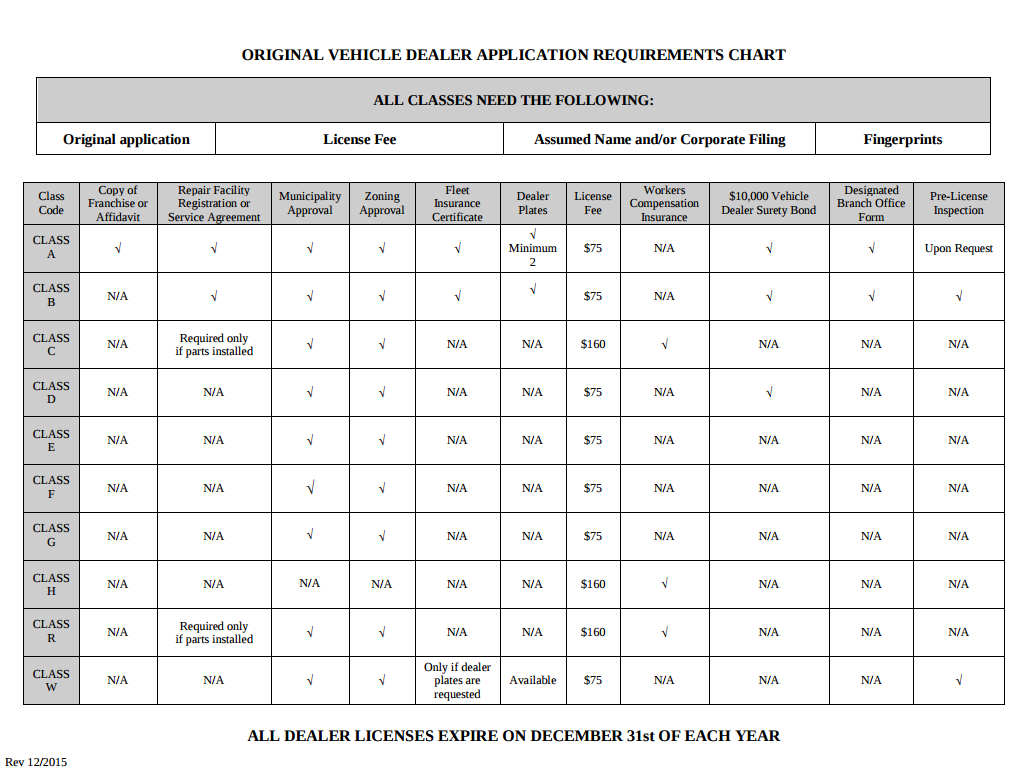 But what about the surety bond? How do dealers get bonded and how much does it cost?
Submitting a Michigan motor vehicle dealer bond
The $10,000 Michigan auto dealer bond is a central licensing requirement for new and used car dealers, and brokers. For those new to surety bonds – the bond is a type of protection for the state and the customers of the dealer. The dealer obtains the bond from a surety company which then guarantees for the dealer and provides financial compensation to claimants if a claim is filed against the bond.
The cost of obtaining a surety bond varies from applicant to applicant. Surety bond companies will consider an applicant's personal credit score, financial statements and other factors to determine the rate at which they can issue the bond. Typically, for applicants with a good credit score, rates vary between 1% and 3% of the total bond amount which means between $100-$300.
Find Out Your Dealer Bond Cost
Free Quote - Fast and Secure - All Credit Types
Tell us about your business

powered by

Get your FREE quote today!
If you'd like to apply for your Michigan motor vehicle dealer bond, get started by submitting your online surety bond application. We will then contact you with an entirely free quote on your bond and can proceed with the bonding process if it suits you. If you'd like to speak to one of our experts, call us at 866.450.3412 anytime!
---