What is an Auto Dealer Bond?
An auto dealer surety bond is a binding contractual agreement between three parties: the obligee (the state requiring the bond), the principal (the auto dealer), and the surety (the provider of the bond).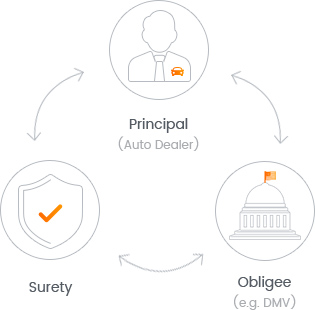 It's important not to confuse an auto dealer bond with insurance. Even though these bonds are sometimes wrongfully referred to as auto dealer bond insurance, they do not protect the dealer but the consumer.
Auto dealer bonds are a way to compensate dealers' customers if they become victims of fraud or unethical business practices. These include (but are not limited to):
Providing false information about the vehicle's condition
Tampering with the odometer
Failure to honor oral or written warranties
Engaging in deceptive financing methods, such as "yo-yo" financing
Not paying state sales tax or other applicable fees
Not reporting sales
Failing to adhere to the conditions of the license
A claim can be made on the dealer bond if the dealership doesn't follow all applicable laws and regulations of their state. If a legitimate claim is filed against the dealership, the surety will pay all relevant costs up to the amount of the surety bond it had underwritten. However, the dealer will have to reimburse these costs later on, which means avoiding claims is the best course of action.
Who Needs to Get an Auto Dealer Bond?
Whether you need to get bonded as a dealer or not depends on the specific regulations in your state. Some have different requirements for used-car, wholesale, auction and franchised dealers, for example.
States may also require surety bonds for the licensing process of other type of related businesses, such as motorcycle, snowmobile and boat dealers, salvage dealers, salespersons, designated agents, parts recyclers, and others. These types of surety bonds may not be referred to as auto dealer bonds, but they are, in essence, the same thing.
Regardless of the type of auto dealer bond you need, it's illegal to operate your business without it. Your license application will not be complete without one, and selling cars without a valid surety bond can lead to a fine and the revocation of your license.
How Much Does an Auto Dealer Bond Cost?
Depending on the state, the required motor vehicle dealer bond amounts can vary widely, from as little as $5,000, up to $100,000. But these amounts are only the maximum coverage bonds provide for claimants.
Your premium is a percentage of the total bond amount, usually between 0.75% and 3%. For example, а $50,000 bond will cost you anywhere between $375 and $5,000 per year.
This is the standard market rate for applicants with good credit and a clean credit report. The cost for less qualified applicants goes up to 3%-10%. However, your premium also depends on other specifics, such as your professional experience, and the overall financial strength of your business. The better these factors are, the smaller the cost will be.
Tips for reducing your premim
Check out our surety bond cost guide for more detailed information about bond prices, and what you can do to lower your premium. Some ways include:
Cleaning up credit report red flags, such as tax liens or civil judgments
Showcasing liquid assets and strong financials
Carefully choosing your surety bond provider
Demonstrating your industry experience
The surety bond cost calculator below can also help you get an estimate of your yearly premium. You can test how much of an impact a different credit score could have on your premium. Keep in mind that it provides only ballpark estimates. For an exact quote, simply submit our online application.
Surety Bond Cost Calculator

Tell us where to send you your
FREE

estimate

SEND ME MY ESTIMATE!

We'll never share your information with third parties

Thank you

for your request!
The ballpark estimate on your premium is: $100 - $167
We've send a copy of your estimate on your email as well.
Want an exact quote? Simply fill out our online application It's fast and 100% free!
Get a free exact quote
Get another estimate
Getting Bonded with Bad Credit
If you have less-than-perfect credit, or even past bankruptcies, tax liens or civil judgments, Bryant Surety Bonds can still help you get bonded. We operate a bad credit surety bond program, which helps high-risk applicants get the bonds they need.
Call our surety agents at (866) 450-3412 and they'll be happy to provide personalized advice on how you can build a strong application.
Application
Getting your bond is a straightforward process. You can apply online and get a quote in minutes, or call (866)-450-3412 and one of our auto dealer bond experts will guide you through the application process.
To get your exact bond price, you may have to supply a few required personal and financial details, such as:
Personal financial statements
Business financial statements
Ownership structure (sole proprietorship, LLC, corporation, etc.)
Proof of liquid asset ownership
Resumé
Watch this short video for some more detailed information on questions that first-time applicants frequently have:
These may be necessary, so that the surety bond company can make a better assessment of your business's likelihood of triggering and paying back claims. So if you have good financials and liquid assets, such as cash on hand, demonstrating them can lower your bond costs. The same is true for your industry experience: a resume that shows you're seasoned in the industry is a strong signal of trustworthiness.
Renewal Deadlines
Some states don't have pre-determined expiration dates for their motor vehicle dealer bonds. In these cases the bonds are usually valid for one year since the issue date. Others states have a fixed expiration date, meaning dealers must make sure they renew their bonds prior to that date. To stay up-to-date, check out the dates for your particular state below.
Bond Renewal Deadlines by Month
March 31st
Dealers in New Jersey and New Mexico renew their bonds before March 31st each year, whereas Georgia dealers only need to do it on even years.
April 30th
Florida dealer bonds expire on that date each year.
June 30th
Bond renewal is due before June 30th for West Virginia car dealers.
September 30th
Renewal deadline for all Alabama dealers.
December 31st
Dealer bonds expire on December 31st for the followings states: Illinois, Kansas, Louisiana, Missouri, Montana, Nebraska, Oklahoma, Rhode Island.
Other deadlines
Other non-continuous dealer bonds don't have a fixed date, but they do have expiration dates nonetheless. Oregon dealer bonds, for example, are valid for 3 years and expire on the last day of the month they were issued. The same is true for Texas and Tennessee dealer bonds, though their validity is 2 years.
Renewal Application
The renewal application is similar to the initial application but shorter. You'll get a new quote, which may be lower if your financial or credit situation has improved over the past year.
If you have acquired your dealer bond with Bryant Surety Bonds, we make sure you never forget a deadline by sending several reminders– 30, 60 and 90 days ahead of the deadline. It is advisable to renew your bond as early as possible. You may have to pay late or reinstatement fees if you miss your deadline, or you may have to start the application process from the beginning.
Popular Types of Auto Dealer Bonds
Below are some of the most commonly requested car dealer bonds.
All Texas dealers need to post a $25,000 bond and pay premiums once every two years.
The Department of Highway Security requires a $25,000 dealer bond from all licensed dealers in the state.
Retail dealers need a $50,000 bond, while the amount goes down to $10,000 for motorcycle, all-terrain and wholesale-only dealers.
Used-car dealers in the state need to have a valid $35,000 bond. For used car parts dealers the amount is $10,000.
Both new and used-car dealers need a surety bond to get licensed, however the amounts are different. Used-car dealer bond amounts can be either $20,000 or $100,000, while bonds for franchised dealers are fixed at $50,000.
The process of getting licensed as a designated agent in Illinois involves posting a $20,000 surety bond.
Dealer Bond Requirements by State
To find out particular information about your state, such as obligee, bond cost, expiration dates and others, select your state from the map below.
Choose Your State
How to Become an Auto Dealer
States have varying requirements for auto dealers. While posting a motor vehicle dealer bond is always one of them, there are a number of others that you will need to fulfill before you can get your license. Some of the common ones include:
Buying garage liability insurance
Passing a background check
Paying application fees
Getting a zoning approval
Displaying a business sign
For more information, you can check out our comprehensive infographic guide on how to become a car dealer.
Note: Verify all information with your state licensing authority first, because licensing requirements can frequently change. We have created dealer licensing guides for a number of states, which you are welcome to use as reference:
Find the Bond You Need
The table below contains a list of only the most popular surety bonds. If you can't find yours, fill out our online application and select "Not in the list".
| | | | |
| --- | --- | --- | --- |
| Alabama | Motor Vehicle Dealer Bond | Dept. of Revenue | Apply Now |
| Alabama | Used Motor Vehicle Dealer, Reconditioner, Rebuilde | Alabama Dept of Revenue | Apply Now |
| Alabama | Designated Agent Bond | Alabama Department of Revenue | Apply Now |
| Alabama | Bond of Automotive Dismantler and Parts Recycler | Alabama Department of Revenue | Apply Now |
| Alabama | AMHC License/Permit | Manufactured Housing Commission | Apply Now |
| Alabama | Designated Agent-Non Dealer Bond | Alabama D.O.R. Motor Vehicle Division | Apply Now |
| Alaska | Motor Vehicle Dealer's/Buyer's Agent | Division of Motor Vehicles | Apply Now |
| Alaska | Motor Vehicle Dealer's/Buyer's Agent | Division of Motor Vehicles | Apply Now |
| Arizona | Vehicle Dealer Bond | Motor Vehicle Division | Apply Now |
| Arizona | Vehicle Dealer Bond | Motor Vehicle Division | Apply Now |
| Arizona | License / Mobile Home Dealer Bond | State of Arizona, Office of Administration | Apply Now |
| Arizona | Electronic Records Access | Motor Vehicle Division | Apply Now |
| Arkansas | New Motor Vehicle Dealer | Motor Vehicle Commission | Apply Now |
| Arkansas | New Motorcycle, ATV, Scooter, Utility Vehicle or L | Arkansas Motor Vehicle Commission | Apply Now |
| Arkansas | Used Motor Vehicle Dealer | State Police - Special Services Section | Apply Now |
| California | Retail Dealer | Department of Motor Vehicles - Occupational Licens | Apply Now |
| California | Wholesale Dealer | Department of Motor Vehicles - Occupational Licens | Apply Now |
| California | Financial Responsibility Bond | CA DMV | Apply Now |
| California | Retail Dealer | Department of Motor Vehicles - Occupational Licens | Apply Now |
| California | Business Partner Automation | Registration Operations Division | Apply Now |
| California | REGISTRATION SERVICE SURETY BOND | California Registration Operations Division | Apply Now |
| California | Vehicle Verifier | State of California DMV | Apply Now |
| California | Commercial Requester Account | State of California DMV | Apply Now |
| California | Yacht and Ship Broker Bond | California Department of Boating and Waterways | Apply Now |
| California | IRP Bonded Web User Bond | Department Of Motor Vehicles, Motor Carrier Div. | Apply Now |
| Colorado | Motor Vehicle Dealer | Department of Revenue - Auto Industry Division | Apply Now |
| Colorado | Motor Vehicle Dealer | Department of Revenue - Auto Industry Division | Apply Now |
| Colorado | Motor Vehicle Buyer Agent | Dept of Revenue - Auto Industry Division | Apply Now |
| Colorado | Home Sale Down Payment Bond | Div. of Housing - Manufactured Home Registration | Apply Now |
| Connecticut | Motor Vehicle Dealer | Department of Motor Vehicles - Dealers & Repairers | Apply Now |
| Connecticut | Motor Vehicle Dealer | Department of Motor Vehicles - Dealers & Repairers | Apply Now |
| Connecticut | Registration Issuance | DMV- Dealers and Repairers Division | Apply Now |
| Delaware | Motor Vehicle Dealer Bond | Division of Revenue | Apply Now |
| Delaware | Financing the Sale of Motor Vehice License | State of Deleware | Apply Now |
| Delaware | Motor Vehicle (Non-Dealer, Not Listed) Bond | Division of Revenue | Apply Now |
| District of Columbia | Motor Vehicle Dealer | Department of Consumer & Regulatory Affairs | Apply Now |
| District of Columbia | Repair Dealer | Department of Consumer & Regulatory Affairs | Apply Now |
| District of Columbia | Motor Vehicle Dealer | Department of Consumer & Regulatory Affairs | Apply Now |
| District of Columbia | Consumer Goods Repair Dealers Bond | Department of Consumer & Regulatory Affairs | Apply Now |
| District of Columbia | Auto Repossessor Bond | DC Department of Consumer and Regulatory Affairs | Apply Now |
| District of Columbia | Auto Repossessor Bond | DC Department of Consumer and Regulatory Affairs | Apply Now |
| Florida | Motor Vehicle Dealer | Department of Highway and Motor Vehicles - Divisio | Apply Now |
| Florida | Recreational Vehicle Dealer | Department of Highway and Motor Vehicles - Divisio | Apply Now |
| Florida | Franchise Motor Vehicle Dealer | State of Florida | Apply Now |
| Florida | Mobile Home Installer Bond | FL - Mobile Home Installer Bond | Apply Now |
| Florida | Motor Vehicle Dealer | Department of Highway and Motor Vehicles - Divisio | Apply Now |
| Florida | Recreational Vehicle Dealer | Department of Highway and Motor Vehicles - Divisio | Apply Now |
| Florida | Mobile Home Dealer | Department of Highway Safety & Motor Vehicles | Apply Now |
| Florida | Recreational Vehicle Manufacturer, etc. | Department of Highway and Motor Vehicles - Divisio | Apply Now |
| Florida | Yacht and Ship Broker's or Salesperson's | State of Florida, Dept of Business and Professiona | Apply Now |
| Florida | Private Rebuilt Vehicle Inspection Bond | Department of Highway and Motor Vehicles - Divisio | Apply Now |
| Georgia | Used Motor Vehicle & Parts Dealer | State Board of Registration - Used Motor Vehicle | Apply Now |
| Georgia | Used Parts Dealer | State Board of Registration - Used Parts Division | Apply Now |
| Hawaii | Motor Vehicle Dealer | Motor Vehicle Industry Board - Department of Comme | Apply Now |
| Hawaii | Motor Vehicle Dealer | Motor Vehicle Industry Board - Department of Comme | Apply Now |
| Idaho | Vehicle or Vessel Dealer | Transportation Department | Apply Now |
| Idaho | New and Used Manufactured/Mobile Home Dealer/Broke | Idaho Division of Building Safety | Apply Now |
| Idaho | Vehicle or Vessel Dealer | Transportation Department | Apply Now |
| Illinois | Designated Agent | Secretary of State - Vehicle Services Department | Apply Now |
| Illinois | Designated Agent | Secretary of State - Vehicle Services Department | Apply Now |
| Illinois | Remittance Agent's | Illinois Secretary of State | Apply Now |
| Illinois | Installment | Vehicle Services Dept. Commercial & Farm Truck Div | Apply Now |
| Indiana | Vehicle Merchandising Certificate Bond | Indiana Secretary of State Dealer Division | Apply Now |
| Indiana | Vehicle Merchandising Certificate Bond | Indiana Secretary of State Dealer Division | Apply Now |
| Indiana | Auto & Mobile Home Dealers (Used Only, No New) Bon | State of Indiana Dealer Division | Apply Now |
| Iowa | Motor Vehicle Dealer | Department of Transportation | Apply Now |
| Iowa | Motor Vehicle Dealer | Department of Transportation | Apply Now |
| Kansas | Motor Vehicle Dealer | Department of Revenue - Division of Vehicles - Dea | Apply Now |
| Kansas | Motor Vehicle Dealer | Department of Revenue - Division of Vehicles - Dea | Apply Now |
| Kentucky | Motor Vehicle Dealer | Motor Vehicle Commission | Apply Now |
| Kentucky | Motor Vehicle Dealer | Motor Vehicle Commission | Apply Now |
| Kentucky | Highway Use | Dept. of Vehicle Regulation Div. of Motor Carriers | Apply Now |
| Local Government | Second Hand Motor Vehicle Dealer Bond | City Of New Bedford | Apply Now |
| Local Government | Massachusetts Used Car Dealer's | City of Gardner | Apply Now |
| Local Government | Second Hand Motor Vehicle Dealer Bond | Town of Uxbridge | Apply Now |
| Louisiana | Motor Vehicle Dealer | Recreational and Used Motor Vehicle Commission | Apply Now |
| Louisiana | New Motor Vehicle Dealer Bond | Lousiana Motor Vehicle Commission | Apply Now |
| Louisiana | Motor Vehicle Dealer | Recreational and Used Motor Vehicle Commission | Apply Now |
| Louisiana | Auto Title | Department of Public Safety | Apply Now |
| Louisiana | Department of Public Safety & Corrections Office o | LA Dept of Public Safety and Corrections | Apply Now |
| Louisiana | Offical Motor Vehicle Inspection Station Bond | LA Dept of Public Safety and | Apply Now |
| Louisiana | Recreational Products Dealer Bond | Louisiana Motor Vehicle Commission | Apply Now |
| Maine | Motor Vehicle Dealer | Bureau of Motor Vehicles - Dealer and Agent Servic | Apply Now |
| Maine | Motor Vehicle Dealer | Bureau of Motor Vehicles - Dealer and Agent Servic | Apply Now |
| Maryland | Vehicle or Trailer Dealer Bond | Motor Vehicle Administration | Apply Now |
| Maryland | Boat Dealer | Dept of Natural Resources, Licensing & Registratio | Apply Now |
| Maryland | Vehicle or Trailer Dealer | Motor Vehicle Administration | Apply Now |
| Maryland | Title Service Agent | Motor Vehicle Administration | Apply Now |
| Maryland | Boat Dealer Bond | Dept of Natural Resources Licensing & Registration | Apply Now |
| Maryland | Motor Vehicle Manufacturer | State of Maryland | Apply Now |
| Maryland | Credit Hauling Bond | State Highway Administration | Apply Now |
| Maryland | Motor Vehicle Repair Facility License | Prince George's County | Apply Now |
| Massachusetts | MASSACHUSETTS USED CAR DEALER?S | City of Boston, MA | Apply Now |
| Massachusetts | Used Car Dealer's | Town of Dighton | Apply Now |
| Massachusetts | Town of Barnstable, MA Used Car Dealer's Bond | Town of Barnstable Licensing Division | Apply Now |
| Massachusetts | Abington, MA Used Car Dealer's | Town of Abington | Apply Now |
| Massachusetts | Taunton, MA Used Car Dealer's | City of Taunton | Apply Now |
| Massachusetts | Fall River, MA Used Car Dealer's | City of Fall River | Apply Now |
| Massachusetts | Middleton, MA Used Car Dealer's | Town of Middleton | Apply Now |
| Massachusetts | Medford, MA Used Car Dealer's | City of Medford | Apply Now |
| Massachusetts | Worcester, MA Used Car Dealer's | City of Worcester | Apply Now |
| Massachusetts | Lawrence, MA Used Car Dealer's | City of Lawrence | Apply Now |
| Massachusetts | Peabody, MA Used Car Dealer's | City of Peabody | Apply Now |
| Massachusetts | Hampden, MA Used Car Dealer's | Town of Hampden | Apply Now |
| Massachusetts | North Andover, MA Used Car Dealer's | Town of North Andover | Apply Now |
| Massachusetts | Attleboro, MA Used Car Dealer's | City of Attleboro | Apply Now |
| Massachusetts | Natick, MA Used Car Dealer's | Town of Natick | Apply Now |
| Massachusetts | Boston, MA Used Car Dealer's | City of Boston | Apply Now |
| Massachusetts | Milford, MA Used Car Dealer's | Town of Milford | Apply Now |
| Massachusetts | Malden, MA Used Car Dealer's | City of Malden | Apply Now |
| Massachusetts | Salisbury, MA Used Car Dealer's | Town of Salisbury | Apply Now |
| Massachusetts | Danvers, MA Used Car Dealer's | Town of Danvers | Apply Now |
| Massachusetts | Westport, MA Used Car Dealer | Town of Westport, MA | Apply Now |
| Massachusetts | North Attleboro, MA Used Car Dealer | Town of North Attleboro | Apply Now |
| Massachusetts | Framingham, MA Used Car Dealer | Town of Framingham | Apply Now |
| Massachusetts | Marlborough, MA Used Car Dealer | Department of Municipal Licensing | Apply Now |
| Massachusetts | Groton, MA Used Car Dealer | Town of Groton | Apply Now |
| Massachusetts | Franklin, MA Used Car Dealer | Town of Franklin | Apply Now |
| Massachusetts | Carver, MA Used Car Dealer | Town of Carver Licensing Authority | Apply Now |
| Massachusetts | Lynn, MA Used Car Dealer's | City of Lynn, City Clerks Officer | Apply Now |
| Massachusetts | Somerset, MA Used Car Dealer's | City Of Somerset | Apply Now |
| Massachusetts | Auburn, MA Used Car Dealer's Bond | Town of Auburn | Apply Now |
| Massachusetts | Auto & Mobile Home Dealers (Used Only, No New) Bon | City of Cambridge | Apply Now |
| Massachusetts | Rockland, MA Used Car Dealer's | Town of Rockland | Apply Now |
| Massachusetts | Mendon, MA Used Car Dealer's Bond | Town of Mendon | Apply Now |
| Massachusetts | Haverhill, MA Used Car Dealer's Bond | Town of Haverhill | Apply Now |
| Massachusetts | Dudley, MA Used Car Dealer's Bond | Town Of Dudley, MA | Apply Now |
| Massachusetts | Randolph, MA Used Car Dealer | Town of Randolph | Apply Now |
| Massachusetts | Bourne, MA Used Car Dealer's Bond | Town of Bourne | Apply Now |
| Massachusetts | Stoughton, MA Used Car Dealer Bond | Town of Stoughton | Apply Now |
| Massachusetts | Westfield, MA Used Car Dealer's | City of Westfield | Apply Now |
| Massachusetts | Amherst, MA Used Car Dealer's | Town of Amherst | Apply Now |
| Massachusetts | Used Car Dealer's Bond | Town Of Reading | Apply Now |
| Massachusetts | Wareham, MA Used Car Dealer's Bond | Town of Wareham | Apply Now |
| Massachusetts | Southwick, MA Used Car Dealer's Bond | Town of Southwick | Apply Now |
| Massachusetts | Town of Oxford, MA Used Car Dealer Bond | Town Of Oxford | Apply Now |
| Massachusetts | Saugus, MA Used Car Dealer Bond | City Of Saugus | Apply Now |
| Massachusetts | Used Car Dealer's Bond | Town of Gill, MA | Apply Now |
| Massachusetts | Orange, MA Used Car Dealer Bond | Town of Orange | Apply Now |
| Massachusetts | Swansea, MA Used Car Dealer Bond | Town of Swansea | Apply Now |
| Massachusetts | Town of Hopedale, MA Used Car Dealer Bond | Town of Hopedale | Apply Now |
| Massachusetts | Town of Easton, MA Used Car Dealer Bond | Town of Easton | Apply Now |
| Massachusetts | Town of Needham, MA Used Car Dealer Bond | Town of Needham | Apply Now |
| Massachusetts | Town of Yarmouth, MA Used Car Dealer Bond | Town of Yarmouth | Apply Now |
| Massachusetts | Town of Walpole, MA Used Car Dealer Bond | Town of Walpole | Apply Now |
| Massachusetts | Town of Rowley, MA Used Car Dealer's Bond | Town Of Rowley | Apply Now |
| Massachusetts | West Bridgewater, MA Used Car Dealer's Bond | Town of West Bridgewater | Apply Now |
| Massachusetts | Town Of Raynham, MA Used Car Dealer's Bond | Town Of Raynham | Apply Now |
| Massachusetts | Town of Winchendon, MA Used Car Dealer's Bond | Town of Winchendon | Apply Now |
| Massachusetts | Town of Barnstable, MA Used Car Dealer's Bond | Town of Barnstable | Apply Now |
| Massachusetts | City of Agawam, MA Used Car Dealer's Bond | City of Agawam | Apply Now |
| Massachusetts | City of Somerset, MA Used Car Dealer's Bond | City of Somerset | Apply Now |
| Massachusetts | Town of North Oxford, MA Used Car Dealer's Bond | Town of North Oxford | Apply Now |
| Massachusetts | City of Somerville, MA Used Car Dealer's Bond | City of Somerville | Apply Now |
| Massachusetts | Town of Kingston, MA Used Car Dealer's Bond | Town of Kingston | Apply Now |
| Massachusetts | Town of Andover, MA Used Car Dealer's Bond | Town of Andover | Apply Now |
| Massachusetts | Town of Franklin, MA Used Car Dealer's Bond | Town of Franklin | Apply Now |
| Massachusetts | City of Leominster, MA Used Car Dealer's Bond | City of Leominster | Apply Now |
| Massachusetts | City of Melrose, MA Used Car Dealer's Bond | City of Melrose | Apply Now |
| Massachusetts | City of Pittsfield, MA Used Car Dealer's Bond | City of Pittsfield | Apply Now |
| Massachusetts | Electric Vehicle Registration Permit Bond | Commonwealth of Massachusetts, RMV | Apply Now |
| Michigan | Uniform Vehicle Dealer | Department of State | Apply Now |
| Michigan | Motor Vehicle Dealer | Department of State | Apply Now |
| Michigan | Uniform Manufactured Housing Retailer's Bond | Michigan - Department of State | Apply Now |
| Michigan | Uniform Manufactured Housing Retailer's Consumer D | Dept of Licensing and Regulatory Affairs | Apply Now |
| Minnesota | Motor Vehicle Dealer | Department of Public Safety - Driver and Vehicle S | Apply Now |
| Minnesota | Manufactured Home Dealer | Minnesota Department of Labor and Industry | Apply Now |
| Minnesota | Motor Vehicle Dealer | Department of Public Safety - Driver and Vehicle S | Apply Now |
| Mississippi | New Motor Vehicle Dealer | Motor Vehicle Commission | Apply Now |
| Mississippi | Designated Agent | Department of Revenue | Apply Now |
| Mississippi | New Motor Vehicle Dealer | Motor Vehicle Commission | Apply Now |
| Mississippi | Designated Agent Bond | Department of Revenue | Apply Now |
| Mississippi | Designated Agent Bond | Department of Revenue | Apply Now |
| Mississippi | Manufactured Housing | Commissioner of Insurance | Apply Now |
| Missouri | Motor Vehicle Dealer | Motor Vehicle Bureau - Dealer Licensing Section | Apply Now |
| Missouri | Motor Vehicle Dealer | Motor Vehicle Bureau - Dealer Licensing Section | Apply Now |
| Missouri | Used Vehicle Dealer Bond (Springfield, MO) | City of Springfield License Divisio | Apply Now |
| Montana | Motor Vehicle Dealer | Title and Registration Bureau | Apply Now |
| Montana | Motor Vehicle Dealer | Title and Registration Bureau | Apply Now |
| Nebraska | 50K Motor Vehicle Dealer | Motor Vehicle Industry Licensing Board | Apply Now |
| Nebraska | 25K Motor Vehicle Dealer | Motor Vehicle Industry Licensing Board | Apply Now |
| Nebraska | Motor Vehicle Dealer ($50K) | Motor Vehicle Industry Licensing Board | Apply Now |
| Nebraska | Motor Vehicle Dealer ($25K) | Motor Vehicle Industry Licensing Board | Apply Now |
| Nevada | Vehicle Industry Business License Bond | Occupational and Business Licensing | Apply Now |
| Nevada | Vehicle Industry Business License Bond | Occupational and Business Licensing | Apply Now |
| Nevada | Vehicle Industry Business License | Nevada - Occupational and Business Licensing | Apply Now |
| Nevada | Body Shop or Garage Business License Bond | Occupational and Business Licensing | Apply Now |
| Nevada | Specialty License Plate Bond | Nevada Department of Motor Vehicles | Apply Now |
| Nevada | Vehicle Registration Program Bond | Occupational and Business Licensing | Apply Now |
| New Hampshire | Motor Vehicle Dealer | Division of Motor Vehicles - Dealer Licensing Bure | Apply Now |
| New Hampshire | Motor Vehicle Dealer | Division of Motor Vehicles - Dealer Licensing Bure | Apply Now |
| New Jersey | Motor Vehicle Dealer | Division of Motor Vehicles - Dealer Licensing Bure | Apply Now |
| New Jersey | Used Motor Vehicle Dealer Surety | Division of Motor Vehicles - Dealer Licensing Bure | Apply Now |
| New Mexico | Vehicle Dealer or Auto Recycler | Motor Vehicle Division | Apply Now |
| New Mexico | Vehicle Dealer or Auto Recycler | Motor Vehicle Division | Apply Now |
| New Mexico | Title Service Company Bond | Motor Vehicle Division | Apply Now |
| New York | Motor Vehicle Dealer | Department of Motor Vehicles | Apply Now |
| New York | Automobile Brokers Bond | Department of State | Apply Now |
| New York | Auto & Mobile Home Dealers (New & Used) Bond | Obligee info for this request was wrong | Apply Now |
| New York | Motor Vehicle Dealer | Department of Motor Vehicles | Apply Now |
| New York | Executive Law Article 21-B | New York State Deaprtment of State | Apply Now |
| New York | Second Hand Vehicle Sales | Town of Hempstead | Apply Now |
| North Carolina | Motor Vehicle Dealer | Division of Motor Vehicles - License & Theft Burea | Apply Now |
| North Carolina | Manufactured Housing Dealers | Dept of Insurance Division of Motor Vehicle | Apply Now |
| North Carolina | Motor Vehicle Dealer | Division of Motor Vehicles - License & Theft Burea | Apply Now |
| North Dakota | Motor Vehicle Dealer | Department of Transportation - Motor Vehicle Divis | Apply Now |
| North Dakota | Mobile Home and Manufactured Home Dealer Bond | Department of Transportation | Apply Now |
| North Dakota | Motor Vehicle Dealer | Department of Transportation - Motor Vehicle Divis | Apply Now |
| Ohio | Deputy Registrar | Department of Public Safety - Bureau of Motor Vehi | Apply Now |
| Oklahoma | Wholesale Motor Vehicle Dealer's Bond | Used Motor Vehicle & Parts Commission | Apply Now |
| Oklahoma | Used Motor Vehicle Dealer | Used Motor Vehicle and Parts Commission | Apply Now |
| Oklahoma | Used Traile, Automobile, Merchandise Salvage or Se | The City of Oklahoma City-Licensing Division | Apply Now |
| Oklahoma | Used Motor Vehicle Salesperson's Bond | Used Motor Vehicle and Parts Commission | Apply Now |
| Oklahoma | Manufactured Home Manufacturer's Bond | Used Motor Vehicle and Parts Commission | Apply Now |
| Oklahoma | Motor License Agent Bond | Oklahoma Tax Commission | Apply Now |
| Oregon | Motor Vehicle Dealer | Department of Transportation - Driver and Motor Ve | Apply Now |
| Oregon | Manufactured Structures Dealer Bond | Department of Consumer & Business Services | Apply Now |
| Oregon | Dismantler or Rebuilder of Vehicles | Department of Transportation - Driver and Motor Ve | Apply Now |
| Oregon | Motorcycles, Mopeds, Snowmobiles, ATV | Dept of Transportation Driver and Motor Vehicle Se | Apply Now |
| Oregon | Disseminator Bond | State of Oregon, Dept of Transportation | Apply Now |
| Pennsylania | Dealer/Agent/Messenger/Salvor | Department of Transportation - Bureau of Motor Veh | Apply Now |
| Pennsylania | Dealer/Agent/Messenger/Salvor | Department of Transportation - Bureau of Motor Veh | Apply Now |
| Pennsylvania | New, New & Used, Auto, & Mobile Home Dealers | Dept of Transportation | Apply Now |
| Pennsylvania | SURETY BOND (Hauling) | Commonwealth of Pennsylvania | Apply Now |
| Pennsylvania | Sales Finance Company Bond | Pennsylvania Department of Banking | Apply Now |
| Pennsylvania | Official Inspection Station Certificate of Appoint | Manager of the Vehicle Inspection Division | Apply Now |
| Rhode Island | Dealer's License | Division of Motor Vehicles - Dealer's License & Re | Apply Now |
| Rhode Island | Dealer's License | Division of Motor Vehicles - Dealer's License & Re | Apply Now |
| South Carolina | Motor Vehicle Dealer | Department of Motor Vehicles - Dealer Licensing & | Apply Now |
| South Carolina | Motor Vehicle Dealer | Department of Motor Vehicles - Dealer Licensing & | Apply Now |
| South Dakota | Vehicle Dealer | Division of Motor Vehicles | Apply Now |
| South Dakota | Vehicle Dealer | Division of Motor Vehicles | Apply Now |
| State of Arizona | Title Service | Dealer Licensing Unit, Motor Vehicle Division | Apply Now |
| Tennessee | Motor Vehicle Dealer | Motor Vehicle Commission | Apply Now |
| Tennessee | Dealer of Manufactured Homes | Motor Vehicle Commissioner | Apply Now |
| Tennessee | Motor Vehicle Auction | Motor Vehicle Commission | Apply Now |
| Tennessee | Motor Vehicle Dealer | Motor Vehicle Commission | Apply Now |
| Tennessee | Motor Vehicle Auction | Motor Vehicle Commission | Apply Now |
| Tennessee | Manufactured Home Stabilizing System Installer Bon | Tennessee Motor Vehicle Commission | Apply Now |
| Tennessee | Modular Building Units Installer Bond | STATE FIRE MARSHAL'S OFFICE | Apply Now |
| Tennessee | Modular Building Units Dealer Bond | State Fire Marshal's Office - Codes Enforcement | Apply Now |
| Texas | Motor Vehicle Dealer | Department of Transportation - Motor Vehicle Divis | Apply Now |
| Texas | Continuous Manufactured Housing License | Dept of Housing and Conmmunity Affairs - MHD | Apply Now |
| Utah | Motor Vehicle Dealer, Crusher, Body Shop | Motor Vehicle Enforcement Division | Apply Now |
| Utah | Motor Vehicle Dealer, Crusher, Body Shop | Motor Vehicle Enforcement Division | Apply Now |
| Utah | Factory Built Housing Dealer Bond | Division of Occupational an professional Licensing | Apply Now |
| Vermont | Motor Vehicle Dealer | VT DOT - Agency of Transportation | Apply Now |
| Virginia | Motor Vehicle Dealer | Motor Vehicle Dealer Board | Apply Now |
| Virginia | Motorcycle, Trailer or T&M Vehicle Dealer | Department of Motor Vehicles | Apply Now |
| Virginia | Motor Vehicle Dealer | Motor Vehicle Dealer Board | Apply Now |
| Virginia | Passenger Carrier/Broker | Department of Motor Vehicles | Apply Now |
| Virginia | Extended Service Contract Provider/Obligor | Vehicle Investment Protection, Inc. | Apply Now |
| Virginia | Household Goods Carrier | Commonwealth of Virginia | Apply Now |
| Washington | Vehicle, Vessel, Vehicle Manufacturer, | Department of Licensing | Apply Now |
| Washington | Vehicle, Vessel, Vehicle Mfgr, Reg Tow Truck Oper | Department of Licensing | Apply Now |
| Washington | Vehicle, Vessel, Vehicle Mfgr, Reg Tow Truck Oper | Department of Licensing | Apply Now |
| West Virginia | Motor Vehicle Dealer | Division of Motor Vehicles - Dealer Services | Apply Now |
| West Virginia | Motor Vehicle Dealer | Division of Motor Vehicles - Dealer Services | Apply Now |
| Wisconsin | Motor Vehicle Dealer | Department of Transportation | Apply Now |
| Wisconsin | Motor Vehicle Dealer | Department of Transportation | Apply Now |
| Wyoming | Motor Vehicle Dealer | Department of Transportation - Motor Vehicle Servi | Apply Now |
| Wyoming | Motor Vehicle Dealer | Department of Transportation - Motor Vehicle Servi | Apply Now |
| Wyoming | Wyoming Based Manufacturer Bond | Wyoming Department Of Transportation | Apply Now |
---
---