How to Get a Maine Car Dealer License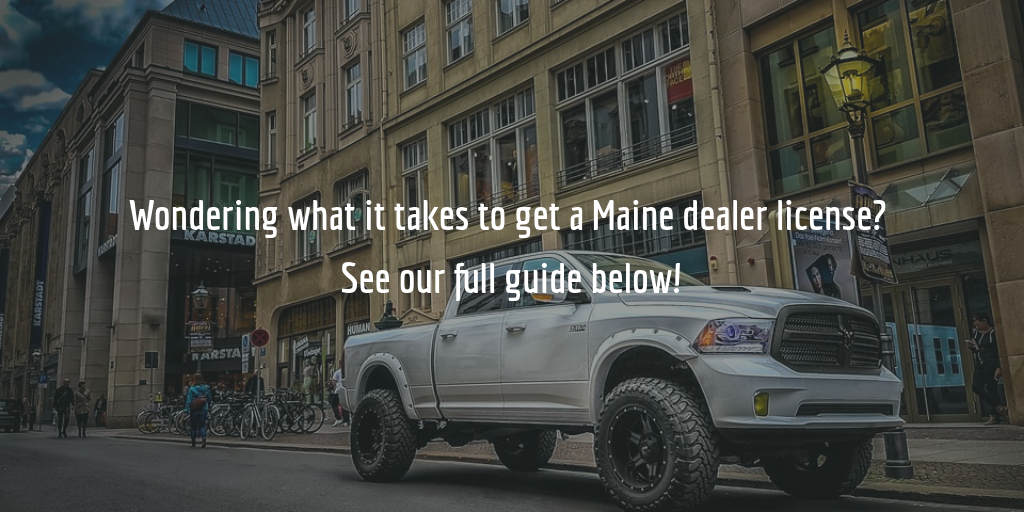 A Maine car dealer license is required by any person who:
Buys vehicles for the purpose of resale

Sells more than 5 vehicles in any 12 month period

Advertises or display 3 or more vehicles for sale within a 30 day period on their premises
To get licensed and open your own dealership, you must apply at the state Bureau of Motor Vehicles (BMV) Dealer Section. Several different dealer licenses exist, though the licensing requirements for them are largely the same. These include completing a criminal background check, obtaining liability insurance, as well as a Maine auto dealer bond.
For a step-by-step guide to getting your Maine dealer license, see below!
1. Pick Your Maine Car Dealer License Category
Several license types exist which are all classified as a dealer license. These are:
New Car & Used Car Dealer

Motorcycle Dealer

Equipment Dealer

Heavy Trailer Dealer (over 3000 lbs.)

Boat/Snowmobile Trailer Dealer (under 3000 lbs.)

Recycler

Vehicle Auction
2. Register Your Business
Apart from your dealer license from the BMV, you may also need a general business license. Such licenses are managed on a town/city level. Contact your local business registration office to check if you require a license. If your business is a corporation, you have to register with the State of Maine Bureau of Corporations.
You will also require an Employer Identification Number (EIN) from the Internal Revenue Service. Learn more about getting an EIN on the IRS website.
Finally, as a car dealer, you also need to apply for sales & use tax and/or income tax withholding from the Maine Revenue Services.
3. Find a Suitable Business Location
All dealer license applicants must secure a business location which is in accordance with the requirements in Title 29-A, Chapter 9 and 29-250 Chapter 103. Make sure to review these rules, as they are more specific than the requirements outlined below.
The general requirements for your dealership location are as follows:
A permanent, enclosed building, located in the state

Easily accessible and open to the public at all reasonable business hours, and in which the public may contact the dealer during those hours

A display area of at least 5,000 sq. ft. either inside the dealership or immediately attached to it

In compliance with all local building codes and zoning ordinances

In which equipment, books, records, and files are kept that are necessary for the operation of the dealership

With a permanently affixed exterior sign, that indicates the name of the dealership
Note: As part of your compliance, you will need to complete a Building Code, Zoning and Land Use Regulatory Ordinance Clearance (MVD-363), a plot plan, and secure a lease agreement. You will need to provide all of these when submitting your dealer application form.
4. Pass a Background Check
Anyone listed as an owner, officer, director, shareholder, member, manager, and partner on your application must pass a criminal background check.
You can apply for a background check online or complete a form and mail it to the Maine State Police.
Applying online costs $6 per record, whereas applying by mail is $31 per record.
5. Submit Your Maine Dealer License Application
After covering the above steps, you can now complete your dealer license application form. In addition to this form, you will also need to submit the following supporting documentation:
A completed

applicant questionnaire

A notarized lease agreement

A notarized zoning form

A plot plan

Business registration documents and sales tax number

Criminal background check reports (these will be mailed by the Maine Police to the BMV when you order them)
When mailing your application packet, you will also need to include several fees on a check, made payable to the Secretary of State:
$150 non-refundable filing fee

$150 license fee (except for Light trailer license and Motorcycle dealer license)

$50 for Light trailer license and Motorcycle dealer license

Plate fee (depending on the number and type of plates)
Send your Maine car dealer application and fee check to the following address:
Secretary of State Bureau of Motor Vehicles
Dealer and Agent Services
29 State House Station
Augusta, Maine 04333-0029
Note: If your application is denied, your license and plate fees will be refunded.
6. Pass an Inspection
Prior to getting licensed, your dealership will need to be inspected by a Motor Vehicle Investigator. You must meet the minimum requirements outlined above.
The BMV will notify you in advance about the time and date of the inspection. If you pass your inspection successfully, you can continue with obtaining insurance and a surety bond and receiving your license.
7. Get Liability Insurance and a Surety Bond
Once you have passed your dealership inspection successfully, you can proceed with getting insurance and a bond.
For your insurance, contact your insurance company and ask them to submit an R-1348 insurance filing for you to the BMV. The amount of your insurance must be in accordance with MRS Title 29-A, Chapter 13, §1612.
You must also obtain a Maine auto dealer bond. The amount of your bond will depend on the projected amount of vehicles you intend to sell. When you renew your bond and license, the amount will be based on the sales you made in the preceding year.
Bond amounts are as follows:
$25,000 – 0–50 vehicles

$50,000 – 51-100 vehicles

$75,000 – 101-150 vehicles

$100,000 – 151+ vehicles
8. Pass a Dealer Training Class
New Maine auto dealer license applicants must also pass a dealer training class before they can get licensed. This is the final step before receiving your license and being allowed to operate.
To find out more about the class and how to sign up, call the BMV Dealer Licensing Section at (207) 624-9000 ext. 52143.
9. License Renewal
Dealer licenses are valid for one year and expire on the last day of the month in which they have been issued.
You must renew your license prior to this deadline. License renewal fees are the same as the fees for your initial licensing. For more information about how to renew, and the forms you require – contact the BMV!
---