How to Get a New York Dealer License (4 Steps)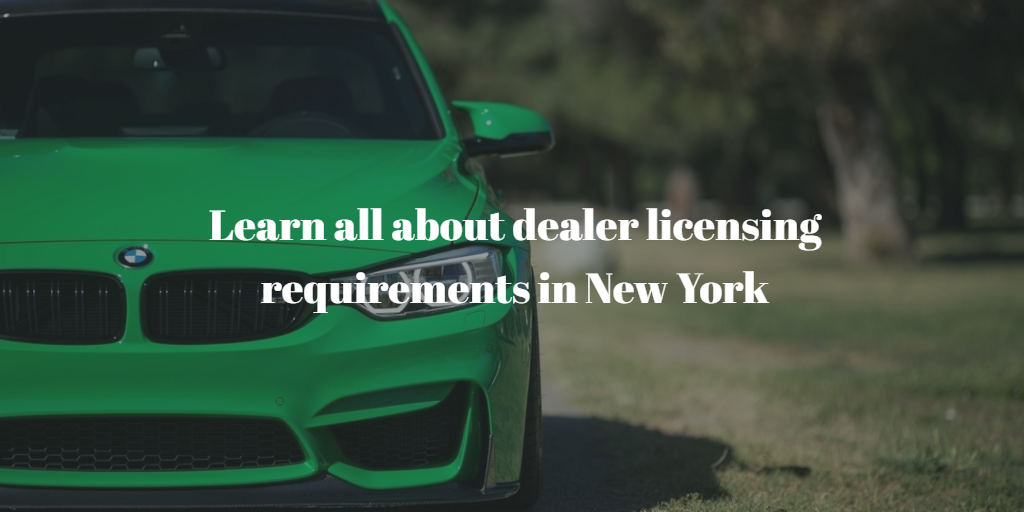 In the state of New York, you need to get a license from the Department of Motor Vehicles (DMV) in the following cases:
You offer 3 or more vehicles for sale at your business location;
You offer 3 or more vehicles for sale, within a single month, at your location;
You sell 5 or more vehicles in 12 months.
Obtaining a New York dealer license involves meeting several requirements, including posting a New York auto dealer bond. It's best to review the DMV's Motor Vehicle Dealers and Transporters Regulations in detail as well. Let's review the main details you need to know before you start your licensing and bonding process.
1. Pick the Type of New York Dealer License You Want to Apply For
There are several different dealer license types that you can apply for in New York. These are:
New Retail Motor Vehicle Dealer
Used/Other Retail Motor Vehicle Dealer (includes used cars, motorcycles, trailers, RVs, and heavy trucks)
Wholesale Motor Vehicle Dealer
Boat Dealer
Transporter
ATV Dealer
Yacht Broker
The licensing requirements for all of the above are largely the same. See the next section for a breakdown of all the conditions you need to comply with.
2. Complete the application form and assemble supporting documents
Your licensing starts with completing the Original Facility Application. Along with this form, you need to provide proof of meeting the rest of the requirements.
This entails providing the following paperwork:
Business entity documents
Business State Tax ID Number or a copy of your Sales Tax Certificate of Authority
Copies of ID for all applicants
Proof of lease or ownership of your business location
Proof of purchase of signs and starter kit
A surety bond in the correct amount (see the bonding section below for a breakdown of the bonding amounts)
Franchise agreement or letter of intent from the manufacturer (applicable only to new vehicle dealers)
Workers' compensation insurance (in case you have employees)
For an even more detailed breakdown of the required paperwork, see the Facility Requirements for Dealers and Transporters checklist.
Once you have completed your application form and assembled all supporting documents, you need to submit these to the DMV at the following address:
NYS DMV
Bureau of Consumer & Facility Services
Application Unit
P.O. Box 2700
Albany, NY 12220-0700
Make sure to include a check or money order in the amount of $487.50 and a $260 fee for your Retail Certificate of Sale (MV-50), made payable to the Commissioner of Motor Vehicles. When you pass your on-site investigation, your certificate of sale will be issued by the DMV.
This fee only applies to vehicle dealers. If you are a boat dealer, yacht broker, or ATV dealer, your fee may differ, so make sure to check with the DMV.
3. Pass an on-site inspection
After your application has been considered, you will get an on-site inspection to check your location's compliance. The investigation will check if you have the following items in your dealership:
Dealer starter kit
Permanently mounted signs visible from the street
Proof of ID for everyone named on the application
In addition, your dealership location will also need to be compliant with the conditions that are stated in the list of facility requirements. These can also be found in the application form.
If you pass the inspection, you will get your certificate of registration, MV-50s (Retail Certificates of Sale), and a dealer plate letter.
You need to undergo the New York dealer license renewal annually.
4. Get Your New York Auto Dealer Bond
One of the major requirements for getting a New York auto dealer license is posting an auto dealer bond. The bonding amounts vary depending on the number of vehicle sales and the license type.
If you are selling less than 50 vehicles in a calendar year, you need to obtain a $20,000 bond.
If you are selling more than 50 vehicles, the bond amount is $100,000.
Franchised dealers selling cars, SUVs, and light trucks need to post a $50,000 bond.
Whatever your bond amount is, the bond cost that you need to pay is only a fraction of it. The typical percentages are between 1% and 3% for standard bonding market applicants. So, for $20,000, your bond premium can be in the range of $200 to $600.
How exactly is your bond price set? When you apply for the bonding, your surety assesses your business and financial strength. It examines factors such as credit score, assets and liquidity, and financial statements. If your overall profile is stable, you can expect to pay less for your New York auto dealer bond.
To get a free quote on your bond, complete the bond form below! If you have any questions about getting bonded, don't hesitate to reach out to us at 866.450.3412!
Get Your FREE Bond Quote Instantly
FREE Instant Online Quotes - All 50 States - All Credit Types
Get a FREE Bond Quote

Instant ballpark estimate

Tell us about your business

powered by

Get your FREE quote today!
---