How to Get a Louisiana Dealer License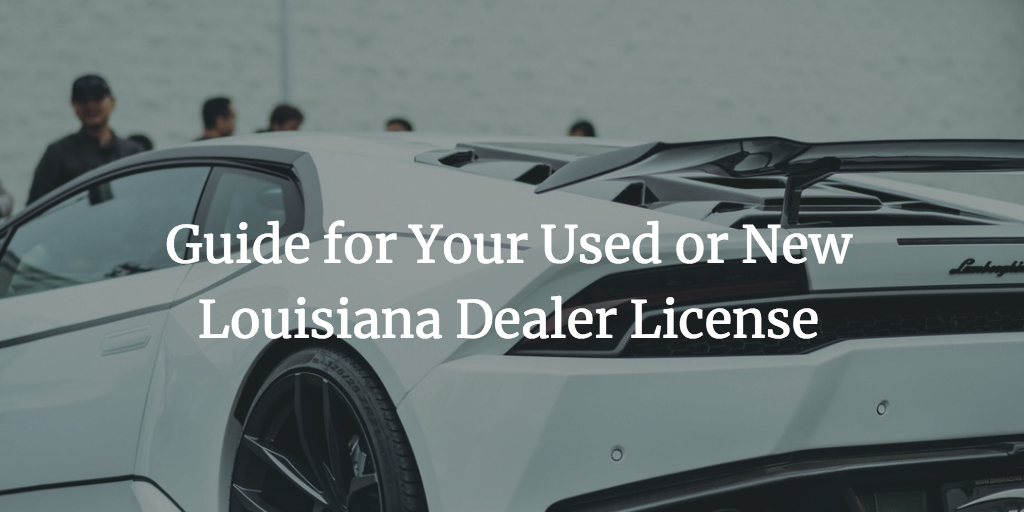 In case you're considering to launch a car sales business in Louisiana, you will need to meet a number of requirements to gain the legal right to operate in the state. The most important process you will have to undergo is to obtain a Louisiana dealer license.
Among the licensing criteria that you have to meet is posting a Louisiana auto dealer bond. Its exact amount varies depending on the type of license you want to obtain.
Below you can find the licensing requirements and the bonding options, so that you can launch your car dealership with ease.
The
Louisiana dealer license requirements
The exact criteria that you have to satisfy in order to launch your motor vehicle dealership in Louisiana depend on the type of vehicles that you want to sell.
Used car dealers have to undergo a licensing process with the Louisiana Used Motor Vehicle Commission. On the other hand, if you want to run a new car dealership, the licensing authority is the Louisiana Motor Vehicle Commission.
Used car dealer license
You need to obtain a Louisiana used car dealer license if you want to engage in trading with used vehicles. You can find the Used Dealer Package here.
The types of licenses that you can obtain from the Used Motor Vehicle Commission include:
Used car dealer
Rent with the option to purchase
Crusher
Automotive dismantler and parts recycler
Daily rental
Auction
Used parts and accessories
For each different license, there are varying requirements that have to be satisfied. However, there are a number of criteria that are set for most license types:
Undergo an Educational Training Seminar

Completed application form

Zoning verification form

Installed business phone in your official business location

Picture of your business sign

Garage liability insurance for used car dealers and auction licenses

Rental insurance for rent with the option to purchase and daily rental licenses

Surety bond for used car dealers, rent with the option to purchase, daily rental, and auction licenses
Together with providing these documents, you also have to cover a licensing fee of $400. The licenses are active until December 31st of the year of expiry. Then you have to go through the state dealer license renewal process to continue operating legally.
You will also have to supply application forms for each salesperson, together with a fee of $25 per year.
Download our FREE ebook guide to learn everything about getting licensed as a dealer in Louisiana!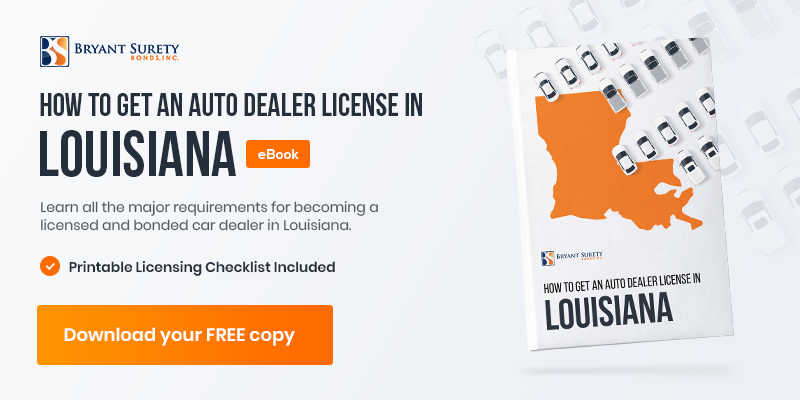 New car dealer license
In case you want to start a dealership trading with new vehicles, you will need a license from the Louisiana Motor Vehicle Commission. The state dealer license application can be requested via the website of the Commission, or by calling (504) 838-5207.

The license types that you can obtain include:
Manufacturer, distributor, factory branches, and distributor branches
New motor vehicle dealer
Satellite warranty repair centers
New motor vehicle brokers
Motor vehicle lessor franchisors
Motor vehicle lessors
Lease facilitator
Converter and/or secondary manufacturer
Speciality vehicle dealers
Finance companies under the Motor Vehicle Sales Finance Act
The exact licensing requirements are available once you obtain the application form from the Commission. In case you want to obtain a license as a new motor vehicle dealer, you have to get a $20,000 surety bond.
Getting your Louisiana auto dealer bond 
Among the main requirements that you have to satisfy to get licensed is providing a surety bond.
For used car dealers and other license types monitored by the Used Motor Vehicle Commission, the bond amount is set at $50,000. New motor vehicle dealers who are undergoing a licensing process with the Motor Vehicle Commission have to obtain a $20,000 surety bond.
Whichever bond amount you have to provide, you only have to cover a small percentage of it called the bond premium. This is your actual surety bond cost. If your overall finances are in good shape, it is likely to be about 1% to 3% of the required bond amount. Thus, for a $20,000 surety bond, you may have to pay only $200 to $600.
The bond price that you have to cover is formulated on the basis of your personal and business finances. Your surety considers your personal credit score, company financials, as well as assets and liquidity that you can showcase. The stronger these factors are, the smaller your bond cost is likely to be.
Get a FREE quote on your dealer bond
No Obligation - Fast and Secure - All Credit Types
Tell us about your business

powered by

Get your FREE quote today!
Need more information about obtaining your Louisiana dealer license and bonding? We're here to help – just contact us at 866.450.3412.
---