How to Get a South Dakota Dealer License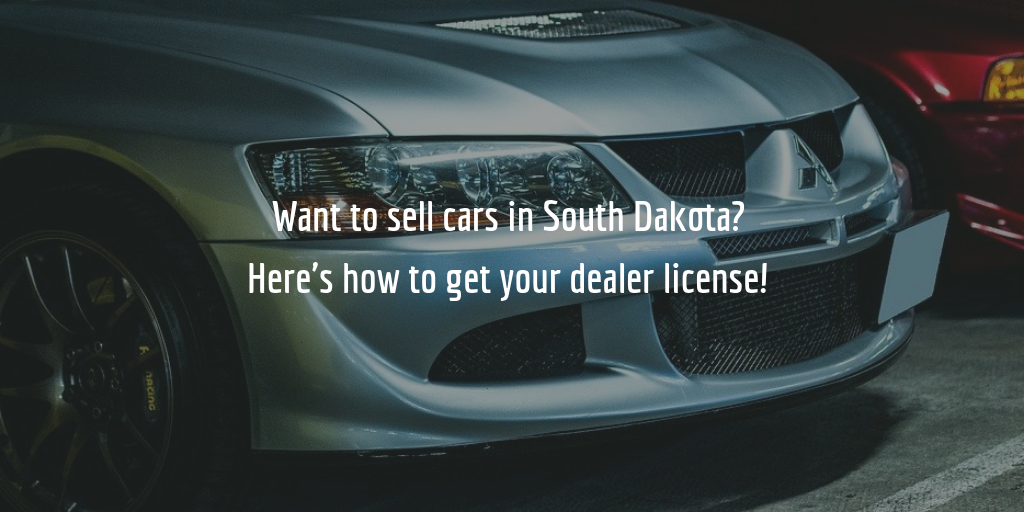 To set up a dealership in South Dakota, you must apply for a license from the Motor Vehicle Division (MVD) at the state Department of Revenue (DoR). The Department offers several different types of licenses, depending on the type of vehicles you wish to sell.
Common licensing requirements include getting a business permit, an established place of business, obtaining liability insurance, and a South Dakota auto dealer bond.
Want to get a South Dakota dealer license? Keep reading below for a full breakdown of the licensing requirements.
1. Pick the Type of Dealer License You Want to Apply For
The MVD issues several different dealer licenses, depending on the types of vehicles offered for sale.
Vehicle dealer

Used vehicle dealer

Mobile/Manufactured home dealer

Motorcycle dealer

Snowmobile and/or Boat dealer

Trailer dealer

Emergency vehicle dealer
The application requirements for these licenses are largely the same, with certain small differences in the paperwork and certificates required. These will be noted below.
Note: Licensed vehicle dealers can sell both new and used cars.
2. Obtain a Business Permit
Before you can apply at the MVD for a South Dakota dealer license, you must register your business as an entity. This includes the following steps:
Obtain an Employer Identification Number (EIN) from the Internal Revenue Service (IRS)

Register with the state Division of Business Services

Get a local city/county business license (if applicable)
When you cover these requirements, you can proceed with satisfying the dealer license conditions.
3. Find a Suitable Place For Your Dealership
All dealer license applicants must find a suitable location for their dealership. The place of business must comply with the following requirements:
Zoning approval letter from the city or county

Leased or owned by the dealer

Enclose permanent structure easily accessible and open to the public during reasonable business hours (at least 20 hours per week, between 8 a.m. and 8 p.m.)

An adequately heated and lighted office that is also used for the storage and maintenance of books and records, required to conduct business

A telephone line that is listed with the local business directory

An improved display area adjoining the main building which has enough space for the display of at least 5 vehicles

A permanently affixed external sign that states the name of the business and is legible from the public right-of-way next to the dealership

A repair shop (for new vehicle dealers)
Mobile/manufactured homes dealers must comply with slightly different requirements. All location requirements can be found in the dealer requirements leaflet.
Note: Before your license is issued, your dealership must pass an inspection to determine that it complies with all requirements.
4. Complete the South Dakota Dealer License Requirements
Having covered the dealership location requirements, you are ready to deal with the required paperwork. Begin by completing the main South Dakota dealer license application form as well as the dealer license plate application form. New and used vehicle dealers must obtain '77' South Dakota dealer plates – which allow any cars owned by them to be driven on South Dakota's streets and highways.
Along with these application forms, you will need to submit the following supporting documents:
Zoning approval form

Copy of the lease agreement or deed

A public liability insurance policy of no less than $300,000 (applicable for vehicle, used vehicle and motorcycle dealers)

South Dakota auto dealer bond (see next section for more information)

Franchise agreement (for vehicle dealers)
After assembling the above documentation, you can proceed with mailing your application packet to the MVD, and paying the necessary fees.
5. Get a South Dakota Auto Dealer Bond
All applicants for a dealer license must also obtain a South Dakota auto dealer bond. Bond amounts for the different licenses are:
$25,000 for vehicle, used vehicle, and mobile/manufactured home dealers
$20,000 for boat dealers
$10,000 for trailer dealers
$5,000 for motorcycle and off-road dealers, as well as snowmobile dealers
Surety bonds serve as a guarantee for your compliance with state laws, and you cannot get licensed without getting bonded.
Get Your FREE Bond Quote Instantly
FREE Instant Online Quotes - All 50 States - All Credit Types
Get a FREE Bond Quote

Instant ballpark estimate

Tell us about your business

powered by

Get your FREE quote today!
6. Submit Your License Application Form and Pay Fees
To submit your application packet, mail it to the MVD at the following address:
State of South Dakota
Motor Vehicle Division
445 East Capitol Ave
Pierre, SD 57501-3185
Along with your application form, submit an initial application fee, attached to your application:
$300 for vehicle, used vehicle, emergency, and mobile/manufactured home dealers

$250 for motorcycle and boat dealers

$150 for snowmobile dealers

$125 for trailer dealers
You must also pay a fee for the dealer plates you have ordered. This fee will depend on the number of plates you wish to receive. Plate fees for the different dealer types are specified on the application form.
Once you have submitted all of the above, your dealership will be inspected by an agent from the MVD. If you are in compliance with all requirements, you will receive your dealer license.
7. Applying For Your South Dakota Dealer License Renewal
Dealer licenses are issued for a period of 5 years but a renewal application must be submitted every year!
You will be notified by the MVD 3 months in advance of the expiration date of your license, and receive a License Renewal Notice and Billing. You will need to review these documents and return them to the MVD along with the relevant renewal fee.
If you have any questions about the licensing or renewal process for South Dakota dealers, contact the Dealer Licensing Office at (605) 882-5192 or [email protected]!
---