How to Get a Michigan Money Transmitter License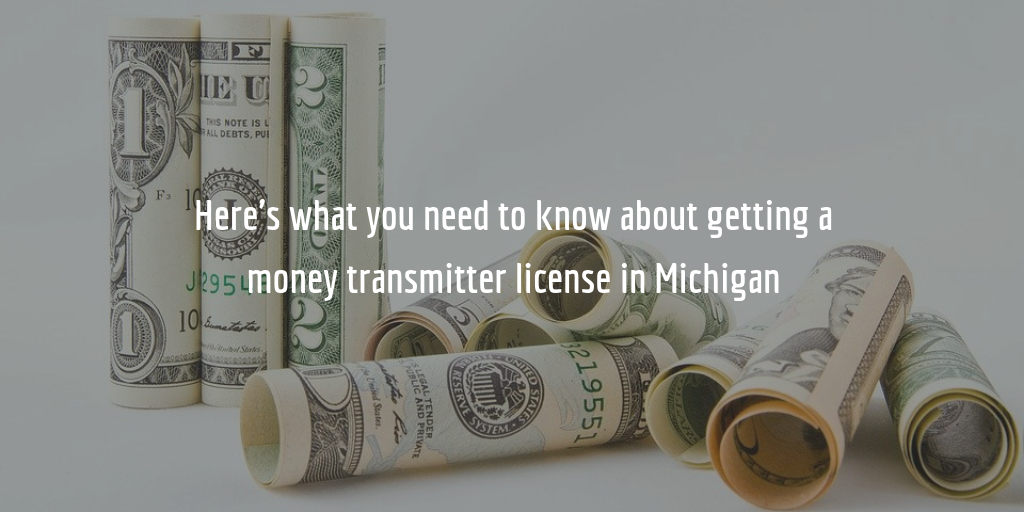 Anyone providing money transmission services in Michigan must obtain a money transmitter license from the state Department of Insurance and Financial Services (DIFS). While the license is issued and regulated by the Department, the application process is managed by the Nationwide Multistate Licensing System & Registry (NMLS).
Some of the requirements of getting licensed include demonstrating a minimum net worth of $100,000 or more, providing a Michigan money transmitter bond, as well as submitting various supporting documents.
Keep reading for a full overview of the application process for the Michigan money transmitter license!
1. Get a Michigan Business Registration
Before you apply for your money transmitter license, you need to apply for a business entity registration in Michigan. To get a good sense of the registration procedure, see the detailed Guide to Starting and Operating a Small Business provided by the Michigan Small Business Development Center.
You can also directly visit the Corporations, Securities & Commercial Licensing Bureau (CSCL) website to get started with your registration. Once you've covered this, you can proceed with applying for your license.
2. Apply for Your Michigan Money Transmitter License
Before you can begin with completing the licensing requirements, you must first register in the NMLS online platform.
There are three different aspects of your money transmitter license application. One part of the application consists of completing various forms in the NMLS platform itself. A second part consists of uploading various supporting documents to the platform, and finally, you will also need to submit a number of documents by mail to the Department. All of these are detailed below.
Complete your application forms
The main two forms which you will need to complete are Company form MU1 and Individual form MU2.
These forms will require you to provide basic information about the business, employees such as agents and qualifying individuals, as well as to respond to various disclosure questions.
Attach supporting documents
In addition to the above forms, you also need to attach the following supporting documents to your application:
A Michigan money transmitter bond in the minimum amount of $500,000 for the first location, and an additional $10,000 for every further location and authorized delegate, up to a maximum amount of $1,500,000

Audited or unaudited financial statements for each of the previous two years, created in accordance with GAAP
These must demonstrate that your company has a net worth of at least $100,000, plus $25,000 for every additional location or authorized delegate, up to a maximum of $1,000,000
Detailed explanations in separate documents to any of the disclosure questions you've answered with yes

Your company's Anti-Money Laundering (AML) / Bank Secrecy Act (BSA) policies

Business plan

Certificate of authority or good standing, and entity formation documents

Flow of funds structure

Management chart and organizational chart

Detailed letter of explanation regarding any derogatory credit accounts in your credit report

Permissible investments calculation (for applicants who have operations in other states)
Complete requirements submitted outside of NMLS
As a final part of your application, you will need to submit several additional documents to the DIFS by mail. These are:
A list of your branch locations (if applicable)

Direct ownership verification – copies of your operating agreement, stock certificates, and any other documentation that in support of 100% direct ownership; or, if not 100% ownership, a spreadsheet listing owners' names, and percentages

FinCEN Form 107

Information about precautions you will take to protect client data and privacy (if you will be conducting business online)

A list of other past or present professional licenses held by the applicant or company in Michigan or other states
These are all the main requirements you need to cover before you can submit your license application.
3. Obtain Your Michigan Money Transmitter Bond
Getting a Michigan money transmitter bond is one of the main licensing requirements that you need to cover.
The bond amount for the first location must be $500,000. Another $10,000 must be added to the amount for every additional location and authorized delegate that you will have. The maximum amount of your bond can be $1,500,000.
The purpose of the bond is to guarantee your compliance with Michigan laws that regulate the business of money transmitters.
You can get a free quote on your bond by completing the bond form below!
Get Your FREE Bond Quote Instantly
FREE Instant Online Quotes - All 50 States - All Credit Types
Get a FREE Bond Quote

Instant ballpark estimate

Tell us about your business

powered by

Get your FREE quote today!
4. Submit Your Michigan Money Transmitter License Application and Pay Fees
Once you've covered all application requirements, you can proceed with submitting your application. Along with the application you will need to pay several fees through NMLS. These include:
$3,050 license/registration fee
$600 application fee
$50 license fee per additional location
$0.25 annual fee for every active authorized agent/delegate location
Once you've covered all of the above, you will have completed the application process for your Michigan money transmitter license.
If you have any additional questions about this process, contact the DIFS at 517-284-8800 or send them an email at [email protected].
---