New Requirement for Missouri Rental Company Bonds

Vehicle lease and rental companies in Missouri have to meet new licensing criteria. Senate Bill 368 introduces a requirement to provide a financial security instrument in the form of a license bond or an irrevocable letter of credit in order to run a business that offers rental or lease of motor vehicles, trailers, boats, or outboard motors. Its amount should be $100,000. 
The Missouri rental company bond aims to protect the state and its citizens against potential illegal activities that rental companies may engage in. It can offer financial compensation up to the bond amount in case of non-compliance with state laws. 
In the following sections, you can learn the essential details contained in the new bill.  
The new rules in Senate Bill 368
The bill was signed into law on July 9th, 2019 and is active as of August 28th, 2019. For rental and lease companies in Missouri, it stipulates that they need to provide financial security to the Department of Revenue prior to launching their legal operations in the state. The amount should be $100,000, in the form of a surety bond or an irrevocable letter of credit. 
As already noted, the instrument serves as an extra layer of protection that guarantees the legal compliance of lease and rental businesses, thus safeguarding the interests of the general public. It is conditioned on following the applicable rules and regulations. A harmed party can file a claim against the surety bond and seek reimbursement of up to $100,000.  
The beneficiary of the security instruments is the state of Missouri. However, the actual compensation, in case of proven claims, is directed to the respective party who has suffered damages. In such situations, the payment can be processed only after a final judgment from a state court has been issued and delivered to the Department of Revenue.
There are additional rules in the new bill that affect lease and rental companies. Namely, besides the financial instrument, they need to pay an annual fee of $250 in order to obtain an operating authority. Rental and leasing businesses that operate with more than 3,500 vehicles can also apply to become registered fleet owners.
How to get your Missouri rental company bond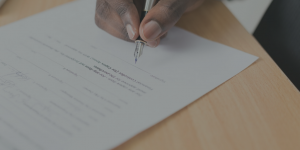 On August 28th, 2019 all lease and rental companies in Missouri will need to meet the new $100,000 financial security requirement. As posting a surety bond does not involve having the whole sum, it is often a preferred option for satisfying this criterion. The state has a list of approved surety providers, so you need to select one of them to apply for your bonding. 
In order to get bonded, you have to pay only a small percentage of the required amount of $100,000. The exact price is called the bond premium. It depends on the strength of your personal and company finances, including credit score and business paperwork. Applicants who can showcase a strong overall profile usually pay between 0.75% and 5% of the bond amount. 
Do you have more queries about getting a Missouri rental company bond for your business? You can speak to our bonding specialists by calling us at 866.450.3412.  
---