The Full Guide to Getting Your Wisconsin Mortgage Broker License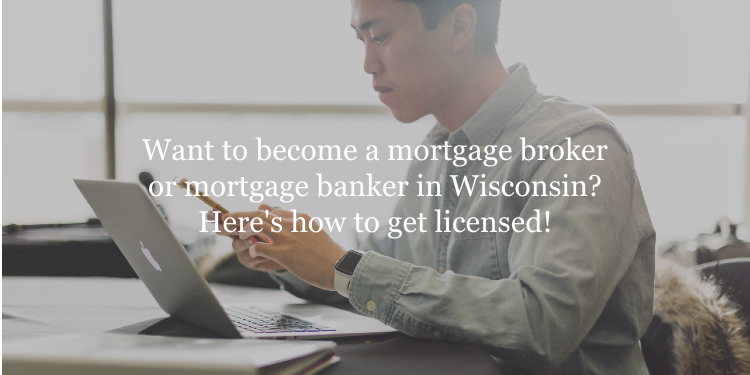 To operate as a mortgage broker or mortgage banker in Wisconsin, you must obtain a license from the Division of Banking at the Department of Financial Institutions. While the Division regulates and issues these licenses, you must use the Nationwide Mortgage Licensing System (NMLS) to apply.
When applying for either of these licenses you will need to meet several different requirements. Want to know how to become a Wisconsin mortgage broker or mortgage banker? Read our full licensing guide below!
1. Register Your Business in the State
Before applying to get licensed, you must register a business entity in the state of Wisconsin. To register your business, you can use the Wisconsin One Stop Business Registration Portal.
Once you have registered your business and obtained your formation documents, you can proceed with applying for a license.
2. Meet the Wisconsin Mortgage Broker License Requirements
Both the mortgage broker and the mortgage banker licenses in Wisconsin are company licenses. To get started with your license application, you must register in NMLS as a company. After that, you will receive access to the main application forms, and the option to upload the supporting documents required of you.
Wisconsin mortgage brokers and bankers face similar licensing requirements that they need to meet. Following are the forms and documents you must provide when applying:
Company form MU1
Detailed explanations to any "yes" responses to the disclosure questions in MU1
A reviewed financial statement, prepared by a Certified Public Accountant (CPA) in accordance with Generally Accepted Accounting Principles (GAAP)
Business entity formation documents
Certificate of Good Authority / Good Standing Certificate
Wisconsin mortgage broker bondApplicants for a Wisconsin mortgage broker license must post a $120,000 bond
Applicants for a Wisconsin mortgage banker license must post a $300,000 bond
These are the main requirements that license applicants must meet before submitting their application packets. For more detailed information about the requirements, see the official NMLS license application requirements checklist.
3. Submit a Wisconsin Mortgage Broker Bond
Getting a surety bond is a central licensing requirement for Wisconsin mortgage bankers and brokers. Without a bond, you cannot get a license.
To get bonded, you need to pay a bond premium. This premium is equal to a fraction of the full amount of your bond.
To determine exactly what premium you should pay, surety companies will review your personal credit score, as well as other financials. The higher your score is, the lower your premium will be.
Do you want to know how much it will cost to get bonded? Complete our brief bond form below and we will get in touch with you and provide you with a free quote.
Get Your FREE Bond Quote Instantly
FREE Instant Online Quotes - All 50 States - All Credit Types
Get a FREE Bond Quote

Instant ballpark estimate

Tell us about your business

powered by

Get your FREE quote today!
4. Submit Your Application Packet and Pay Fees
Once you have met all of the licensing requirements, you can proceed with submitting your application through NMLS. Along with your application, you also need to include the following fee:
$1,100 mortgage banker license fee
$850 mortgage broker license fee
After you submit your application and fees, you will be notified of the Division when your license has been issued.
Do you have any further questions about getting licensed as a Wisconsin mortgage broker or mortgage banker? Contact the Division of Banking to receive further details.
If you have any questions about getting bonded in Wisconsin, call us at 866.450.3412 to speak to one of our surety professionals!
---