How to Get a Nebraska Mortgage Broker License [2023 Guide]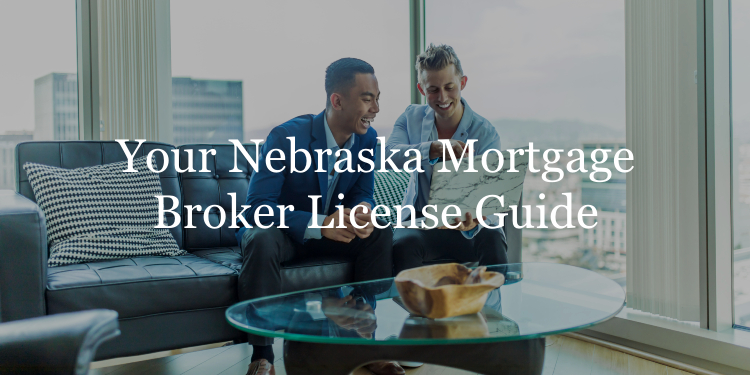 To operate as a mortgage broker (i.e. mortgage banker) in Nebraska, you must get a license from the Nebraska Department of Banking and Finance (NDBF). The Department allows mortgage bankers in the state to either get licensed or registered.
The mortgage banker license is required of any company that will offer mortgage lending, mortgage brokering, or mortgage servicing.
The mortgage banker registration is required of anyone who is exempt from mortgage licensure but will make a residential mortgage loan that is secured by a dwelling in the state AND/OR who will employ a licensed mortgage loan originator.
While it is the NDBF that regulates mortgage brokers, the application process for a license or registration must be performed through the Nationwide Mortgage Licensing System (NMLS).
See the sections below for a full overview of the process of getting a mortgage banker license in Nebraska.
1. Register Your Business in Nebraska
Before you can apply for a mortgage banker license or registration, you need to register your business in the state. For the purpose, you can use the Nebraska One-Stop Business portal.
In addition, you may also need to obtain a Federal Employer Identification Number (FEIN) from the Internal Revenue Service (IRS). Contact the NDBF to determine whether a FEIN will be necessary for your license or registration.
2. Complete the Nebraska Mortgage Broker License Requirements
Once you've registered your business, you can proceed with applying for your license. For the purpose, you must register in NMLS, where you can begin with completing your application and submitting all the required documentation.
If you are wondering if you need to be registered or licensed, see the list of exemptions on the Department's website.
When applying, you will need to complete or submit the following documents through NMLS:
Company form MU1
Individual form MU2
Provide responses to disclosure questions and a detailed explanation to any question you have responded to with a "yes"
Authorize a criminal background check for all officers and directors through NMLS
Certificate of Authority / Good Standing
Formation Documents
Management chart
Organizational chart
Nebraska mortgage banker bond in the amount of $100,000 (required of both registrants as well as licensees)
On top of the above, you will also need to submit the following documents directly to the NDBF by mail:
Mail these documents to the NDBF at:
Nebraska Department of Banking and Finance
P.O. Box 95006
Lincoln, NE 68509
3. Obtain a Nebraska Mortgage Broker Bond
The requirement to obtain a Nebraska mortgage broker bond is central to the licensing and registration process. Both licensees and registrants must obtain a bond in the amount of $100,000.
To get bonded, you must pay a surety bond premium which is equal to a fraction of the full bond amount. The premium will depend on the strength of your financials, and primarily on your personal credit score.
Typically, applicants with a good to moderate credit score can expect to get bonded at a rate between 0.5% and 5% of the full bond amount.
Want to get a free and exact quote on your Nebraska mortgage broker bond? Complete the form below and we will get in touch with you soon.
Get Your FREE Bond Quote Instantly
FREE Instant Online Quotes - All 50 States - All Credit Types
Get a FREE Bond Quote

Instant ballpark estimate

Tell us about your business

powered by

Get your FREE quote today!
4. Submit Your Application and Pay Fees
Once you have met all of the above requirements, you can proceed with submitting your application through NMLS. Along with your application, you will need to pay several fees:
$200 / $400 registration OR license application fee
$100 NMLS initial processing fee
Once you submit your application, it will be reviewed by the Department, and you will be notified once it is approved, and your license has been issued.
5. Renewing Your License
All licenses and registrations are valid until December 31 of each year and must be renewed prior to that date. Surety bonds expire at the same time and must also be renewed annually.
Renewal applications are submitted through NMLS. Renewal fees for licenses are $200, and $100 for registrations.
Do you have any additional questions about getting a Nebraska mortgage broker license or bond? Call us at 866.450.3412!
---