Your Full Guide to Getting a Mortgage Broker License in New York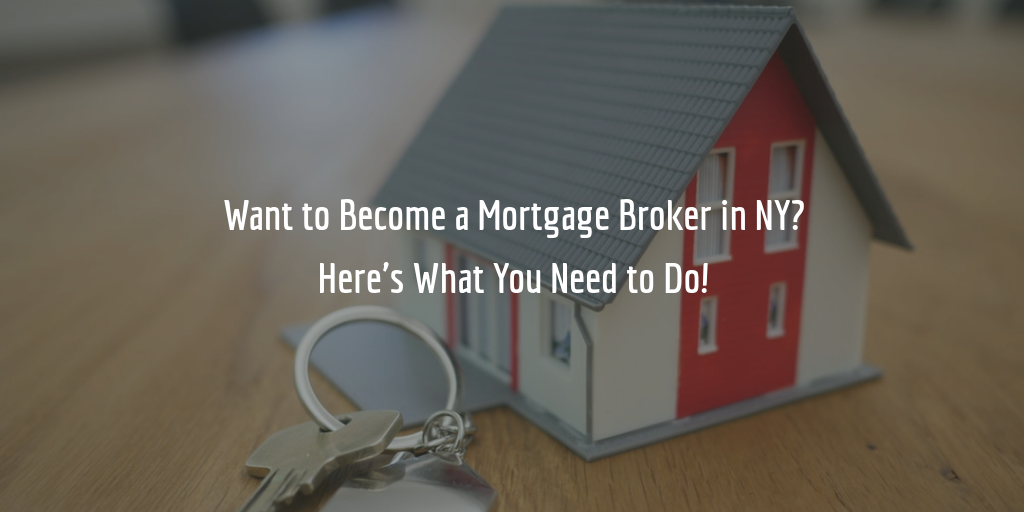 In order to act as a mortgage broker in New York, you need to obtain a license. This license, as well as the licenses of mortgage bankers, loan originators, and servicers, are all regulated by the state Department of Financial Services (DFS).
Yet, to get licensed, you will need to apply through the Nationwide Mortgage Licensing System (NMLS). Licensing requirements include authorizing a credit report, posting a mortgage broker bond, and several others.
Here's all you need to know about how to get a mortgage broker license in New York.
How to Become a Mortgage Broker in NY
Under Article 12-D of the New York Banking Law, a mortgage broker is someone who solicits, processes, places or negotiates mortgage loans for others or offers to do so for a fee.
Before you can begin with the licensing process, you will likely need to register your business at the New York Department of State, Division of Corporations. Once you have covered this requirement, you can proceed with applying for your license.
Note: Applicants for a mortgage banker, mortgage loan originator, and mortgage loan servicer licenses in the state must also apply through the NMLS. While the licensing requirements for them and brokers are similar, they will not be covered here. Make sure to check the NMLS checklists for these licenses, if you want to know more about how to obtain one.
NY mortgage broker license application
The application process begins with your registration in NMLS. Once you have registered and logged in, you can navigate to the checklist with requirements for your license. As you will see, you will need to submit a number of items to NMLS directly, whereas others you will need to mail to the DFS.
The following is a list of the items and documents that you will need to complete or submit during your broker application in NMLS:
Complete Company form MU1 (this is the most important form in your application)

Complete the Disclosure Question form
Upload a detailed explanation for any question you have answered with "yes"
Designate a Qualifying Individual (Qualifier) to be in charge of mortgage loan origination activities
The Qualifier must be an owner, general partner, trustee or officer of the company. The must be licensed mortgage loan originators and must have two years of experience in credit analysis or underwriting of residential mortgage loans or similar lending and credit evaluation experience
Complete Individual form MU2 for company control persons, the qualifier, owners, officers, and directors

Authorize a credit report for the persons who have completed form MU2

Provide a detailed business plan

Upload company staffing and internal policies documents
This includes a compliance program, a fair lending plan, and an Anti-Money Laundering (AML) policy
Formation documents, organizational and management charts

A $10,000 surety bond (you must submit this both to NMLS and the DFS)
In addition to these, you will also need to submit the following documents directly to the DFS:
A list of control persons

Your New York mortgage broker bond

Personal financial statements for owners, officers, qualifiers, trustees, advisors, and directors

Certificate of good authority

Word Approval Authorization Certificate from the Superintendent of the DFS

A list of three most utilized lenders

Personal questionnaire for control persons

Resumes for control persons

Litigation affidavit for control persons

Fingerprints for control persons

Signed Certification and Affirmation by three most senior executive officers that they will notify the Superintendent of any changes to the information provided by the applicant

An original corporate resolution

A signed Certificate of Compliance by the applicant regarding their compliance with Section 296-a of the New York State Executive Law

Evidence of applicant compliance with workers' compensation and insurance disability law

Copies of leases, subleases, and lease assignments for locations the applicant plans to use and seeks to license

Website questionnaire if the applicant will have a website for their New York operations

Various other documents
Once completed and assembled, all of the above must be submitted to DFS at the following address:
New York State Department of Financial Services
Attention: Mortgage Banking
Application Processing Unit
One State Street
New York, NY 10004
Finally, the following fees must be paid through NMLS in order for your application to be accepted and processed:
$1,500 investigation fee

$100 NMLS initial processing fee

$15 credit report fee per control person
For even more details regarding the New York mortgage broker license application process, see the checklist provided by NMLS. Alternatively, see the DFS website or contact them at "[email protected]".
New York Mortgage Broker Bond Requirement
The purpose of the surety bond is to serve as a guarantee that the licensed broker will comply with the provisions of the NY Banking Law and any other laws or rules that regulate the business of mortgage brokers.
The bond also serves as protection for the Superintendent of the Department of Financial Services and residential mortgage consumers. It protects them in instances of insolvency, liquidation or bankruptcy of a broker and any losses or damages that arise from such events.
Bond Amount and Cost
The initial amount of the bond required by brokers in the state is $10,000. Once your license expires and you renew it, you will need to post a bond in an amount based on the annual number of applications you have received. According to 3 CRR-NY 410.14 bond amounts for brokers are as follows:
$10,000 bond for 0-24 applications

$25,000 bond for 25-99 applications

$50,000 bond for 100-299 applications

$75,000 bond for 300-599 applications

$100,000 bond for 600+ applications
The cost of your bond is not the same as its amount, though. Usually, to get bonded you will need to pay a premium equal to only a small fraction of the total bond amount. The exact amount of your premium will depend on your personal credit score and various other financial factors.
You can request a free and precise quote on your bond by completing our bond form. We will then contact you to provide you with your quote and more information.
---