How to Get an Electrical Contractor License in NC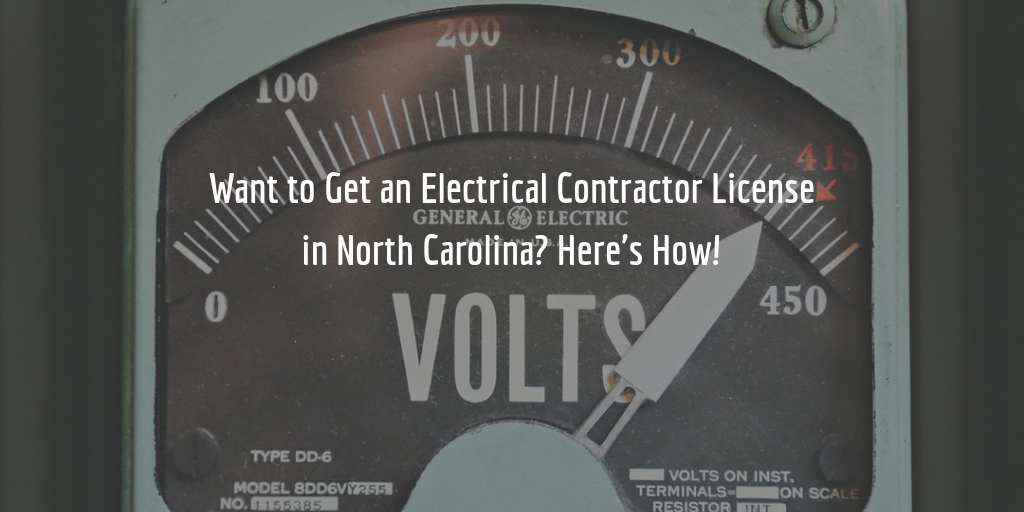 To operate as an electrical contractor in North Carolina, you need to get a license from the NC State Board of Examiners of Electrical Contractors. The Board issues 10 different license classifications for electrical contractors which differ in the scope and nature of work you can perform.
As part of the licensing process, applicants need to fulfill various requirements. These include passing an examination, completing the application form, paying fees and, for some applicants, submitting a statement of bonding ability. The latter guarantees that contractors will be able to provide an electrical contractor bond when working on projects of a certain amount.
Want to get an NC state electrical license? Read on for a breakdown of the application process!
NC State Electrical Contractor License Types
There are 10 different electrical contractor license classifications issued by the State Board. These differ either in the scope of work that is permitted to licensees or in the nature of work. License classifications are as follows:
Limited (L)

– licensees can engage in only one electrical contracting project with a value of up to $50,000 with an equipment or installation of not more than 600 volts

Intermediate (I)

– licensees can engage in only one electrical contracting project with a value of up to $130,000

Unlimited (U)

– licensees can engage in any electrical contracting project regardless of its value
License holders in one of these three classifications can perform residential, commercial and industrial work.
Residential dwelling license (SP-SFD)

– licensees can engage in projects on single-family detached residential dwellings with a value of up to $50,000
There are also 6 special restricted electrical contracting classifications in NC. Each of these has a limited scope of work which can be performed by license holders. A full description of these 6 classifications can be found in Section .0800, Title 21, Subchapter 18B of the North Carolina Administrative Code (NCAC).
The special restricted classifications are:
Fire Alarm/Low Voltage (SP-FA/LV)
Elevator (SP-EL)
Plumbing, Heating, and Air Conditioning (SP-PH)
Groundwater pump (SP-WP)
Electric Sign (SP-ES)
Swimming Pool (SP-SP)
NC Electrical Contractor License Application
#1 Pass a qualifying examination
To be able to apply for a license, you need to pass an examination with the Board. Applicants must obtain authorization from the Board before they can apply to take an exam. Such authorization is granted after applicants present statements from present and past employers, as well as statements of people attesting for an applicant's good character.
The person who passes the examination is considered a qualified individual.
#2 Complete the license application form
Once you have passed the examination, you can proceed with completing the application form.
Your application must include the name, signature and social security number of at least one person who will serve as the listed qualified individual for this particular license. This is the individual who has passed the exam for the classification you wish to obtain.
Your application must also include a license name which is "distinguishable" and in which your license will be issued. You can check whether the name you wish to utilize can be found in the Active Licensee Database. If not, then you may use this name.
Once your license is issued in a particular name, you must conduct all business under this name.
Note: In order to apply for an NC electrical contractor license, you need to have a business registration with the Secretary of State's Office.
#3 Provide a statement of bonding ability (only applicable to intermediate and unlimited classification applicants!)
Intermediate and unlimited license classification applicants must furnish a statement of bonding ability by their surety as part of their application. This statement means they are preapproved by the surety to receive a bond in the future.
Applicants for an intermediate license must provide a statement of ability up to $50,000
Applicants for an unlimited license must provide a statement of bonding ability in an amount of $130,000
Read more about why you need to provide this statement and how to get one in the bonding section below!
#4 Pay the license fees
Finally, upon submitting your application, you will also need to pay the relevant license fee.
All license classifications with the exception of intermediate and unlimited have a fee of $85.
Applicants for an intermediate license must pay a $130 license fee, and those for an unlimited license must pay a $180 license fee.
#5 Reciprocity agreements
North Carolina currently has reciprocity agreements with Alabama, Florida, Georgia, Louisiana, Mississippi, Ohio, South Carolina, Texas, Virginia, and West Virginia. If you have a contractor license in one of these states, you may be eligible to get an electrical contractor license in NC without having to pass an examination.
Contact the Board for more information about getting a license under these agreements.
#6 License renewal
Licenses expire one year after their issuance. To renew your license, you will need to submit a renewal application to the Board, along with renewing your surety bond and paying a renewal fee.
Before renewing a license, the Board also requires all listed qualified individuals to demonstrate they have completed one or several continuing education courses.
NC Electrical Contractor Surety Bond Requirement
Applicants for an intermediate and unlimited license classification must provide a statement of bonding ability when applying for a license. This statement guarantees their ability to obtain a surety bond when working on projects, once they are licensed. The statement is issued by a surety that may at a later date issue bonds.
Once you begin work on a project, you will be required to get bonded. Here's how much it costs and why applicants are required to get bonded.
How much does it cost to get bonded
The amounts of the bonds required of intermediate and unlimited NC electrical contractor license applicants are $50,000 and $130,000.
The cost of your bond is only a fraction of that total amount. It is primarily determined on the basis of your personal credit score. The higher your personal credit score is, the lower the rate of your bond will be.
Other financial factors are also considered by the surety when you apply. This includes your personal and business financials.
Get an estimate of the cost of your bond through our bond calculator below!
Surety Bond Cost Calculator

Tell us where to send you your FREE estimate
SEND ME MY ESTIMATE!
We'll never share your information with third parties

Thank you for your request!
The ballpark estimate on your premium is: $100 - $167
We've sent a copy of your estimate on your email as well.
Want an exact quote? Simply fill out our online application It's fast and 100% free!
Get a free exact quote
Get another estimate
Why do I need a bond?
The bonding ability statement required by the Board is to certify for your ability to provide performance bonds when you work on projects in an amount determined by your license classification.
This type of bond guarantees your performance on projects you work on. This includes performing according to the conditions of the project contract, providing the quality of work which is required within the deadlines specified, and so forth.
Want a free and exact quote on your bond? Complete our bond form below, and we'll get in touch with you shortly!
Get a FREE Contractor License Bond Quote Today!
No Obligation - Fast and Secure - All Credit Types
Get a FREE Bond Quote

Instant ballpark estimate

Tell us about your business

powered by

Get your FREE quote today!
---