How to Get an Oklahoma Mortgage Lender License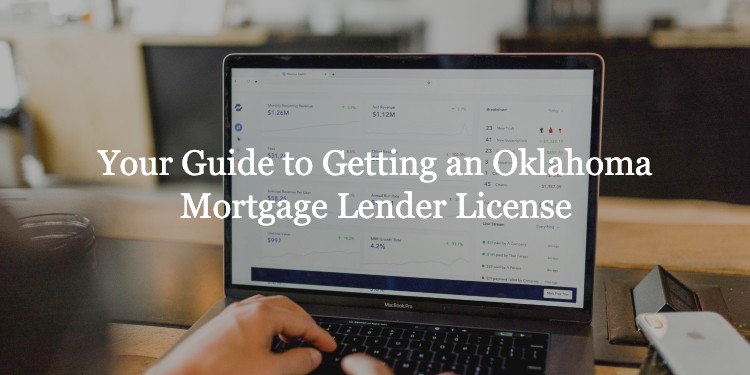 Do you want to work as a mortgage lender in Oklahoma? If you wish to start your operations in the state, you need to undergo an administrative procedure. You have to obtain an Oklahoma mortgage lender license. 
The Oklahoma Department of Consumer Credit regulates the activities of mortgage professionals in the state. It sets the requirements that you have to satisfy. The licensing process is conducted through the Nationwide Mortgage Licensing System (NMLS). 
In the guide below, you can discover the licensing criteria and the process you need to go through to launch your business. 
Oklahoma Mortgage Lender License Requirements
1. Register your business and trade name
Your first step is to set up your business structure in Oklahoma. You need to provide your formation documents with the application form. A Certificate of Authority/Good Standing Certificate is also required. 
If you are going to operate under an assumed name, you also have to include the Trade Name Report from the Oklahoma Secretary of State. 
2. Provide your financial statements and credit report 
You have to showcase your audited financial statement prepared by a Certified Public Accountant. They have to demonstrate you meet the minimum net worth requirement of $25,000. 
Individuals in a position of control in the company also have to authorize credit reports via the NMLS. 
3. Obtain an Oklahoma mortgage lender bond
Applicants have to obtain a $100,000 surety bond. It functions as a safety mechanism that protects your customers in case you transgress from the law in your operations as a lender. The bond guarantees your compliance with the Oklahoma Secure and Fair Enforcement for Mortgage Licensing Act. 
To get your Oklahoma mortgage lender bond, you have to pay a fraction of the required bond amount. It is set on the basis of your personal and business finances. If they are strong, you can expect rates between 0.5% and 5%. 
To learn more about your bonding requirements, make sure to check our Oklahoma mortgage lender bond guide.
Do you want an estimate of your bond cost? Complete the form below and get an instant quote on your surety bond. It's free and there is no obligation.
Get Your FREE Bond Quote Instantly
FREE Instant Online Quotes - All 50 States - All Credit Types
Get a FREE Bond Quote

Instant ballpark estimate

Tell us about your business

powered by

Get your FREE quote today!
4. Showcase your document samples
You need to show copies of the following documents:
Application forms  

GFE & any Acknowledgment or Intent to Proceed forms  

Change Circumstances Forms  

HUD-1 Settlement Statements  

TIL  

Mortgage Broker Agreement  

Pre-Payment Penalty Disclosure  

Privacy Disclosure  

ARM Disclosure  

Rate Lock Agreement  

Reverse Mortgage Disclosures (as applicable)  

TRID  

Any company exclusive forms provided to borrowers regarding your specific products and services
5. Appoint registered agents and qualifying individuals
You have to list any Resident/Registered Agents in your application form. 
You also have to appoint a manager for all locations where you conduct mortgage loan origination business with consumers. The Qualifying Individual has to obtain a license as a Mortgage Loan Originator. 
6. Pass a criminal background check and answer the disclosure questions 
Direct and indirect owners, as well as executive officers, have to authorize an FBI criminal background check (CBC) through NMLS.
You have to complete the disclosure questions in the application form and provide additional explanations, if necessary. 
Application Process and Fees
You can consult the application checklist for the full details about the licensing requirements. Once you have satisfied all criteria, you can submit the application and documentation online via the NMLS website. 
The fees that you have to cover include:
$200 License/Registration Fee 

$950 Application Fee

$500 Examination Fee

$10 Recovery Fund

$100 NMLS Initial Processing Fee

$15 Credit Report Fee per person

$36.25 FBI Criminal Background Check Fee per person
If you have more questions about obtaining your Oklahoma mortgage lender license, you can reach us at 866-450-3412.
---