Texas Amends Security Requirements for Residential Service Companies to Allow Posting Bonds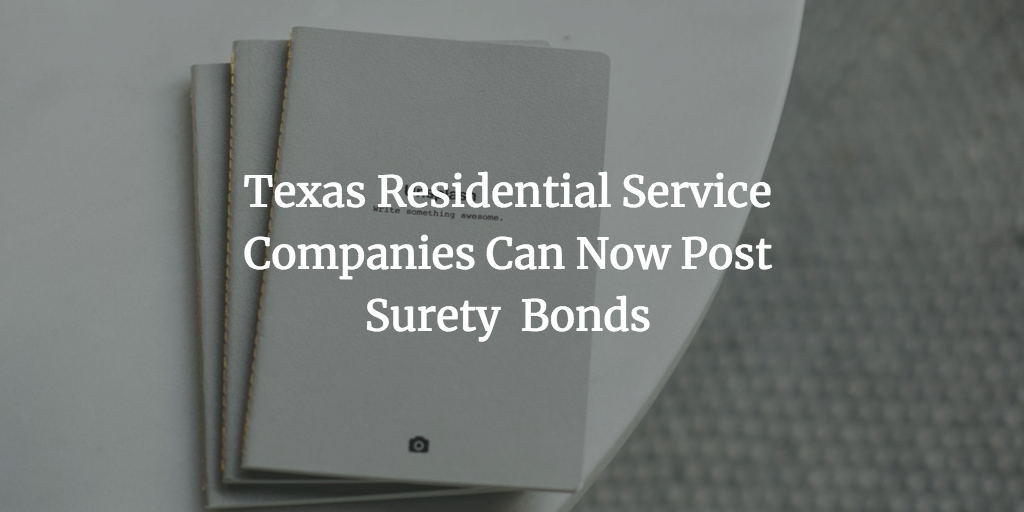 As of January 1, 2018, Texas has introduced changes for the licensing and functioning of residential service companies.
Texas legislature passed House Bill 2279 in the spring of 2017. With its introduction, residential service companies can now provide a surety bond as a form that satisfies the licensing requirement for a security instrument. This is one of the main criteria that such companies have to satisfy, as it guarantees their legal compliance. 
You can review the most important changes that the bill brings about below.
The legal changes for Texas residential service companies
The Texas Real Estate Commission (TREC) is the licensing body that oversees the activities of residential service companies in the state. Licensees have to undergo a rigorous process, so that they prove their suitability to provide residential services.
One of the requirements you have to meet to get licensed is to provide a security, or a 'reimbursement insurance policy.' Its goal is to guarantee that you will meet your obligations. In case you fail to do so, the financial security can be used to reimburse your customers or other parties who have suffered damages as a result of your actions. For example, in case you fail to perform your duties on repair and replacement services, the security can cover the cost of any contractual obligations you have not delivered.
House Bill 2279 adds a new form of security that residential service companies can obtain, which is a surety bond. The bill makes changes to Section 1303.002 of the Texas Occupations Code. It adds Subdivisions (2-a) and (3-a) and changes the text of Subdivision (5).
The benefits of the surety bond option
The introduction of the surety bond option as a security instrument is beneficial for Texas residential service companies. It makes the licensing process easier and potentially cheaper. Other security forms require that you keep the whole security amount at hand at all times during your license period. However, if you can provide a surety bond instead of a funded reserve, you do not have to provide the full amount.
TREC introduces specific requirements regarding the issuer of the surety bond that would be acceptable for the licensing. It should be from an admitted insurer or an insurer or bonding company that supplies surplus lines. Additionally, the bond provider should be approved by TREC and should be A-rated according to the A.M. Best rating system. Bryant Surety Bonds works only with A-rated surety companies. Working with us, you can be sure your bond will be accepted by legal authorities. 
How to get bonded
As with other security forms, the TREC sets the amount that you should obtain prior to getting your license. The same applies for the surety bond form. The bond amount is the maximum compensation that harmed parties can seek from you through filing a bond claim.
Unlike other security instruments, you don't need to cover the whole required amount to get bonded. Your surety bond cost is only a small percentage of this amount, and is referred to as the bond premium. It depends on numerous factors, such as your personal credit score, as well as business finances. The more stable your overall profile is, the smaller your premium is likely to be.
For applicants with solid finances, the typical rates are in the range of 1% to 5%. If you have to obtain a security in the amount of $50,000, and you choose to post a bond, the costs are likely to be between $500 to $2,500.   
Our surety bond experts are here to help. If you have questions about the new option for a security instrument that Texas residential service companies can use, don't hesitate to call us at 866.450.3412.  
---