How to Become a Mortgage Broker [Infographic Guide]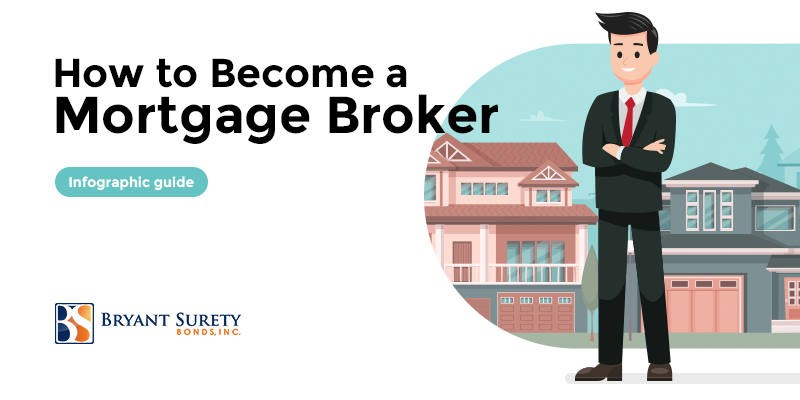 Mortgage brokers are an important part of the real estate industry. They fill the vital role of helping consumers navigate the complex waters of financing real estate purchases. But being a mortgage broker is also a rewarding job and one that is increasingly pursued. If you find yourself being both comfortable with finances as well as with communicating with a large variety of people, you may have what it takes to become a broker.
But before you can begin, you need to cover a variety of requirements that will allow you to legally exercise this profession. These include applying for a license and getting a mortgage broker bond in the process.
See our guide below for a detailed breakdown of all the steps you need to take in order to become a full-fledged mortgage broker!
What is a Mortgage Broker?
Regardless of whether they work in a company or independently, mortgage brokers are considered a type of financial institution. Their main job is to serve as intermediaries between financing institutions, mortgage lenders, and home buyers. To help the latter, brokers analyze different mortgage loan products and offer advice to home buyers regarding the availability of a loan, its rates and terms, as well as how they can qualify.
This is different from the work of both loan originators, mortgage bankers, and lenders. All of these are in the business of servicing and/or funding loans. Brokers, on the other hand, only function as middlemen between lenders and consumers and originate loans but can not service them.
How to Become a Mortgage Broker?
Becoming a mortgage broker involves completing various legal requirements, such as passing a training course and an exam, registering a business, obtaining a license, and more.
On top of these requirements, you will also need to develop a sensible business plan and strategy, connect with other brokers and industry organization, and continuously remain compliant with new laws and regulation.
Here is what you need to know and do in order to become a broker.
1. Advantages and Considerations
Becoming a mortgage broker has a great number of advantages. According to the Bureau of Labor Statistics, loan officers make on average about $63,040 per year. While the Bureau does not have specific statistics for loan originators or brokers, these figures are close to the information available online about mortgage broker salaries.
While some states have requirements that mortgage brokers need to operate as part of brokerage companies, not all states do. This means that some brokers can operate independently, and freely determine the workload they wish to take on.
Moreover, being a broker is very suitable for people who have good social skills and want to make an actual difference in someone's life. The job of a broker involves a lot of critical thought both in understanding clients' wishes and financial capabilities as well as coming up with the optimal solution for each unique case.
You must have in mind, though, that if you rush into the mortgage broker business without any previous experience, you may find it difficult to make a name for yourself. Starting from scratch, with no practical knowledge or experience, will likely be an uphill battle. Instead, it is widely suggested by older brokers that one obtain experience as a real state agent or loan officer at a bigger company before setting out to become a broker.
So what are the steps to become a mortgage broker?
2. Planning Your Business
Before you set out to cover the various requirements to become licensed as a mortgage broker, you should consider how you will run your business. For example, some brokers decide to work from home and offer an online-based business, whereas others establish a physical presence where clients can go to meet them.
You will also need to think about how you will find clients and market yourself. A great deal of mortgage broker business happens through referrals by lending institutions and real estate agents. Your strategy must therefore also include how you will go about establishing a trusting relationship with these.
Finally, another major consideration is the startup costs you will need to cover. These will depend on whether you establish a physical location or not, as well as what you need to cover in terms of licensing and training costs. Generally, startup costs for brokers are in the range of $5,000 to $10,000.
Planning all of the above is part of your business plan. Since you will be required to provide a business plan as part of getting your mortgage broker license, you may as well start working on it early. The Small Business Administration's (SBA) Business Guide is a great resource that will help you with drafting your business plan, managing your finances and much more.
3. Education Requirements
The main education requirement which all brokers must meet is to at least have a high school diploma or General Education Development (GED) certificate. On top of this requirement, applicants for a broker license must pass pre-licensure education (PE), as determined by the Secure and Fair Enforcement for Mortgage Licensing Act of 2008 (SAFE Act).
Under the Act, applicants must complete a mortgage broker course that covers:
3 hours of Federal law and regulations

3 hours of ethics, which must include instruction on fraud, consumer protection, and fair lending issues

2 hours of training regarding lending standards for the nontraditional mortgage product market

12 hours of undefined instruction on mortgage origination
While most states follow the 20 hour PE requirement, some states require applicants to take more than the required minimum. See this State-Specific Education Chart provided by the Nationwide Multistate Licensing System & Registry (NMLS) to find out what's required in your state.
Once you know how much hours of PE you need, you can have a look at the NMLS Approved Provider List to find an education provider in your state.
4. Testing
Along with passing a PE course, you will need to pass the SAFE Mortgage Loan Originator Test, also required under the SAFE Act. To enroll for the mortgage broker test, you will need to register in NMLS, after which you can schedule an appointment. Taking the test costs $110.
To learn more about preparing for and taking the test, see The Mortgage Loan Originator (MLO) Testing Handbook.
5. Business Registration
After you have completed your education course and passed the test successfully, you can continue with your business registration and mortgage broker license application.
Your business registration is required by the state for administrative and tax purposes. To register, you will likely need to file with the Secretary of State, get a tax ID number from your state Department of Revenue, and maybe even obtain an Employer Identification Number from the Internal Revenue Service (IRS).
You may need to cover other local business requirements for which you will have to consult your local business registration entity.
6. License Application
Once you have registered your business in the state, you can also begin with your license application. Most states require that you apply for your mortgage broker license through the NMLS. The NMLS application form includes a detailed checklist with all the requirements you need to cover during the application process.
To get a sense of what you will be asked to cover, see this general mortgage broker license guide. While the licensing process may differ significantly from state to state, the requirements stated in this guide are the ones most commonly encountered. These include:
Authorizing a credit report and criminal background check

Submitting financial statements and proving a minimum net worth

Providing a detailed business plan, organizational and management charts

Obtaining a mortgage broker surety bond in the amount required in your state
The surety bond requirement is particularly important. The bond guarantees you will comply with state statutes in performing your obligations and responsibilities as a mortgage broker. If you are new to surety bonds, have a look at the "What is a surety bond?" guide for a comprehensive explanation of what bonds are and how they work.
If you already know the amount of the bond you need to obtain, you can get an estimate of the cost of your bond by using the bond cost calculator below.
Surety Bond Cost Calculator

Tell us where to send you your FREE estimate
SEND ME MY ESTIMATE!
We'll never share your information with third parties

Thank you for your request!
The ballpark estimate on your premium is: $100 - $167
We've sent a copy of your estimate on your email as well.
Want an exact quote? Simply fill out our online application It's fast and 100% free!
Get a free exact quote
Get another estimate
7. Get Additional Training and Join a Professional Association
While you are not required to do this by law, it can be quite useful to acquire additional broker training and certification. Such training will help you with gaining additional expertise as well as learning about how to remain compliant with state and federal laws.
The National Association of Mortgage Brokers (NAMB) is possibly the best organization out there that provides courses and certification programs to brokers. Moreover, becoming a member of NAMB will give you access to a network of other brokers who you can exchange experience with, and learn from. Senior brokers can provide you with advice on how to approach clients, establish connections with lenders, how to maintain a good reputation, and which industry trends to follow.
Usually, states also have their own mortgage broker associations, so you may want to check whether your state has one and what the conditions and benefits of being a member are.
8. Start Your Business
Assuming you have passed all of the above steps, and have carefully planned how you will launch your business, all you need to do now is get to work. Good luck on your journey as a mortgage broker professional!

Share this Image On Your Site
---