Your Guide to Getting a Mortgage Broker License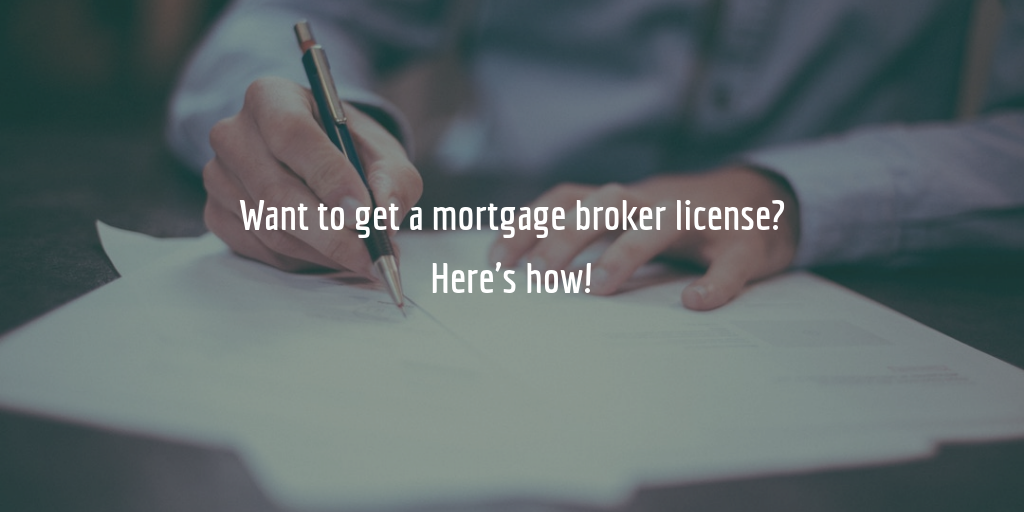 Most states require mortgage brokers and loan originators to obtain a license prior to conducting any type of business. To do so, applicants must usually apply through the Nationwide Mortgage Licensing System and Registry (NMLS) and cover a variety of requirements.
While the licensing process differs significantly from state to state, there are some requirements which are widely shared. For example, many states require applicants to obtain training, demonstrate net worth, as well as provide a mortgage broker bond as part of their application.
Keep reading for an outline of the process you will have to complete when applying for your mortgage broker license.
Steps to Become a Mortgage Broker
Prior to applying for your broker license, you will likely need to register your business in your state. This may entail getting a tax number, an Employee Identification Number (EIN)  from the IRS, and more.
Once you have a business registration, you can proceed with applying for a license. Most states require applicants for a mortgage broker license to apply through the NMLS. Your next step is to register in the NMLS after which you can proceed with the license application itself. When applying through NMLS you will usually have to complete the main application forms in the platform, attach various documents to these forms, and also separately mail certain documents to your state's mortgage broker licensing authority.
Here is what you can expect to have to complete, or provide as part of your license application in NMLS:
Company form MU1 – usually includes general information about the company, lists of people in control, contact persons, bank information, etc.
Individual form MU2 – usually to be completed for every person in control, owners, officers, managers, etc. (if applicable)

Disclosure questions – questions about owners' and other control persons' past

An FBI criminal background check

A credit report check for all persons listed in form MU2

A financial statement

A certificate of authority and formation documents

A business plan

An organizational and management chart

Certificate of completing a pre-licensing training or educational course and/or proof of past experience

Certificate of completing a pre-licensing exam

Proof of a certain amount of net worth (as required by each state)

A mortgage broker surety bond (bond amount determined by each state)

Filing and licensing fees
Note that in your specific case, based on your location, it may not be necessary to cover some of the above requirements. Conversely, there may be other requirements, not listed above, which you may need to cover.
For example, the amount of your surety bond, the amount of your net worth, the number of details in your financial statements or business plan, all depend on what your state licensing authority has determined. Yet, generally, this is what you can expect when applying for a mortgage broker license.
Please select your state below to see the specific mortgage broker licensing requirements for your state:
Mortgage Broker Licensing Requirements By State
  *Read our detailed infographic guide for a breakdown of all the steps you need to take in order to become a full-fledged mortgage broker!*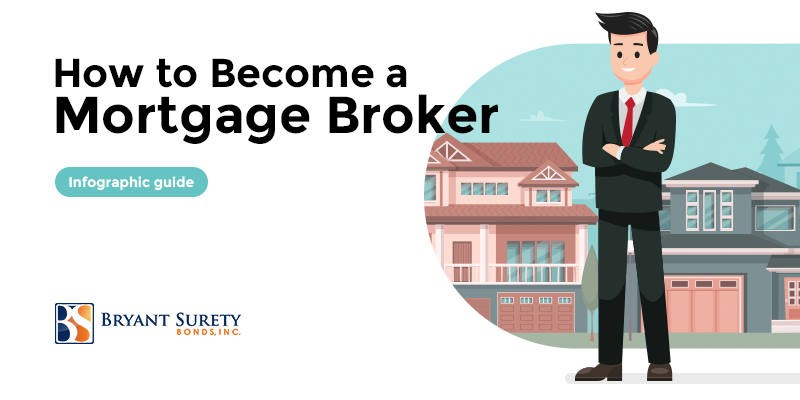 See the next section for a brief outline of the surety bond requirement.
What You Need to Know About The Mortgage Broker Surety Bond
Most mortgage brokers are required to get bonded when applying for a license. The bond is a form of guarantee that once the broker is licensed, they will comply with all of the state's statutes that regulate their business. This includes requirements to perform their obligations and responsibilities in a faithful way.
For example, if a broker engages in dishonest or fraudulent behavior and thereby causes losses or damages to some person, the victim may file a claim against the broker's bond. In this way, the bond also provides protection in cases in which a broker has violated the bond's conditions. When a claim is filed, the surety that backs the bond will usually extend compensation to claimants. Such compensation can be as high as the full amount of the bond.
How Much Does the Mortgage Broker Bond Cost?
The amount of the bond and the cost of the bond are two categories which are often confused by first-time bond applicants. The bond amount is the amount of maximum compensation and security which the surety provides in issuing the bond. The cost of the bond is the premium which the mortgage broker needs to pay to obtain this guarantee. That number is usually a small percentage of the bond amount.
Surety bond cost depends on various factors but the most important one is the applicant's personal credit score. The higher the score – the lower the bond premium is. You can get a free and precise quote on your bond with no obligations attached by completing our bond form! If you have any questions about getting a mortgage broker bond, call us at 866.450.3412!
---