How to Get a Mortgage Broker License in California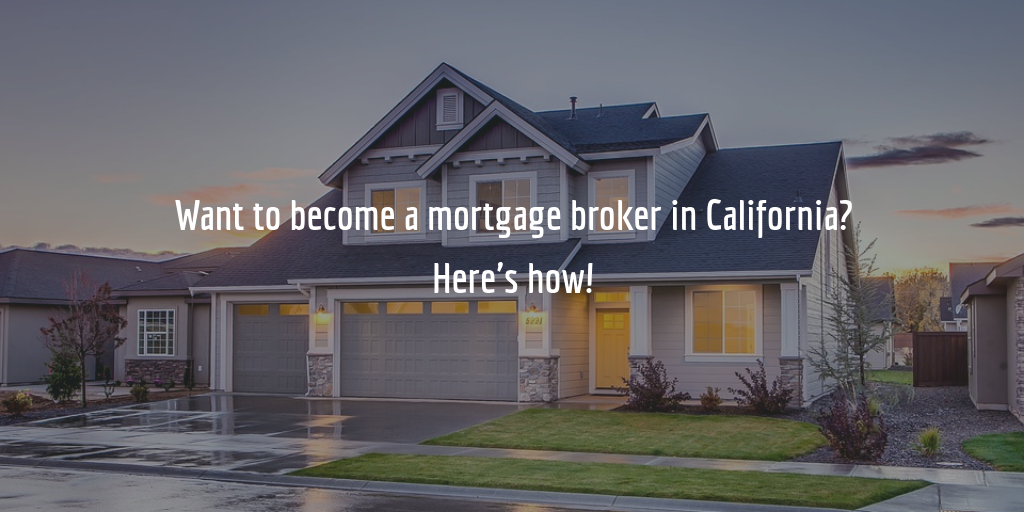 There are different types of licenses available if you want to work as a mortgage broker in California. The Department of Business Oversight (DBO) issues both the Finance Lenders Law (CFLL) license, also known as the California lenders license, as well as the Residential Mortgage Lending Act (CRMLA) license.
The CFLL license will allow you to act as a broker for commercial and consumer loans made by a CFLL lender. The CRMLA license will permit you to make and service residential mortgage loans in the state. It can also permit you to broker loans if you also have a mortgage loan originator license.
To get either of these mortgage broker licenses, you will need to apply through the Nationwide Mortgage Licensing System (NMLS). As part of your application, you will need to provide proof of a certain amount of net worth, post a mortgage broker bond, and complete several other requirements.
Read on for an overview of the licensing process for mortgage brokers in California.
California Mortgage Broker License Prerequisites and Application
There are slightly different prerequisites for the CFLL and CRMLA licenses. These are as follows.
CFLL and CRMLA license prerequisites
Applicants for CFLL and CRMLA licenses must:
Demonstrate a net worth of at least $250,000 calculated in accordance with GAAP

Post a mortgage broker bond for at least $25,000, for CFLL applicants, or $50,000, for CRMLA applicants (see the bonding section below for more information about the bond amounts for these licenses)

Get criminal background checks for all persons involved in positions of control in the company, as well as those responsible for lending activities

Provide information about the character, fitness, financial and business status, professional experience, and any convictions of the owners, officers, directors, managers, partners, members, etc. of the company

CRMLA applicants must be approved by the Federal Housing Administration, Veterans Administration, Farmers Home Administration, Government National Mortgage Association, Federal National Mortgage Association or Federal Home Loan Mortgage Corporation
How to get a CFLL or CRMLA license
While it is the DBO that regulates these licenses, the whole application process occurs in NMLS. In general, you can expect to be asked to provide some of the following:
Company application forms MU1 and individual application form MU2

Information about registered agents and qualifying individuals

Responses to disclosure questions

Financial statements

A business plan

Certificate of Authority / Good standing certificate

Formation documents

Management and organizational charts

Fingerprint cards

A mortgage broker surety bond

Your business's Anti-Money Laundering (AML) / Bank Secrecy Act (BSA) policies

And more…
To get a detailed sense of the documents and forms you need to provide during your application process, see the checklist for the CFLL license and the checklist for the CRMLA license.
When submitting your license, you will also need to pay several fees. 
Applicants for a CFLL license must pay a $400 fee, and applicants for a CRMLA license must pay a total fee of $1,100. 
Once you have completed all of the above requirements, you will be contacted by the DBO when your application has been reviewed and approved.
Surety Bond Requirement for California Mortgage Brokers
Both CFLL and CRMLA licensees must hold a mortgage broker bond in order to operate in California.
CRMLA applicants must have a bond in one of the following amounts, depending on the aggregate amount of loans made or serviced in the preceding year:
A $50,000 bond for aggregate loans up to $50,000,000

A $100,000 bond for aggregate loans between $50,000,001 and $500,000,000

A $200,000 bond for aggregate loans over $500,000,001
CFLL applicants must have a bond in the following amounts, based on the amount of origination activities conducted by the licensee:
A $25,000 bond for aggregate loans up to $1,000,000

A $50,000 bond for aggregate loans between $1,000,001 and $50,000,000

A $100,000 bond for aggregate loans $50,000,001 and $500,000,000

A $200,000 bond for aggregate loans upward of $500,000,001
The purpose of these bonds is to guarantee that licensees will comply with the provisions of the California Financing Law (for CFLL licensees) and the California Residential Mortgage Lending Act (for CRMLA licensees).
If a licensee causes any losses or damages to consumers or borrowers due to violating the provisions of these laws, a claim may be filed against their bond to secure compensation.
Cost of Your Mortgage Broker Bond
To get bonded, you need to pay a surety bond premium. The amount of the premium you need to pay depends on a number of different financial factors that your surety will review when you apply.
Your personal credit score is the most important such factor. Applicants with a high credit score, such as 700 FICO or more, are often bonded for as little as .5% of the total amount of their bond. Those with lower but still good scores can expect a rate of as much as 5% of their bond.
Want to know how much it will cost to get bonded? Click on the banner below and complete the bond application form. We will then provide you with a free quote on your bond!
---