How To Get A Pennsylvania Mortgage Broker License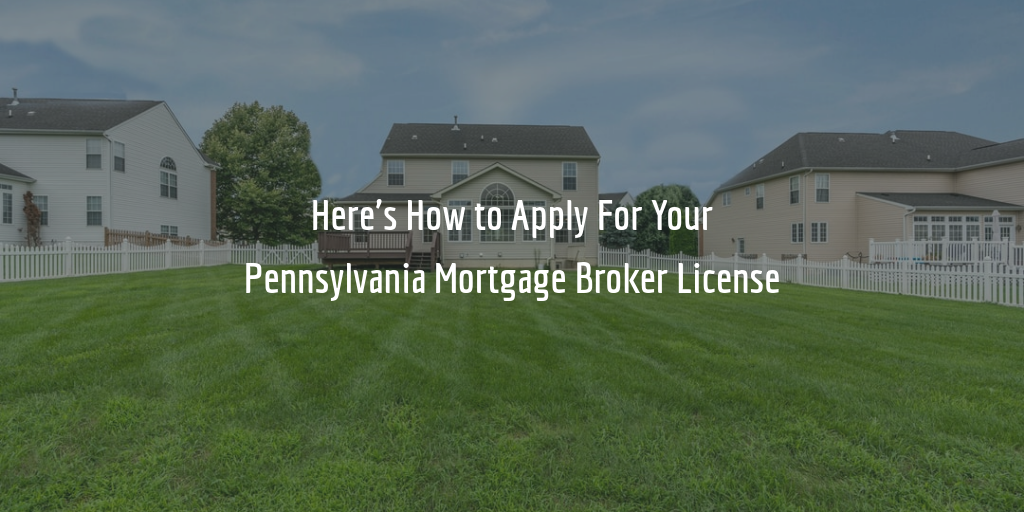 To get licensed as a mortgage broker in Pennsylvania you must apply at the state Department of Banking and Securities (DOBS). The Department regulates these licenses in the state, though the application process itself passes through the Nationwide Multistate Licensing System (NMLS).
When you apply, you will need to cover a number of requirements which include passing pre-licensing education and examination, submitting a mortgage broker bond, and several others.
See below for a detailed explanation of how to apply for your Pennsylvania mortgage broker license!
Pennsylvania Mortgage Broker License Requirements
Prior to applying for your license, you will need to register your business in the state. After you successfully register, you can continue with the licensing process through NMLS.
PA business registration
This includes registering your business structure, applying for a Federal Employer Identification Number (FEIN), if needed, applying for state tax and employer accounts, and several other things.
Have a look at the PA Business One-Stop Shop for detailed instructions on how to register.
License application
To get started with your license application, you must register in NMLS. After you register, you will be given access to all application forms and a detailed checklist of the application requirements. You will need to complete some forms directly in NMLS, and then upload certain others to your application.
Here is what you will need to complete or upload when applying:
Company form (MU1)

Business formation documents

Credit reports for all control persons and the company's qualifying individual

A financial statement for the previous fiscal year

A detailed business plan

An organizational chart

A summary of your company's policies and procedures to receive and process consumer inquiries and complaints

Your policies and procedures in applying an "ability to repay analysis", in accordance with §46.2 (g) of Chapter 46 Proper Conduct of Lending and Brokering in the Mortgage Loan Business

A Pennsylvania criminal background history check AND an FBI fingerprint check for all control persons and the company's qualifying individual

Proof of passing 20 hours of an NMLS approved pre-licensure education course

Proof of passing a pre-licensing test

A tax certification for every controlling person and the qualifying individual that they have paid all their tax obligations to the Commonwealth of Pennsylvania OR have made a deferred payment plan with the state Department of Revenue

A surety bond in an amount between $50,000 and $150,000, depending on the anticipated or actual amount of mortgage loan origination

A $100,000 surety bond,

only required if

you will be accepting fees in advance
In addition to submitting the above forms and documents, you will need to pay about $1,100 in licensing costs which include your NMLS processing fee. You may be required to pay additional costs for your exam and credit reports.
Once you cover all of the above requirements and your application is reviewed by the DOBS, you will be issued your mortgage broker license.
Pennsylvania Mortgage Broker Bond Requirement
Applicants for a mortgage broker license in Pennsylvania require a surety bond as a guarantee for their compliance with the Mortgage Licensing Act and the General Rules of Administrative Practice and Procedure (GRAPP). Specifically, this bond is obtained by the mortgage broker on behalf of the originator that they sponsor.
The amount of the bond must be as follows, depending on the anticipated or actual amount of mortgage loan origination:
$50,000 for loan origination in a maximum amount of $14,999,999.99

$75,000 for loan origination between $15,000,000 – $29,999,999.99

$100,000 for loan origination between 30,000,000 – $49,999,999.99

$150,000 for loan origination of $50,000,000 and more
The cost of your bond is not the same as its amount. The cost, or premium, is equal to a part of the whole amount. It is determined by your surety, based on your credit score and other information which you may be asked to provide.
You can get a free quote on your bond by completing our simple bond form below. We will get in touch with you shortly after processing your form.
Get a FREE Mortgage Broker Bond Quote Today!
No Obligation - Fast and Secure - All Credit Types
Get a FREE Bond Quote

Instant ballpark estimate

Tell us about your business

powered by

Get your FREE quote today!
---