How to Get a Mortgage Broker License in North Dakota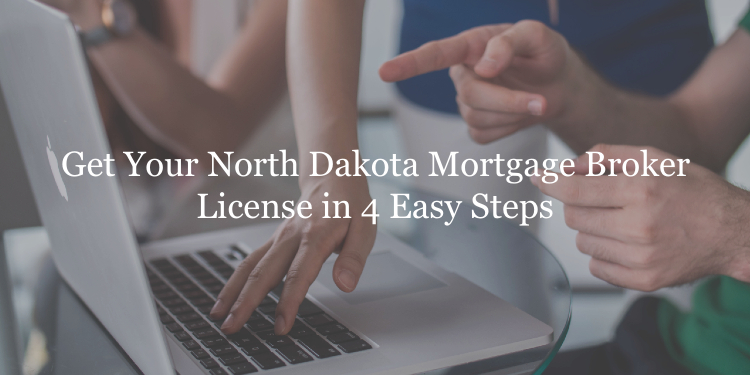 To become a mortgage broker in North Dakota you need to apply for a license from the state Department of Financial Institutions (DFI). This type of license is also known as a North Dakota money broker license. It allows licensees to broker or issues all kinds of mortgage loans, as well as consumer and student loans, commercial and industrial loans, as well as a host of others.
While it is the DFI that issues and regulates this license, the license application process is conducted through the Nationwide Mortgage Licensing System (NMLS).
Want to get licensed as a North Dakota mortgage broker? Follow the steps outlined below!
1. Register Your Business in North Dakota
Before you can apply for your license, you must register your business entity in the state. You will need to provide the formation documents and a Certificate of Good Authority / Good Standing when applying for your license.
To register your business, see the official business registration website and follow the steps outlined there.
2. Meet the North Dakota Mortgage Broker License Requirements
The first step in the license application process is to register in NMLS and set up a profile. After your registration, you will be granted access to all the forms which you need to complete in the platform. You will also be able to upload and attach supporting documents to complete the licensing requirements.
Following are the documents and forms which you need to provide through NMLS as part of the process:
Company form MU1
Individual form MU2
Business entity formation documents
Certificate of Authority / Good Standing
An audited financial statement or, at a minimum, a company financial statement prepared in accordance with GAAP
Most recent version of your company's Anti-Money Laundering (AML) / Bank Secrecy Act (BSA) Policy
The most recent version of your company's IT / Cybersecurity Policy
Business plan
Management chart
Organizational chart
Documentation related to your Warehouse Line of Credit (name and address of the lender and the amount of the credit line)
A $50,000 North Dakota mortgage broker bond
In addition to the above, you must also submit several forms and documents regarding the people listed in individual form MU2. These include:
Authorized credit report through NMLS
Authorized FBI criminal background check through NMLS
Detailed explanations for any "Yes" responses to the disclosure questions in form MU2
Detailed explanations for any derogatory accounts in the credit report
Legal documentation of legal name or legal status
Personal financial statement of direct and indirect owners of the company
These are the main licensing requirements that you must cover as part of your application. Once you have met them, you can proceed with submitting your documentation and paying the required licensing fees.
3. Obtain a North Dakota Mortgage Broker Bond
All applicants for a North Dakota money broker license must obtain a surety bond as part of the licensing process. This broker serves as a guarantee that they will comply with the provisions of Chapter 13-04.1 of the North Dakota Century Code.
The bond must be in the amount of $50,000. The cost of getting your bond is not the same as its amount though. It is equal to a fraction of the total bond amount.
To determine your bond premium, the surety will review your credit score as well as other aspects of your financials. Your credit score is the most important factor and the higher your score is, the cheaper it will be for you to obtain a bond.
Want to get a free quote on your North Dakota mortgage broker bond? Simply complete the brief bond form below and we will shortly provide you with a quote!
Get Your FREE Bond Quote Instantly
FREE Instant Online Quotes - All 50 States - All Credit Types
Get a FREE Bond Quote

Instant ballpark estimate

Tell us about your business

powered by

Get your FREE quote today!
4. Submit Your Application Form and Pay Fees
Once you meet all of the above licensing requirements, you must submit your application packet through NMLS. Along with that, you must pay the following fees:
$400 license fee
$400 application fee
$100 NMLS initial processing fee
$15 credit report fee per person
$36.25 FBI criminal background check fee per person
Upon paying your fees and submitting your documents, the DFI will evaluate your application and notify you when your license has been issued.
5. Renewing Your License
All North Dakota money broker licenses expire yearly on December 31 and must be renewed before that date. Renewal applications must be submitted 30 days before the expiration date and must include renewal forms and fees, as well as a renewed surety bond.
If you have any further questions about the licensing process for North Dakota mortgage brokers, make sure to contact the DFI for more information.
For any bond-related questions, call our bond experts anytime at 866.450.3412!
---