How to Get a Money Transmitter License In Illinois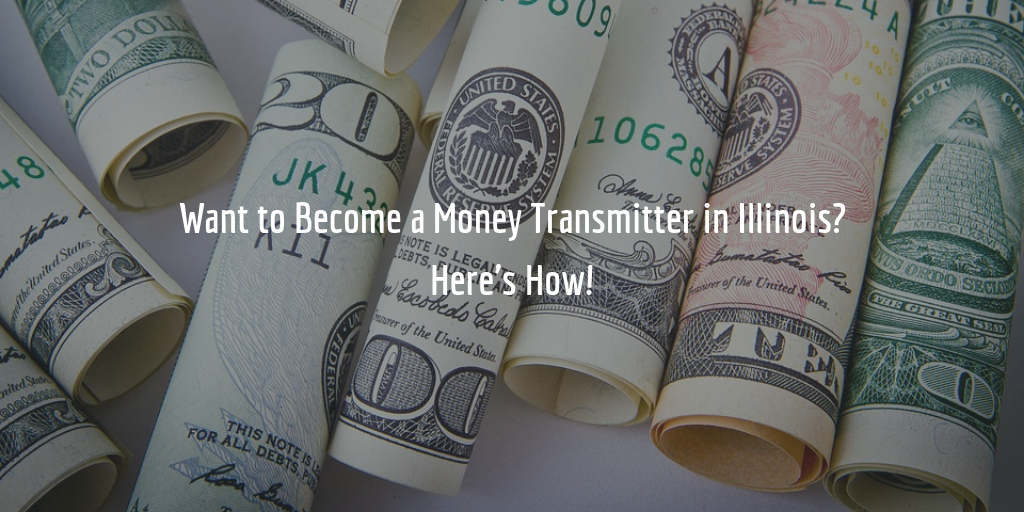 To operate as a money transmitter in the state of Illinois, you will need to apply for a license from the Illinois Department of Financial & Professional Regulation (IDFPR). During the application process, you will need to comply with a list of requirements which include, among other things, posting a money transmitter surety bond.
See below for a quick and simple guide on how you can get a money transmitter license in Illinois!
Who Needs This License?
According to the Illinois Transmitters of Money Act (Chapter 205, Act 657, Illinois Compiled Statutes (ILCS)), a money transmitter is a person who, for a fee, directly or indirectly:
Sells or issues payments instruments

Transmits money and receives money for transmission

Exchanges money between governments
Anyone who wants to engage in any of the following actions is required to obtain a money transmitter license in the state.
How Do I Apply For an Illinois Money Transmitter License?
Even though it is the IDFPR that issues transmitter licenses in the state, the licensing process itself goes through the Nationwide Multistate Licensing System & Registry (NMLS).
Before you get started with your license application, you must first register with your Secretary of State, as well as with the Financial Crimes Enforcement Network (FinCEN).
Once you have completed the above, you can proceed to the NMLS.
NMLS License Application Process
To begin the license application process, you must register in the NMLS system. After that, you can get started with the application.
To apply, you need to complete several different forms in the NMLS, upload various documents to the NMLS and, finally, submit one additional form directly to the IDFPR. Have a look at the checklist provided to applicants by the NMLS or see below!
Here are the items you need to either complete or submit through NMLS:
Company form MU1

Individual form MU2 (to be completed by company control persons)

Financial statements (these must illustrate your company's net worth, depending on the number of locations you plan on having)

List of authorized agents (delegates)

List of primary and non-primary contact employees

Resident agent information

Bank account information

Responses to disclosure questions (with extensive explanations for any "yes" responses by control persons)

Anti-Money Laundering (AML) / Bank Secrecy Act (BSA) policies with an independent review

A detailed business plan that includes your marketing strategies, products, fee schedule, operating structure, and more

A Certificate of Authority / Good Standing from the Secretary of State

Samples of documents you will be using when conducting business

Company formation documents

An organizational chart which details the percentage of ownership of direct and indirect owners, and subsidiaries and affiliates

A surety bond in an amount between $100,000 and $2,000,000 (see below for more information about the bond requirements
In addition, you must also complete and submit the Appointment of Attorney-in-Fact for Service of Process Form and submit it to the IDFPR. The address of the department is:
Illinois Department of Financial and Professional Regulation
Consumer Credit Section
100 West Randolph Street 9-100
Chicago, IL 60601
Licensing Fees
The following fees will be due when you apply for a money transmitter license in Illinois:
$100 application fee

$100 license fee

$400 investigation fee (an examination is conducted when the application is processed)

$10 authorized seller fee (per location)

$0.25 fee per active authorized agent/delegate (no fee for the first 100 active agents)
Illinois Money Transmitter Surety Bond Requirement and Cost
Under the Transmitters of Money Act, anyone who applies for a money transmitter license must post a surety bond. The bond serves as a guarantee that the transmitter will comply with the provisions of the Act. Should a transmitter violate the Act and cause losses or damages to any person, the latter may file a claim against the bond to receive compensation.
The amount of the bond you must submit is determined on the basis of the "daily average of outstanding payment instruments for the preceding 12 months of operational history, whichever is shorter."
The minimum amount of the bond required by the IDFPR is $100,000 and the maximum amount is $2,000,000. Applicants who must post a bond over $1,000,000 are given the option to post a $1,000,000 and increase their net worth on a dollar-by-dollar basis up to the maximum of $2,000,000.
The cost of your bond is equal to a fraction of the full amount of the bond you need to get. This fraction is determined by the surety when you request a quote. The surety reviews your personal credit score, along with other financial indicators in order to offer you a rate. The higher your credit score is, the lower your rate will be.
Get a free quote on your bond, with no obligation attached, by completing our short bond form below!
Get a FREE Money Transmitter Bond Quote Today!
No Obligation - Fast and Secure - All Credit Types
Get a FREE Bond Quote

Instant ballpark estimate

Tell us about your business

powered by

Get your FREE quote today!
---