Oregon to Start Issuing Mortgage Servicer Licenses, Requires Bonds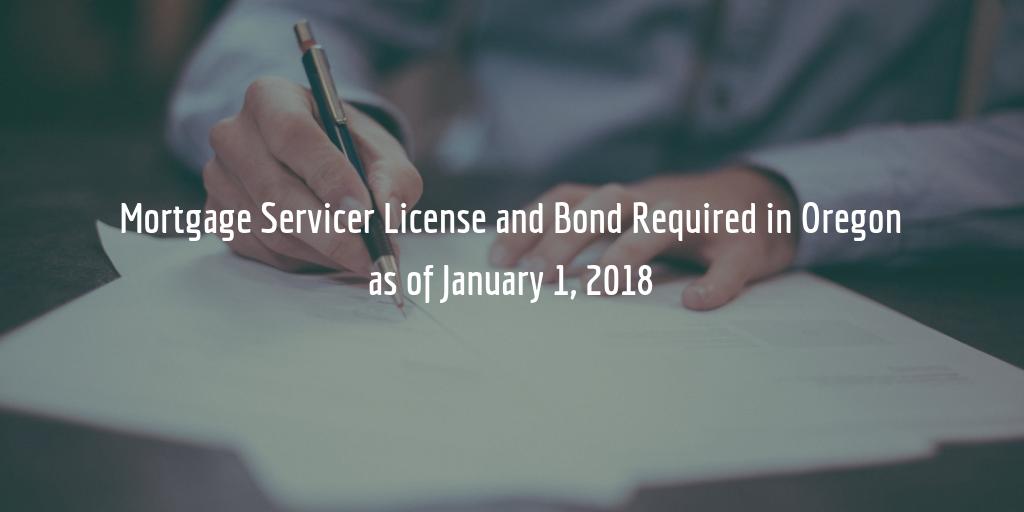 As of November 1, the Oregon Division of Financial Regulation has begun issuing mortgage servicer licenses. Senate Bill 98, passed back in August, set the requirement for companies in Oregon that service residential mortgage loans to become licensed as well as to obtain an Oregon mortgage servicer bond. All companies that are required to obtain such a license must do so before January 1, 2018, when the Mortgage Loan Servicer Practices Act (the "Servicer Act") comes into force.
While the Division has not yet adopted permanent licensing rules, it has issued a number of temporary rules to accept applications and begin the licensing process. The latter will be effective at least through April 17, 2018, at which point the final rules are expected to be in place.
See below for an overview of the current licensing requirements for mortgage servicers in Oregon, as well as how to get bonded and how much your bond may cost.
Licensing requirements
According to the Servicer Act, "a person may not directly or indirectly service a residential mortgage loan" in Oregon unless they are licensed or exempt from the requirement, as defined in the Act and the temporary administrative order issued on October 20. Those who must get licensed, are required to do so before January 1, 2018, when the Act and all of its provisions will become operative.
To get licensed with the Oregon Division of Financial Regulation, applicants have to apply through the Nationwide Mortgage Licensing System (NMLS). Applications submitted to the NMLS will need to comply with the application requirements defined on the Division's website in order to be accepted.
When applying, applicants will need to complete one set of documents within the NMLS system, and upload a second set of documents to the system. The following information will need to be provided online, during the application process:
Company form MU1 (the application form)

Other trade name (if operating under a different name)

Information about the resident/registered agent which matches the information currently on record with Oregon Secretary of State

Information about primary contact employees

Information regarding the company's approval and designation

Responses to disclosure questions (along with upload for every question to which the answer 'yes' is given)

Individual form (MU2)

Authorize a credit report for every individual in a position of control

Authorize an FBI criminal background check
On top of the above, applicants will also need to upload a number of documents to the NMLS. These are:
An audited or unaudited financial statement from a Certified Public Accountant (CPA) that includes a balance sheet, income statement, and statement of cash flows, along with any additional relevant information

A detailed business plan (if the company has already uploaded a business plan to the NMLS, a second one is not necessary, unless it lacks in information)

A Certificate of Authority from the Secretary of State called a Certificate of Existence in Oregon

Company formation documents

A management chart that includes the names and titles of all directors, officers, and managers, as well as all senior management

An organizational chart that details the percentage of ownership of all direct and indirect owners, as well as any subsidiaries and affiliates

An Oregon mortgage servicer bond in the amount of $50,000
Finally, applicants will also need to pay the following fees through NMLS when applying:
$960 license fee

$100 initial processing fee to the NMLS

$15 for credit report per control person

$36.25 fee per person for criminal background check
These are all the requirements that applicants for an Oregon mortgage servicer license must comply with. Once you fulfill them, you will hear from the State Division when your application has been reviewed.
What about the surety bond requirement? Why are applicants for this license required to obtain a $50,000 bond?
Surety bond requirement
The surety bond requirement for mortgage servicers in Oregon is intended to guarantee that they comply with the provisions of the Servicer Act in executing their responsibilities as servicers. The surety bond is a financial guarantee agreement that serves as protection for those parties, lenders, and borrowers, doing business with the servicer.
The initial bonding amount, as required by the NMLS, is $50,000 though bonds can be as high $200,000. The bonding amount is determined on the basis of "the total unpaid principal balance of residential mortgage loans in Oregon as of the last day of the second quarter of the year, or, for new applications, the most recent completed quarter."
The cost of getting bonded is different from the bonding amount. To get bonded, you only need to pay a fraction of the full amount of your bond. How high or low your bonding rate will be, depends on your personal credit score, among other important indicators.
To find out how much getting bonded might cost, simply complete a bond application form and we will provide you with an entirely free quote on your bond!
If you have any other questions about the bonding requirements for mortgage servicers in Oregon, call us at (866)-450-3412 anytime!
---