Large Bonding Increase for Fireworks Display in Pennsylvania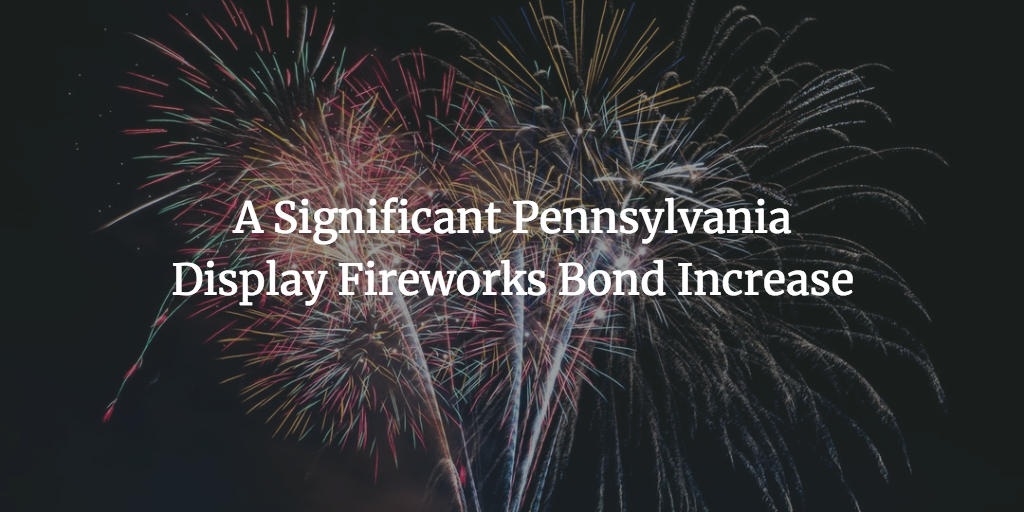 Fireworks facility licensees in Pennsylvania have to comply with new regulations, so that they can operate legally in the state. House Bill 542 introduces changes to the definitions, procedure for permit holders, and the minimum surety bond requirements that sellers of consumer fireworks and display fireworks operators must meet. The new Fireworks Law is effective as of October 30, 2017.
The bond increase for display fireworks permit holders
The regulating authority for consumer sale and operation of fireworks in Pennsylvania is the Bureau of Ride and Measurement Standards at the Department of Agriculture. However, it only sets the general framework in the state. Each municipality can determine its own requirements for issuing permits.
To obtain a municipality permit for display fireworks, applicants now have to post a significantly higher bond amount. Previously, the minimum required amount was $500. The amended Fireworks Law increases this minimum amount to $50,000. Municipalities can set higher bond amounts if they deem it necessary.   
Display firework permit holders can use them for agricultural purposes, for signaling in railroads and transportation systems, for shows and theatres, for ceremonies at sports events, and for military or veteran organizations' purposes.
Saving on your bond costs
The bond amount increase for display fireworks operation in Pennsylvania is considerable. This means that the costs you need to cover to operate such a business are growing. However, there are still ways in which you can decrease your surety bond price.
To get bonded, you only have to cover a percentage of the bond amount, which is called the bond premium. It is set on the basis of your personal and business finances. If your finances are in good shape, the rate is usually between 1% and 5%.
As the required bond amount is much higher – $50,000, you can reduce the bond cost you have to cover by improving your financial situation. If you can work on raising your credit score, or make outstanding payments, your bond premium can be as low as 1% of the bond amount, or $500.
Get an exact surety bond quote by completing our online application form. It takes 2 minutes and it's completely free.

Get a FREE Surety Bond Quote Today!
No Obligation - Fast and Secure - All Credit Types
Get a FREE Bond Quote

Instant ballpark estimate

Tell us about your business

powered by

Get your FREE quote today!
---