How to Get a South Carolina Money Transmitter License [Full Guide]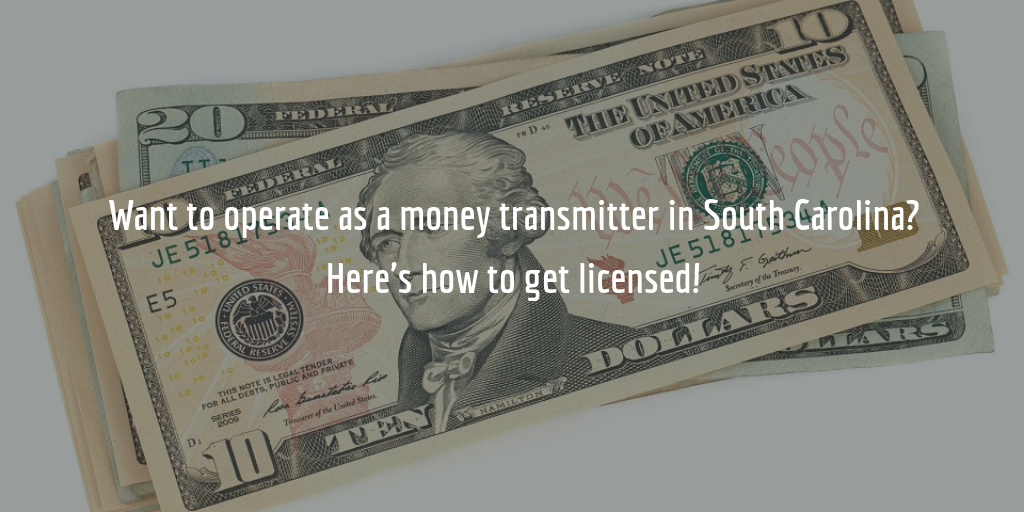 To provide money transmission services in the state of South Carolina, you will need to obtain a license from the state Money Services Division. While it is the Division that regulates and issues these licenses, the application process itself must be completed through the Nationwide Multi-State Licensing System (NMLS).
When applying for a license, you will be asked to complete an application form as well as to submit various supporting documents and items. These will include a credit report, financial statements, as well as a South Carolina money transmitter bond, and more.
For a full overview of the process of getting a South Carolina money transmitter license, see our guide below!
1. Register Your Business in South Carolina
Prior to applying for a license through NMLS, you will need to apply for business registration with the South Carolina Secretary of State.
This does not apply to sole proprietorships and general partnerships, who do not need to file with the Secretary of State's Office.
2. Obtain a FinCEN Registration
You will need a FinCEN registration confirmation number during the money transmitter licensing process. Therefore, you must also obtain registration as a Money Services Business (MSB) from the Financial Crimes Enforcement Network (FinCEN).
3. Apply For Your South Carolina Money Transmitter License
There are three different parts to your money transmitter license application.
The first part consists of completing the main application forms in NMLS.

The second part consists of uploading various documents to the NMLS platform.

And, finally, you also need to mail or email several additional documents to the South Carolina Attorney General.
Complete the application forms
To begin the application process, register in the NMLS platform. You will then be granted access to your personal profile.
Then proceed with completing Company form (MU1) and Individual form (MU2). These are the two main forms you need to complete within the platform. As you will see, you will be required to attach a few supporting documents.
Attach additional items to your application forms
Some of the supporting documentation which you will need to complete and attach in NMLS includes:
Business registration documents – certificate of authority or good standing, as well as formation documents

Audited financial statements that demonstrate a net worth of $250,000

Detailed explanations to any disclosure questions you have responded to positively

Credit reports for individuals in a position of control and detailed letters of explanation for any derogatory accounts therein (

$15 fee per credit report

)

FBI criminal background checks (

$36.25 fee per person

)

South Carolina money transmitter bond in the minimum amount of $50,000 plus an additional $10,000 for each location, but no more than $250,000 in total

The most recent versions of your Anti-Money Laundering (AML) / Bank Secrecy Act (BSA) policies and copies of their most recent independent reviews

Business plan

Management and organizational charts

Flow of funds structure documents

Samples of documents used in the regular course of business

List of permissible investments
Submit additional documents to the South Carolina Attorney General
Finally, you must also submit the following additional documents directly to the South Carolina Attorney General:
A third-party background check (if applicable)

Financial statements of the parent company (if applicable)

Confidential treatment request (if applicable)
4. Obtain a South Carolina Money Transmitter Bond
To be able to obtain your license, you must submit a South Carolina money transmitter bond. This bond guarantees that you will comply with the rules and regulations in the state that regulate the business of money transmission.
The amount of your bond must be at least $50,000. If you have more than one location, you must add another $10,000 to your bond, per location. The maximum required amount of your bond can be no more than $250,000.
Want to get a free quote on your bond? Complete our short form below!
Get Your FREE Bond Quote Instantly
FREE Instant Online Quotes - All 50 States - All Credit Types
Get a FREE Bond Quote

Instant ballpark estimate

Tell us about your business

powered by

Get your FREE quote today!
Feel free to call us at 866-450-3412 if you need more information about your surety bond requirements.
5. Submit Your South Carolina Money Transmitter License Application
When you've completed all of the above requirements, you can submit your application through NMLS. As a final requirement, you will need to pay a $1,500 application fee, and a $750 license/registration fee.
You also owe an annual fee of $0.25 per active authorized agent and delegate location. This fee is not owed if you have less than 100 agents.
These are all the steps you need to complete in order to apply for your license. Do you have any questions about the licensing process? See the NMLS license application checklist or contact the Money Services Division at (803) 734-1221 or via email at [email protected]!
---