Your Guide to Getting a New Jersey Money Transmitter License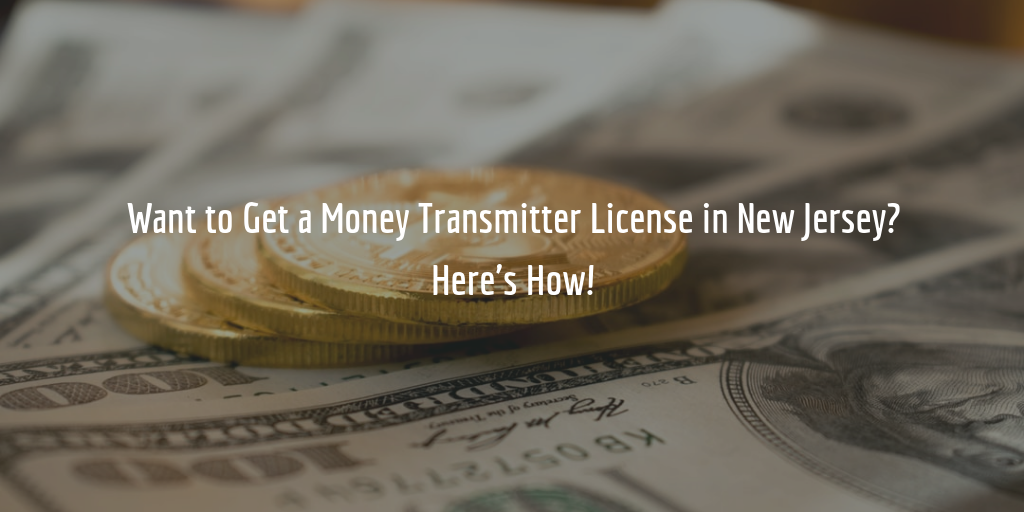 To become a money transmitter in New Jersey, you must apply for a license at the state Department of Banking and Insurance. As part of the licensing process, you will need to complete an application form to which you will need to attach various forms and documents.
These will need to include financial statements, a money transmitter bond, personal and banking information, and more.
To find out how to apply for your New Jersey money transmitter license, keep reading!
New Jersey Money Transmitter License
The New Jersey Money Transmitters Act defines a money transmitter as someone who can:
Sell and issue payment instruments for a fee, commission or some other benefit

Receive money for transmission or transmit money in the U.S. or to a foreign country for a fee, commission or some other benefit

Receive money for the purpose of paying bills, invoices, and accounts for a fee, commission or some other benefit
Alternatively, the New Jersey Department of Banking and Insurance also issues a so-called "foreign money transmitter license" which allows licensees to receive and transmit money outside of the U.S.
Some of the licensing requirements for the foreign money transmitter license are looser though they are largely the same as those for a money transmitter. See the next section for a full description of all requirements.
Licensing Requirements for NJ Money Transmitters
Prior to applying for your transmitter license, you will need to register your business with several state agencies.
Business registration
Business registration for corporations, LLCs, and LLPs is performed at the Division of Commercial Recording, New Jersey Department of Treasury. Sole proprietors and general partnerships do not need to register at the Treasury, though it is advisable. They do need to, however, register a trade name with their County Clerk's Office.
If you will be using an alternate/fictitious name, different from your business entity's legal name, you will need to register that with the Department of Treasury as well.
In addition to that, all businesses also need to register for tax and employer purposes at the state Division of Revenue.
To get started with your business registration, visit the NJ Business Portal website.
License application
Once you are done with your business registration, you can proceed with applying for your license.
The main document you need to complete is your license application form. As part of completing the application form, you will need to provide personal applicant information, business registration information, respond to a variety of questions, and more.
Take note that the Personal Certification Form on page 10 must be completed by all officers, directors, key shareholders (with a 25% share or more), members, partners, and owners!
You will also need to attach the following types of documents to your application prior to submitting it to the department:
An unqualified, audited financial statement for the most recent year, and the two years prior to that (if available). These statements must show that:

A foreign money transmitter has a minimum net worth of $50,000, and an additional $10,000 of net worth per agent or location in New Jersey, up to a maximum of $400,000

A money transmitter has a minimum net worth of $100,000, and an additional $25,000 per agent, up to a maximum of $1,000,000

Copies of any filings you have made with to the Securities and Exchange Commission or a similar agency abroad

A money transmitter surety bond:

Foreign money transmitters must submit a $25,000 bond

Money transmitters must submit a $100,000 bond
Personal certifications forms completed as specified above, and a 2"x2" passport-style photograph of all individuals who have completed such a form, with their name and the name of the business on the back of the photograph

Evidence of completion of

LiveScan fingerprinting

A list of countries to which you will be submitting money (if applicable)

A letter of confirmation from every bank through which you will be making payments and where your payment instruments will be drawn

A list of all proposed authorized delegates in an Excel sheet, and a sample of your authorized delegate agreement

A sample payment instrument (if applicable)

A description of your corporate structure

A description of your business activities and a history or record of operation

A completed and signed out-of-state agreement (pages 12-13 on the application form), if you will be keeping books and records outside of New Jersey
These are all the documents you need to attach to your application. Make sure your application is complete since incomplete applications are returned in their entirety.
When submitting your application, you must also submit a company check or money order payable to the Treasurer. The licensing fee for both types of transmitter licenses is $700, and it is non-refundable.
To submit your application, mail it to:
Licensing Services Bureau N.J. Dept. of Banking & Insurance PO Box 473 Trenton, NJ 08625
New Jersey Money Transmitter Bond Requirement
The surety bond required of New Jersey money transmitters guarantees their compliance with the New Jersey Money Transmitters Act. This Act specifies their legal obligations and conduct as licensed transmitters.
The cost of getting bonded is not the same as the amount of the bond, though. Bond cost is determined on the basis of several financial factors, among which personal credit score is the most important one. The higher an applicant's score is, the cheaper it is for them to get bonded.
Want to know how much your bond premium will be? You can request a 100% free quote on your bond by completing our bond application form below. We will then provide you with a free, no obligations quote!
Get a FREE Money Transmitter Bond Quote Today!
No Obligation - Fast and Secure - All Credit Types
Get a FREE Bond Quote

Instant ballpark estimate

Tell us about your business

powered by

Get your FREE quote today!
---