Table of Contents
The cost of your $50,000 surety bond depends mostly on your personal credit score. Applicants with good credit usually pay premiums between 0.75% and 2.5%, which means between $375 and $1,250 per year. Applicants with bad credit, on the other hand, pay premiums in the range of 2.5% to 10%, or between $1,250 and $5,000.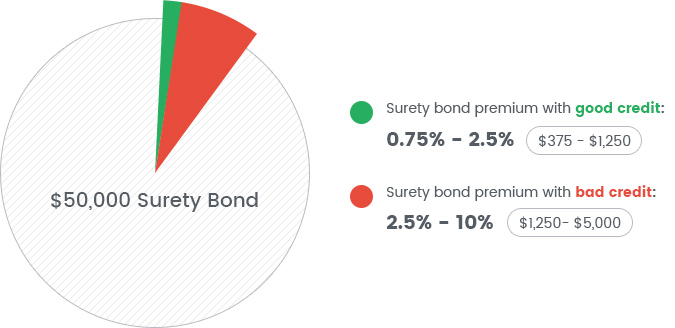 As you see the $50,000 amount is not the sum required from the holder of the surety bond. Instead, this is the amount up to which a claimant on the bond can get compensated. The table below provides more estimates based on the credit score bracket you are in.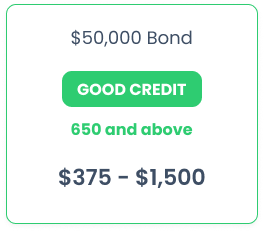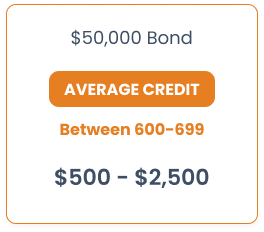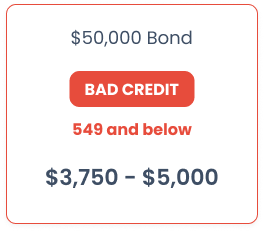 If you have bad credit, you might want to consider submitting additional information along with your application. Industry experience, strong financials or liquid assets can all contribute to a lower premium despite a less-than-stellar credit score. Check out our tips in our How Much Does a Surety Bond Cost? guide.
Getting a $50,000 Surety Bond With Bad Credit
Applicants with poor credit or other issues in their credit report are considered high risk, which is why certain bonding companies refuse to underwrite bad credit surety bonds.
For this reason, we have created our Bad Credit Program thanks to which 99% of applicants obtain the surety bond they need. Premiums are higher, but our surety bond experts can help you lower them as much as possible. Taking active steps to improve your credit reports can help you get a lower premium when bond renewal is due.
Find Out Your Bond Cost
Free Quote - Fast and Secure - All Credit Types
Get a FREE Bond Quote

Instant ballpark estimate

Tell us about your business

powered by

Get your FREE quote today!
How to Calculate $50,000 Surety Bond Cost
Whether it's $50,000 or another level for your commercial bonds, the real question is, how much does a surety bond cost? Don't let the $50,000 figure scare you. You don't have to pay that to get your surety bond. Instead, you can submit applications to bond companies that review your credit and various pieces of underwriting information to decide what they can offer you.
The bond premium is how much money you need to pay in advance. The penal sum, on the other hand, is the total amount of the bond. That's the maximum your surety company would pay for any valid bond claim.
When evaluating your application, a bond company will look at other pieces of information that you provide in addition to credit scores and reports, such as:
Your résumé
Working capital and assets
Company phone number, address, and entity structure
Completed projects
Bank references
Other references
Specific rates for your surety bond will still vary the most based on your personal credit score. The following are ballpark figures, but they give you a good place to start:
599 and lower: 5% up to 10% / $2,500 up to $5,000
600 through 649: 2.5% up to 5% / $1,250 up to $2,500
650 through 699: 1% up to 2.5% / $500 up to $1,250
700 or higher: 0.75% up to 1.5% / $275 up to $750
Most Common $50,000 Surety Bonds
There are a lot of different types of surety bonds which require a $50,000 total bond amount. Here is a list of the most popular ones:
Many states require auto dealers to get bonded with a $50,000 auto dealer bond, such as
North Carolina
,
California
,
Virginia
and
New York
. Auto dealer bonds ensure compliance with state laws and protect the interests of car buyers.
$50,000 contractor license bonds are frequently required in Illinois, Ohio, Oregon and Utah.
Mortgage broker bonds ensure ethical business practices are upheld in the brokerage industry. States which require a $50,000 mortgage broker bond include Oregon, Maryland and Nevada.
The federal government requires that all DMEPOS providers post a surety bond to comply with certain regulations concerning the industry.
Florida requires telemarketers to get licensed and procure a surety bond to protect consumers and make sure telemarketers comply with applicable rules and regulations.
---
---
Frequently Asked Questions
Still Have Questions?
Still haven't found the answer you are looking for?
Give us a call at 866.450.3412 or leave your question below.