Table of Contents
Several crucial elements impact the price of a $500,000 surety bond. These factors encompass the applicant's credit score, the specific type of surety bond needed, and the applicant's business experience and financial stability. Typically, premiums for a $500,000 surety bond can vary between 0.75% to 10% of the total bond amount. Nevertheless, the ultimate premium may differ based on individual circumstances and the chosen surety bond provider.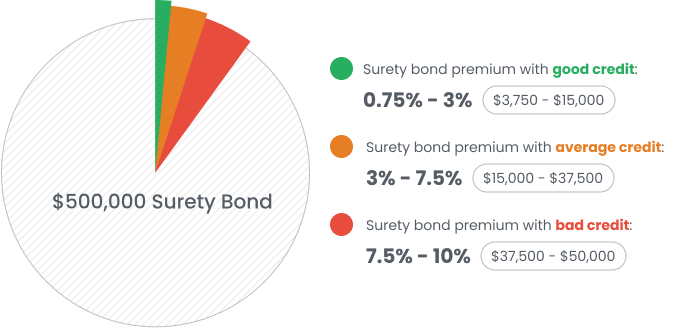 Check out the table provided below in order to get a more specific overview of the premiums organized according to the applicant's credit rating: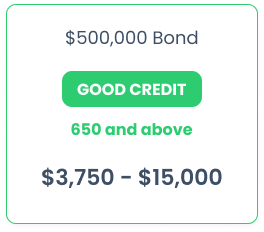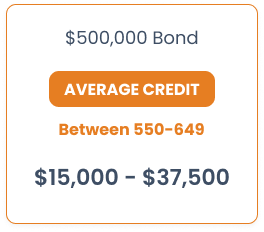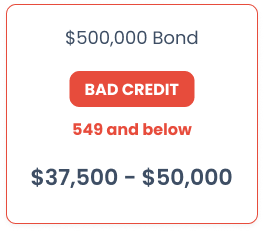 How to calculate the cost of your $500,000 surety bond
Calculating the cost of a $500,000 surety bond involves assessing numerous risk factors that play a pivotal role in determining the premium. Several key elements influence the bond cost, including:
a) Applicant's Credit Score: When applying for a surety bond, the applicant's credit history is carefully evaluated by surety bond providers to determine their financial reliability. Those with excellent credit scores are perceived as lower-risk applicants, which enables them to secure lower premiums for their surety bonds.
b) Surety Bond Type: $500,000 surety bonds come in various types, such as performance bonds, payment bonds, or commercial bonds, each carrying distinct risk profiles that can impact the overall cost of the bond.
c) Applicant's Business Size and Operations: The scale and scope of the applicant's business are crucial in determining the surety bond's cost. Smaller businesses or independent professionals may face higher rates than their larger, well-established competitors with a strong bond history.
For an accurate cost estimate of your $500,000 surety bond, we recommend reaching out to Bryant Surety Bonds, a reputable and experienced provider in the industry. Our team of experts will assess your unique requirements and provide you with a personalized quote based on the factors mentioned earlier.
If your credit score falls within the average range of 600 to 675, you can expect a surety bond rate ranging from 3% to 5%. This translates to premiums starting at $15,000 and going up to $25,000.
On the other hand, applicants with good credit, typically over 675 or even 700 and higher, may be eligible for lower rates, approximately ranging from 0.75% to 2.5%. In this scenario, a $500,000 surety bond might cost you only $3,750 to $7,500.
By discussing your specific needs with Bryant Surety Bonds, you can secure the most competitive and tailored solution for your $500,000 surety bond requirements. Feel free to contact them today for a personalized quote and expert assistance.
Get Your FREE Bond Quote Instantly
FREE Instant Online Quotes - All 50 States - All Credit Types
Get a FREE Bond Quote

Instant ballpark estimate

Tell us about your business

powered by

Get your FREE quote today!
Most common $500,000 surety bonds
Explore some of the most common types of $500,000 surety bonds below:
Mortgage lenders may be required to post a $500,000 surety bond to ensure compliance with industry regulations and protect consumers from potential financial losses.
Businesses engaged in large projects may be required to obtain a $500,000 performance bond to guarantee the completion of the project as per the contract terms and specifications.
Construction companies might need to secure a $500,000 payment bond to ensure subcontractors and suppliers receive timely payment for their work and materials.
These $500,000 bonds serve as a guarantee that contractors will fulfill their contractual obligations, providing reassurance to project owners.
e) ERISA Bonds
Administrators of employee benefit plans, covered by the Employee Retirement Income Security Act (ERISA), may need a $500,000 bond to protect plan assets from misuse.
Money transmitters might obtain a $500,000 bond to comply with state regulations and safeguard customers' funds during financial transactions.
g) Nevada Contractor License Bond
Contractors in Nevada may require a $500,000 license bond to ensure adherence to state regulations and protect clients from potential breaches of contract.
If you couldn't locate your desired bond in the above section, don't worry! Bryant Surety Bonds provides a wide range of bond types. You can get in touch with us for assistance, or start the application process and easily find and apply for the surety bond that suits your needs.
---
---
Frequently Asked Questions
Still Have Questions?
Still haven't found the answer you are looking for?
Give us a call at 866.450.3412 or leave your question below.