California Contractors Bond Requirements
Two types of contractors in California are required to get a contractor license bond on a state level. These are:
General engineering contractors (classification A), general building contractors (classification B), and specialty contractors (classification C). These contractors must post a $15,000 California contractor license bond (also referred to as a CSLB bond) when applying to the Contractors State License Board.
Several additional bonds may be required of such contractors in the following cases:
A Bond of Qualifying Individual of $12,500 if the license is qualified by a Responsible Managing Employee (RME) or a Responsible Managing Officer (RMO) who does not own at least 10% of the voting stock of the corporation.
If your company is a Limited Liability Company (LLC), you will need to post an additional $100,000 bond. For more information about this, see our dedicated California LLC Employee Worker Bond.
A Disciplinary Bond in a minimum amount of $15,000 and a maximum amount of $150,000, if the applicant has previously had a license revoked for a violation of the Contractors' License Law.
Farm labor contractors must submit a $25,000, $50,000, or $75,000 bond when applying at the Department of Industrial Relations, Division of Labor Standards Enforcement.
These are the types of bonds that contractors in California must post to get licensed. Bryant Surety Bonds can help you get any kind of California contractor license bond that you need. Complete our online application form to get a free instant quote.
Are you looking for a construction bond in California? See our contract bonds page if you need a bond for a specific project!
How Much Does a California Contractor License Bond Cost?
The cost of your California contractor license bond is a percentage of the full amount of your bond. Sureties determine bond cost based on the financial stability of an applicant and in particular their personal credit score.
Applicants with a high credit score (700 FICO or higher) can expect a rate as low as 1% of the full bond amount. This means that if you are applying for a $15,000 bond and are offered a 1% quote, your annual bond premium will be equal to $150.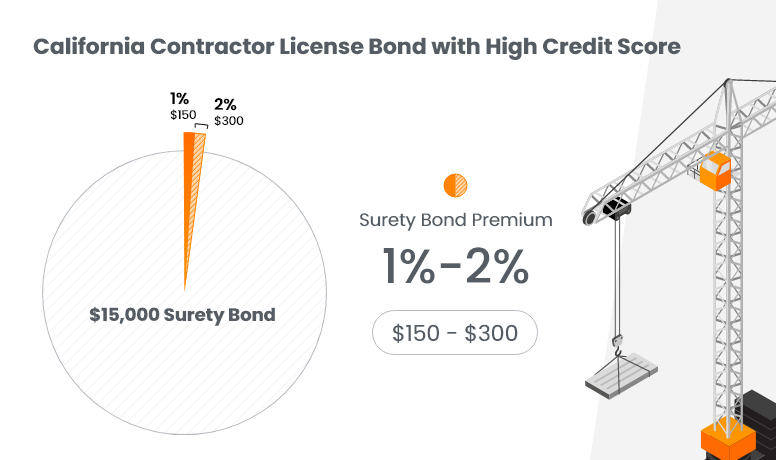 To get a ballpark estimate of the cost of your bond, see the table below.
California Contractor License Bonds Cost
License type
Bond Amount
Surety Bond Cost by Credit Score
Above 700
650-699
600-649
Below 599
CSLB contractor license (general engineering contractor, general building contractor, and specialty contractor)
$15,000
$150-$300
$225-$450
$300-$600
$450-$750
CSLB qualifying individual
$12,500
$125-$250
$187.5-$375
$250-$500
$375-$625
LLC employee worker bond
$100,000
$1,000-$2,000
$1,500-$3,000
$2,000-$4,000
$3,000-$5,000
Farm labor contractor, for payrolls up to $500,000
$25,000
$250-$500
$375-$750
$500-$1,000
$750-$,1250
Farm labor contractor, for payrolls between $500,000 and $2,000,000
$50,000
$500-$1,000
$750-$1,500
$1,000-$2,000
$1,500-$2,500
Farm labor contractor, for payrolls greater than $2,000,000
$75,000
$750-$1,500
$1,125-$2,250
$1,500-$3,000
$2,250-$3,750
* The table provides a bond cost ballpark estimate based on the applicant's credit score. Actual bond prices can differ due to a number of factors. For an exact quote,
please complete our online application
. It's fast and 100% free!.
In addition to your credit score, sureties also consider several other factors when determining the rate at which they can issue a bond for you. These factors include:
Personal and business financial statements
Fixed and liquid assets
Work experience and record
Applicants with bad credit can also get bonded though at slightly higher rates. If you want to improve your bond premium, you should focus on improving your credit score as well as the above factors.
Find out more about how bond rates are determined by sureties from our detailed surety bond cost guide!
Contractors Licensed With The CSLB
California law requires all contractors who perform work that's valued higher than $500 to obtain a license from the CSLB.
All contractors that apply to get licensed are required to get bonded under the California Business and Professions Code Section 7071.6. The bond coverage for all contractors is $15,000. In addition, under Section 7071.9, qualifying individuals are required to post a $12,500 bond.
According to Section 7071.5, this bond is for the benefit of homeowners, property owners, persons, as well as employees of the contractor and laborers who are damaged as a result of a violation of Chapter 9, Division 3 of the Business and Professions Code by the licensee.
Contractor licenses issued by the CSLB expire two years from the last day of the month in which they were issued. Both the licenses as well as the bonds must be renewed before expiration in order to remain active.
Farm Labor Contractors
Farm labor contractors are required to get a bond under Section 1684 of the California Labor Code. The amount of the bond has to be $25,000, $50,000, or $75,000, depending on the payroll of the licensee.
This bond is payable to the people of California and is conditioned on the contractor's compliance with the provision of Chapter 3, Part 6, Division 2 of the Labor Code, as well as subdivisions (j) and (k) of Section 12940 of, and Sections 12950 and 12950.1 of the Government Code. The bond is also payable for interests on wages and damages arising from a violation of orders of the Industrial Welfare Commission.
California farm labor contractor bonds and licenses are initially valid until the next birthday of the licensee and must be renewed within 30 days before the expiration. After that, they are valid from birthday to birthday.
California Contractor Licensing Requirements
To complete your CSLB contractor licensing application, you will need to meet the following requirements, in addition to obtaining your surety bond:
If you have any questions about the contractor licensing process, make sure to contact one of CSLB's representatives.
To become licensed as a farm labor contractor in California at the Division of Labor Standards Enforcement, you must complete the following requirements:
Register your business with the California Secretary of State
Register with the federal government as a farm labor contractor
Pass a farm labor contractor exam
Provide a full set of fingerprints
Obtain a California farm labor contractor bond
Obtain Workers' Compensation Insurance
Participate in 9 hours of education classes
Pay a $794 fee (includes license, examination, and filing fee)
If you have any additional questions about this license, contact the Division of Labor Standards Enforcement to learn more!
---
---