California requires all contractors to purchase a surety bond before working on a construction project. The bond is also mandatory to get a license from the Contractors State License Board. If you don't have a surety bond, you can only work on projects that cost less than $500, and you're liable to pay damages from your pocket. Learn more about these contractor bonds and the requirements to get one.
California Contractors Bond Requirements
Two types of contractors in California are required to get a contractor license bond on a state level. These are:
General engineering contractors (classification A), general building contractors (classification B), and specialty contractors (classification C). These contractors must post a $15,000 California contractor license bond (also referred to as a CSLB bond) when applying to the Contractors State License Board.
Several additional bonds may be required of such contractors in the following cases:
A Bond of Qualifying Individual of $12,500 if the license is qualified by a Responsible Managing Employee (RME) or a Responsible Managing Officer (RMO) who does not own at least 10% of the voting stock of the corporation.
If your company is a Limited Liability Company (LLC), you will need to post an additional $100,000 bond. For more information about this, see our dedicated California LLC Employee Worker Bond.
A Disciplinary Bond in a minimum amount of $15,000 and a maximum amount of $150,000, if the applicant has previously had a license revoked for a violation of the Contractors' License Law.
Farm labor contractors must submit a $25,000, $50,000, or $75,000 bond when applying at the Department of Industrial Relations, Division of Labor Standards Enforcement.
These are the types of bonds that contractors in California must post to get licensed. Bryant Surety Bonds can help you get any kind of California contractor license bond that you need. Complete our online application form to get a free instant quote.
Are you looking for a construction bond in California? See our contract bonds page if you need a bond for a specific project!
How Much Does a California Contractor License Bond Cost?
The cost of your California contractor license bond is a percentage of the full amount of your bond. Sureties determine bond cost based on the financial stability of an applicant and in particular their personal credit score.
Applicants with a high credit score (700 FICO or higher) can expect a rate as low as 1% of the full bond amount. This means that if you are applying for a $15,000 bond and are offered a 1% quote, your annual bond premium will be equal to $150.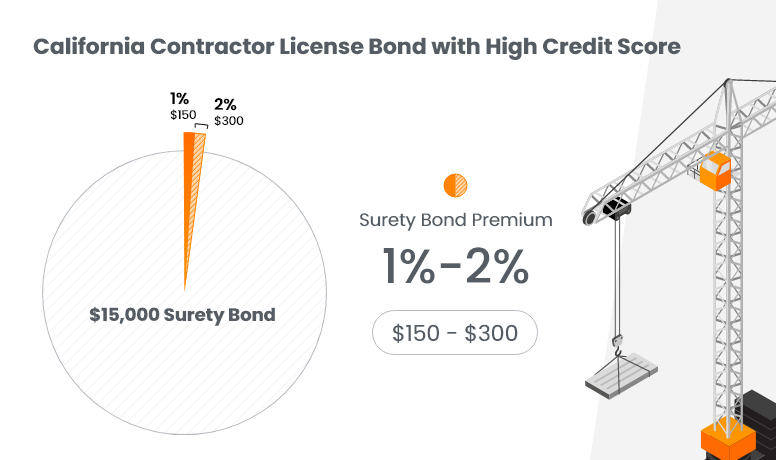 California Contractor License Bonds Cost
License type
Bond Amount
Surety Bond Cost by Credit Score
Above 700
650-699
600-649
Below 599
CSLB contractor license (general engineering contractor, general building contractor, and specialty contractor)
$15,000
$150-$300
$225-$450
$300-$600
$450-$750
CSLB qualifying individual
$12,500
$125-$250
$187.5-$375
$250-$500
$375-$625
LLC employee worker bond
$100,000
$1,000-$2,000
$1,500-$3,000
$2,000-$4,000
$3,000-$5,000
Farm labor contractor, for payrolls up to $500,000
$25,000
$250-$500
$375-$750
$500-$1,000
$750-$,1250
Farm labor contractor, for payrolls between $500,000 and $2,000,000
$50,000
$500-$1,000
$750-$1,500
$1,000-$2,000
$1,500-$2,500
Farm labor contractor, for payrolls greater than $2,000,000
$75,000
$750-$1,500
$1,125-$2,250
$1,500-$3,000
$2,250-$3,750
* The table provides a bond cost ballpark estimate based on the applicant's credit score. Actual bond prices can differ due to a number of factors. For an exact quote,
please complete our online application
. It's fast and 100% free!.
In addition to your credit score, sureties also consider several other factors when determining the rate at which they can issue a bond for you. These factors include:
Personal and business financial statements
Fixed and liquid assets
Work experience and record
Applicants with bad credit can also get bonded though at slightly higher rates. If you want to improve your bond premium, you should focus on improving your credit score as well as the above factors.
Contractors Licensed With the CSLB
California law requires all contractors who perform work that's valued higher than $500 to obtain a license from the CSLB.
All contractors that apply to get licensed are required to get bonded under the California Business and Professions Code Section 7071.6. The bond coverage for all contractors is $15,000. In addition, under Section 7071.9, qualifying individuals are required to post a $12,500 bond.
According to Section 7071.5, this bond is for the benefit of homeowners, property owners, persons, as well as employees of the contractor and laborers who are damaged as a result of a violation of Chapter 9, Division 3 of the Business and Professions Code by the licensee.
Contractor licenses issued by the CSLB expire two years from the last day of the month in which they were issued. Both the licenses as well as the bonds must be renewed before expiration in order to remain active.
Types of Contractors and Their Bond Requirements
Anyone who contracts to perform a task valued above $500 needs a license from CSLB.
Depending on the type of work, the insurance underwriting and bond requirements may differ accordingly. For instance, the bond requirement for a general contractor and subcontractor working on a similar project can vary based on the nature of their duties.
A contractor may require more than one type of bond. A bond for qualifying individuals, an employee/worker bond, a disciplinary bond, a performance bond, and a payment bond are examples of such bonds.
General and Specialty Contractors
Due to the nature of construction projects, "general contractors" and "specialty contractors" may need multiple bonds. Here is a brief overview of the kind of additional bonds:
Qualifying Individual Bond
If you hold less than 10% of the business equity, you must purchase a $12,500 bond.
LLC Employee/Worker Bond
All LLCs are required to maintain an additional $100,000 surety bond.
Disciplinary Bond
Contractors who had their license suspended for disciplinary reasons must purchase an additional surety bond between $15,000 and $150,000.
These are not the only type of surety bonds. Certain municipalities in California require general and specialty contractors to purchase bonds to cover local guidelines.
Farm Labor Contractors
Farm labor contractors are required to get a bond under Section 1684 of the California Labor Code. The amount of the bond has to be $25,000, $50,000, or $75,000, depending on the payroll of the licensee.
This bond is payable to the people of California and is conditioned on the contractor's compliance with the provision of Chapter 3, Part 6, Division 2 of the Labor Code, as well as subdivisions (j) and (k) of Section 12940 of, and Sections 12950 and 12950.1 of the Government Code. The bond is also payable for interests on wages and damages arising from a violation of orders of the Industrial Welfare Commission.
California farm labor contractor bonds and licenses are initially valid until the next birthday of the licensee and must be renewed within 30 days before the expiration. After that, they are valid from birthday to birthday.
To become licensed as a farm labor contractor in California at the Division of Labor Standards Enforcement, you must complete the following requirements:
Register your business with the California Secretary of State
Register with the federal government as a farm labor contractor
Pass a farm labor contractor exam
Provide a full set of fingerprints
Obtain a California farm labor contractor bond
Obtain Workers' Compensation Insurance
Participate in 9 hours of education classes
Pay a $794 fee (includes license, examination, and filing fee)
Electrical Contractors
Electricians and electrical contractors must purchase a $15,000 surety bond. The electrical contractor bond protects consumers from damages and unsatisfactory work. If a client makes a claim against the electrical contractor, the surety company will pay the settled amount to the customer.
In essence, a surety bond is a contract between three parties: the electrician, the state of California, and the company issuing your security bond.
Telecommunication Contractors
The Public Utilities Commission of California requires telecommunication contractors to post a $25,000 bond. The cost of the bond varies depending on factors such as credit score, the type of business, and business history.
Similarly, telemarketing companies and telephonic sellers require companies to purchase California telemarketing bonds amounting to $1,00,000. The typical surety bond rate ranges between 1% and 3% of the total cost.
Fire Protection Sprinkler System Contractors
Fire protection sprinkler system contractors must also purchase a minimum amount of a surety bond from a licensed provider. According to the California Code of Regulations, a fire protection contractor lays out, fabricates, and installs all types of fire protection systems, excluding electrical alarm systems.
As of this writing, none of the counties in California need any special permit for the task. However, you should check with CLSB regarding additional requirements in your local jurisdiction.
Farm Labor Contractors
Farm labor contractors in California must purchase a minimum of a $25,000 bond. The Division of Labor Standards Enforcement will not issue a license without a bond.
The farm labor contractor bond protects contractors from:
Failure to train an agricultural employee
Failure to train an agricultural employee in the language they understand
Submitting a false record of completion of training
Painter Contractors
According to the state of California, painting and decorating contractors are defined by tasks such as painting walls, polishing a vehicle, decorating a surface, and using such adhesives.
If you're hired for a painting contract job costing more than $500, you need a surety bond. In most cases, the minimum bond expense is $15,000.
HVAC Contractors
HVAC contractors in California require a $10,000 surety bond to work on HVAC-related projects. The official website of the Contractors State License Board indicates that anyone who installs, maintains, services, and repairs such systems must have a surety bond before working on a project.
A violation of the bond agreement can lead to a claim against the contractor. In such unfortunate instances, the bond prevents you from paying exorbitant costs associated with surety bond claims.
Carpenter Contractor
All carpenters working in California need a license and a surety bond. It is important to note that California has two distinct licenses for carpenter contractors: C-5 for framing and rough carpentry contractors and C-6 for cabinet, millwork, and finish carpentry contractors.
Both these professions require the business or the skilled person to purchase a surety bond worth $12,500. The bond guarantees that the contractor will perform their work per the regulation.
Drywaller Contractor
A drywaller contractor in California requires a surety bond of at least $15,000. A bond for qualifying individuals is also required if the person performing the job holds less than a 10% share in the company.
Purchasing a surety bond is mandatory for all drywall contractors working in the field. The nature of the work involves installing gypsum wallboard and gypsum wallboard assemblies, including nonstructural metal framing members.
Steelworker Contractor
If your company deals in steelwork, it's necessary to apply for a surety bond. The CSLB offers two distinct licenses for this type of work: reinforcing steel contractor and structural steel contractor.
To get a license, you will need to purchase a surety bond of at least $15,000 from a surety company licensed through the California Department of Insurance.
Floor Laying Contractor
Floor laying contractors are required to purchase a surety bond as a part of their work. If you're a general contractor who has hired subcontractors, you also need a surety bond.
In California, floor and floor covering contractors are defined as licensed contractors who prepare a surface for the installation of flooring and floor coverings. Accordingly, floor laying contractors must have at least a $15,000 surety bond before they can start the work.
Sewer and Sewer Service Contractors
Contractors for water and sewer projects are also required to obtain a surety bond. You can purchase a bond from any reputable surety provider serving California.
Since there is no specific license for sewer contractors in California, you must ensure that you have a proper license to do the job. In certain conditions, a general building contractor license may be sufficient for the purpose provided that the contractor has purchased a surety bond.
California Contractor Licensing Requirements
To complete your CSLB contractor licensing application, you will need to meet the following requirements, in addition to obtaining your surety bond:
If you have any questions about the contractor licensing process, make sure to contact one of CSLB's representatives.
California Contractor License Application Step-By-Step
Candidates can use education credits to complete the requirements mentioned above. A certificate of work experience can also make things easier.
Once you met most of the requirements, it's time to fill out the application form.
If accepted, every contractor has to clear a criminal background check. If you have a conviction for a criminal offense, you can still apply for the contractor license. The CSLB will decide on a case-by-case basis.
After completing the requirements, it's time to sit for the exam. The exam mainly consists of two sections. The first section checks your familiarity with business and laws. The second section covers the actual knowledge of the trade.
The final step is to submit proof of surety bond, workers' compensation, and liability insurance. You can get insurance from an insurance company of your choice. At this time, the candidate may also need to pay a licensing fee.
What Other Types of Surety Bonds Are Required of Contractors in California?
Depending on the nature of work and the local jurisdiction, you may need additional surety bonds to protect yourself and the consumer. While the list is exhaustive, the three main categories of surety bonds are contractor bonds, license bonds, and court bonds.
Contractor bonds are most often required for construction work.
License bonds, also known as commercial bonds, are required for specific roles such as notary, mortgage broker, auto dealer, and pest control officer.
Court bonds are judiciary bonds designed to protect the holder from any losses incurred as a result of court proceedings.
Almost all these surety bonds require anywhere from 1% to 15% of the total amount of the bond. Usually, the cost is in the lower range between 1% and 3%. For example, if the bond costs $25,000, you may need to pay only $250 per year to cover the expense.
If you have a good credit history or run an established business, you may even pay less than 1%. The only way to find out is to contact a surety bond provider. Well-known surety providers can always arrange a surety bond for people with a bad credit history or a past criminal record.
How Do Contractors Renew Their Licenses and Bonds in California
An active license expires every two years. Once your license is near expiration, the CSLB will send you a notice approximately 60 days before the expiration. If you did not receive an application within 45 days, order a renewal online or call the CSLB helpline at 1-800-321-CSLB (2752).
Be sure to complete the renewal application carefully, or the application will be sent back to you. Upon receipt of your renewal and fee, CSLB will cash your check. If the renewal is not accepted, the application will be returned explaining the items that require correction.
After filling out the license renewal application, you can check the status on the official website of CSLB.
Always renew the license number before the final expiration date. If you fail to renew the license before the expiration date, the renewal is considered delinquent, and you will need to pay the delinquent fee.
According to state law, any work performed while the license is expired is considered unlicensed and may lead to disciplinary action. The CSLB website offers step-by-step guidance on renewing your California contractor license.
For bond renewal, wait for the notification from the surety bond provider. If you didn't receive a letter, call the surety company to help renew your bond and fill out the bond form. It's important to remember that the license renewal data and the bond renewal data rarely coincide.
---
---