Table of Contents
Here is what a surety bond is to you:
A Guarantee: Simply put the bond is put in place to guarantee your work
A Line of Credit: If you don't properly fulfill your "Guarantee" a claim can be filed against your bond. The Surety Company will then investigate the claim and if it is proven true, will make a payment to the claimant for the value (or some part) of the bond amount.
A Liability to you: If the surety needs to pay out on a claim, it will then come back to you for full reimbursement. Until you have paid back the surety you will not qualify for a new bond, and without a bond, you cannot operate legally. That is why you need to think of your surety bond as a line of credit that you don't have control over.
Most applicants think of the surety bond being there as insurance, a premium paid to protect them. In reality, its purpose is to protect your customers. It is essential so that there is a secured amount that the customer can obtain a petition for in the event they are wronged by your business. This is why the bond is a potential liability to you.
How Do Surety Bonds Work?
To protect your business you need to first, do everything you can to avoid a claim, and second, work with an agency that will find the surety that's the best fit for you and your business, since it's the surety doing the investigation when a claim is filed.
Finding the right fit is a combination of many factors including price, trust, customer service, and track record. Our agents are here to help you navigate this search and get you your bond quickly so you can open on time. Click here to connect with an agent now to begin the process.
Watch this short video for a better understanding of what surety bonds are and how they work.
Sound scary? We're here to help. Find out more about the claim and repayment process here.
Already have a bond, but shopping for a new agency? Click here to connect with our team to find out why Bryant Surety Bonds is the best choice to help you get the service and support you need.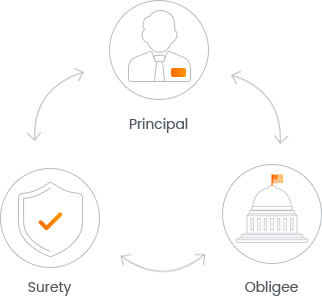 Surety bond definition: A three-party agreement that protects the party requesting the bond. The three parties involved are:
The Obligee: The party requesting the bond (usually your state government)

The Principal: The party required to get bonded and perform the guarantee (e.g. contractors, auto dealers, freight brokers, etc.)

The Surety: The company that issues the bond and backs it financially
How Much Does a Bond Cost?
Surety bond premiums are quoted as a percentage of the required bond amount. You can learn more about cost at our surety bond cost page. Use the bond cost estimate calculator below to get a ballpark estimate for your bond.
Find Out Your Bond Cost
Free Quote - Fast and Secure - All Credit Types
Tell us about your business

powered by

Get your FREE quote today!
How Do I Get a Bond?
Most bonds are underwritten based on ownerships credit, though financials and experience will be taken into account on larger bonds (or to reduce rates on smaller bonds). Learn more about the application process on the How to Get Bonded, or if you are ready to apply you can start your application here. It only takes about 2-3 minutes and there is no obligation or cost to you.
When Will I Have My Bond in Hand?
After you submit your application, we will then contact you with a free bond quote and instructions on what comes next. After processing your paperwork and payment, we'll be ready to get your bond signed and mailed to you in between 24 and 48 hours.
Still Have Questions?
Our agents are experts at helping you navigate something you never knew about before like surety bonds! Call us at 866-450-3412 to speak directly with one of our surety experts and make sure your business is compliant!
Additional Resources
---
---
Frequently Asked Questions
Still Have Questions?
Still haven't found the answer you are looking for?
Give us a call at (866) 450-3412 or leave your question below.