Table of Contents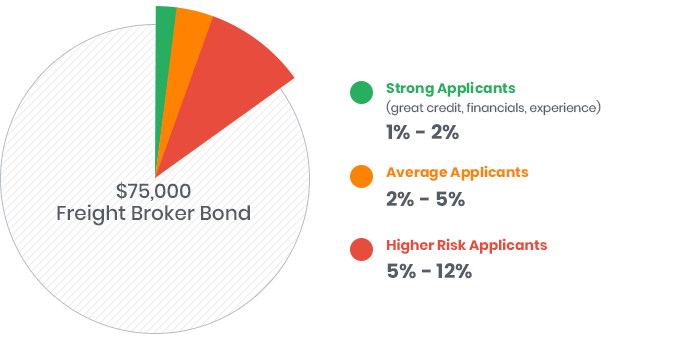 The BMC-84 Freight Broker Bond, like most other commercial surety bonds, is paid for on an annual basis. The premium to be paid is determined during the underwriting process, and is figured as a percentage of the bond amount. For freight brokers and forwarders the Federal Motor Carrier Safety Administration (or FMCSA) requires $75,000 to be posted. Though rates can fall between whole percentages, below is a chart showing what premium payments could look like:
Freight Broker Bond Rates Breakdown

| 1% | 2% | 3% | 4% | 5% | 6% | 7% | 8% | 9% | 10% |
| --- | --- | --- | --- | --- | --- | --- | --- | --- | --- |
| $750 | $1,500 | $2,250 | $3,000 | $3,750 | $4,500 | $5,250 | $6,000 | $6,750 | $7,500 |
Today's Markets (Updated 2019)
In 2013 when Map-21 took affect raising the bond requirement from $10,000 to the current $75,000, most sureties withdrew from writing this bond. The fact that there was a high loss rate at the $10,000 level made the prospect of loss at $75,000 too great to risk.
Two of our most experienced markets marched on through the increase. Given their years of experience with this bond and claims knowledge they have been able to consistently offer the BMC-84. With excellent and knowledgeable claims handling, stable and sustainable rates; these are our preferred markets to offer.
In the last few years a couple of new sureties have entered the market. The results have been the lowering of rates, particularly for certain applicant profiles (typically the middle tier applicant).
What Determines My Percentage?
Depending on the market used, the underwriter will consider some or all of the following criteria:
Credit of ownership (credit score, age/status of any Public Records)
Years in Business
Financials (while not required for all approvals, providing financials can improve rates)
Ownership Experience
Currently the largest determinate is credit. In fact, it is so important that it is the first thing examined by all markets. To further illustrate that point, we have specialty programs that are developed where approvals are based off credit alone. This holds true for both strong applicants as well as those that may be considered higher risk due to poor credit or inexperience. (Note: to calculate your premium based on credit alone, you can use our free surety bond cost calculator below.) If you want to get a ballpark estimate on your bond, use our simple online application form.
Surety Bond Cost Calculator

Tell us where to send you your
FREE

estimate

SEND ME MY ESTIMATE!

We'll never share your information with third parties

Thank you

for your request!
The ballpark estimate on your premium is: $100 - $167
We've send a copy of your estimate on your email as well.
Want an exact quote? Simply fill out our online application It's fast and 100% free!
Get a free exact quote
Get another estimate
Those with good credit have additional options. If these applicants are able to submit financials and/or a resume they may be able to find lower rates then our credit only markets as these items give the underwriter a fuller picture of the applicants' strength.
If you want to learn how you can lower your freight broker bond cost, chech out the video below.
To learn more about what freight broker bonds are and how do they work, visit our Freight Broker Bond page.
Freight Broker Bond Cost Saving Tips
---
---
Frequently Asked Questions
Still Have Questions?
Still haven't found the answer you are looking for?
Give us a call at (866) 450-3412 or leave your question below.