Table of Contents
The cost of your $100,000 surety bond mostly depends on your credit score, plus several other factors such as the bond type, your industry experience, and your financial stability. Typically, individuals with a FICO score of 650 or higher can expect to pay an annual premium ranging from 0.75% to 2.5%, which translates to approximately $750 to $2,500. However, applicants with credit issues may encounter higher premiums, typically ranging from 2.5% to 10%, leading to annual payments between $2,500 and $10,000.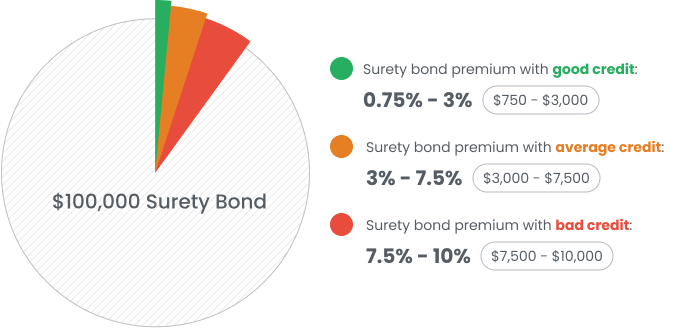 It's important to note that contract bonds are often considered high-risk bonds, and underwriters may provide quotes exceeding 10%.
Refer to the table below, which illustrates bond premiums categorized based on the applicant's credit bracket: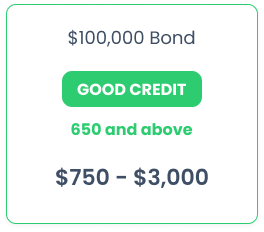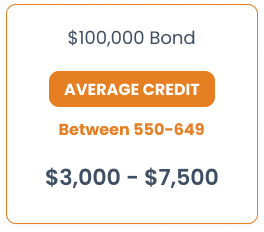 What determines the cost of your $100,000 surety bond
Calculating the exact cost of a $100,000 surety bond involves considering multiple factors that play a role in determining the premium. Some of the primary elements influencing the bond's cost are:
a) Credit Score: Your credit history is a crucial factor that surety bond providers assess when determining the bond premium. Applicants with good credit scores are generally perceived as lower-risk and can secure lower premiums.
b) Bond Type: The type of $100,000 surety bond required also impacts the overall cost. Various surety bond types, such as contract bonds, license and permit bonds, or court bonds, each carry unique risk profiles, which influence the premium.
c) Applicant's Business or Operation Size: The size of the bonded principal's business or operation can also be a factor. Smaller businesses or independent professionals might face higher rates compared to larger, well-established competitors with a strong bond history.
Obtaining an accurate cost estimate for your $100,000 surety bond requires partnering with a reputable surety bond provider like Bryant Surety Bonds. By assessing your specific situation, we can provide you with a personalized quote based on these influential factors.
Can I get a $100,000 surety bond with bad credit?
Getting a $100,000 surety bond with bad credit can be challenging, but it is not impossible. However, applicants with bad credit may face higher premiums or more stringent requirements compared to those with good credit.
When applying for a $100,000 surety bond with bad credit, the bond issuer will closely assess the applicant's financial history, credit scores, and overall financial stability. Having bad credit could signal a higher risk to the issuer, leading them to mitigate potential losses by charging a higher premium. Additionally, applicants with bad credit might be asked to provide collateral or a larger upfront payment as an added layer of security.
To improve the chances of obtaining a $100,000 surety bond with bad credit, applicants should consider working with a reputable surety bond provider. Building a strong case by demonstrating other positive financial aspects, such as steady income or a solid business plan, can also bolster the chances of approval. While securing a surety bond with bad credit may require extra effort, working with experienced professionals and being transparent about financial circumstances can increase the likelihood of success.
By understanding these key factors and collaborating with Bryant Surety Bonds, you can secure the most cost-effective solution for your $100,000 surety bond needs.
Get Your FREE Bond Quote Instantly
FREE Instant Online Quotes - All 50 States - All Credit Types
Get a FREE Bond Quote

Instant ballpark estimate

Tell us about your business

powered by

Get your FREE quote today!
Most common $100,000 surety bonds
Below are some of the most common types of $100,000 surety bonds:
a) LLC Employee / Worker Bond in California
Applicants for a California contractor license whose company is registered as an LLC must obtain a $100,000 bond and it has to be written in favor of the State of California, protecting employees from damages resulting from employer's failure to pay wages or benefits.
Contract bonds provide a financial guarantee that contractors will fulfill their contractual obligations as per the agreed-upon terms. Depending on the size of the project, a type of contract bond in the amount of $100,000 can be required. Common contract bonds are bid bonds, maintenance bonds, payment bonds, and performance bonds.
Mortgage Broker Bonds ensure compliance with regulations and provide essential protection for clients. Some of the states requiring a $100,000 mortgage broker bond are New York, Illinois, West Virginia, and California.
They are vital for businesses involved in transmitting funds, offering essential protection for clients and regulatory authorities. $100,000 money transmitter bonds are required in several states, including Alabama, Massachusetts, and New Jersey.
Auto Dealer Bonds are required for licensed auto dealers, providing protection for consumers against fraudulent practices and ensuring dealers' compliance with state regulations. Just a few states require a $100,000 auto dealer bond, these include Arizona, Nevada, and New York.
They protect businesses against fraudulent acts committed by their employees, including theft, embezzlement, or dishonesty. Businesses can apply for a type of fidelity bond with a coverage of $100,000.
Telemarketing Bonds are required for companies engaged in telemarketing activities, ensuring compliance with industry regulations and offering protection for consumers. The required bond amount varies depending on the state with California and Arizona requiring a $100,000 surety bond.
Bryant Surety Bonds offers all types of bonds, so if you couldn't find your bond in the above section, you can either get in touch with us or start the application process where you can easily find and apply for the surety bond you need.
---
---
Frequently Asked Questions
Still Have Questions?
Still haven't found the answer you are looking for?
Give us a call at 866.450.3412 or leave your question below.