Table of Contents
The cost of your $30,000 surety bond will, in most cases, be a yearly premium in the 0.75%-2.5% range. This translates into payments between $225 and $750. This sum, however, applies to applicants with a good credit score. Bad credit applicants usually pay between 2.5% and 10%, i.e. between $750 and $3,000 a year.
The table below contains a more detailed breakdown of costs: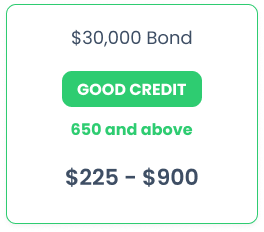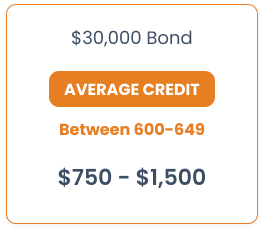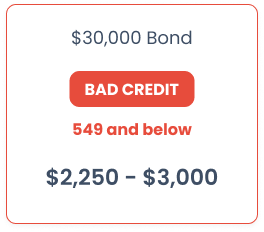 Keep in mind that these are only estimations. You can receive a more exact quote once you submit our online application. Quotes are not only based on credit score, but factors such as the business's financial strength and industry experience as well. Find out more in our surety bond cost guide.
Getting a $30,000 surety bond with bad credit
You can get a $30,000 surety bond even if you have bad credit, but– as the table shows– the lower your score, the higher your premium. If you have past due items or other red flags in your credit report, this can further impact your credit score.
However, in most cases you will still get bonded. If you are receiving a quote which you think may be too high, you can talk to one of our surety bond agents and they will happily provide personalized advice on how you can build a stronger application.
Most Common $30,000 Surety Bonds
Dealers in
Kansas
,
South Carolina
and
Washington
are required to post a $30,000 surety bond as part of their licensing applications. Dealers bonds guarantee their compliance with state and federal regulations.
Pennsylvania
full agents and
Vermont
dealers who sell between 101 to 250 vehicles a year are also subject to a $30,000 dealer bond requirement.
Oregon farm labor contractors who have 21 employees or more need to provide a $30,000 surety bond. The bond provides a safety net for the employees, and guarantees they get paid on time.
Health clubs in New Jersey are required to post a $30,000 bond, to act as guarantee for members who pay membership fees upfront.
---
---
Frequently Asked Questions
Still Have Questions?
Still haven't found the answer you are looking for?
Give us a call at 866.450.3412 or leave your question below.