How to Get a Contractor's License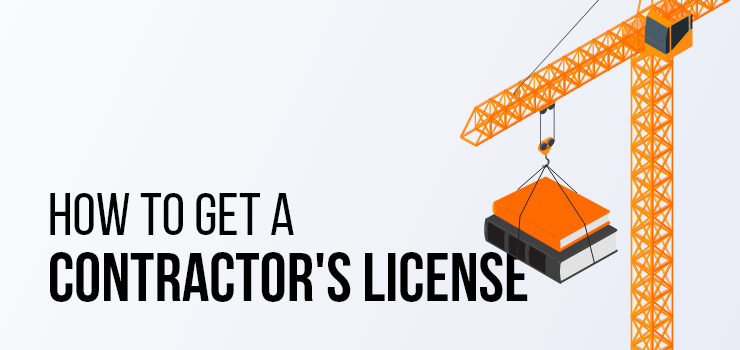 A contractor in the United States, often called an independent contractor, is actually a pretty broad job description. There are all sorts of different jobs that contractors and subcontractors do, from professional contractors with their own businesses to journeymen who work at other people's businesses and perform smaller jobs such as maintenance and small repairs for homeowners.

In this piece, you will learn specifically about independent construction contractors and how one goes about receiving their contractor's license to legally operate in the U.S.

If you wish to become a general contractor in any of the numerous fields of construction, the first thing you must know is that you need to be a fully licensed contractor. Construction, regardless of the type, is heavily regulated in the U.S., and all contractors need to be fully licensed and registered, lest they run the risk of incurring fines and possibly even arrest and criminal charges.

Within the construction industry, there are tens of thousands of unlicensed individuals. In fact, the majority of construction workers do not have a license; they just have jobs. Some even have many years of experience yet do not have a license. This is because there is a big difference between being an employee of someone's business and in having your own general contractor's license.

If you wish to be the contractor hiring employees, and not just the employee, or if you wish to offer your services as a lone independent contractor, this is where the license requirements come into play. 
What Is a Contractor's License?
Before we go over the license process, let's speak very briefly about what a contractor's license is specifically. A contractor's license gives a building contractor proof that they are qualified and regulated by the state and/or the local municipality in charge of overseeing construction jobs.

Having a license is different than basic proof of insurance or any sort of contractor's license bond. It's also different than any type of surety contract, which is an agreement among multiple parties that work will be completed by X contractor, for Y price, for Z client.
You can get an estimation of how much your bond premium will cost with our calculator.


Surety Bond Cost Calculator

Tell us where to send you your
FREE

estimate

SEND ME MY ESTIMATE!

We'll never share your information with third parties

Thank you

for your request!
The ballpark estimate on your premium is: $100 - $167
We've sent a copy of your estimate on your email as well.
Want an exact quote? Simply fill out our online application It's fast and 100% free!
Get a free exact quote
Get another estimate
A license is provided by state authorities based on different licensing requirements and different specializations. For example, a plumber and an HVAC installation/repair contractor are working in different niches with different specializations. The license process through which they must go will be identical (given they are in the same state), but the ultimate license will be for different specialties. Think of it like a driver's license for a motorcycle, a car, and a big rig. All three are different and specific, yet all three drivers are also fully licensed through similar processes. The same is true here. The license classification will be different depending on the type of contractor you are, but the process will be more or less the same to obtain the license.
Having a license also allows a business to be registered by the qualifying Secretary of State, or whichever board in the specific state handles registrations. It also allows contractors to get insurance, and it is the only way that a general contractor will be able to obtain a building permit to start their work, if needed. 
What Qualifications Are Needed to Get a Contractor's License?
Different states may require different specifics for obtaining a license. Therefore, becoming a licensed contractor in Florida may be different than obtaining that license in California, as the states may have varying requirements. Prerequisites might be different in that one state requests a background check, while another state may require a licensing exam for a specific sort of niche.

The application fee or the application form may also be different depending on the state as well as in the exact niche in which you hope to be licensed. There is a lot of overlap, however, as contracting is also subject to federal regulations, not only state-based regulations. Therefore, there are some universal standards.

Always remember to research your state along with your specific type of contracting work before applying for a license. Below are several things that all states will have in common when seeking a general contractor license. 
List of Different Qualifications Needed to Obtain a License
All license applicants must:
• Be at least 18 years old
• Provide any criminal documentation (e.g., charges, convictions, etc.)
• Submit the appropriate fees and fill out the given applications
• Provide the required bond for a Division of Labor Contractor Registration
• Present a valid unemployment insurance number
• Give the licensing board evidence of permanent place of business

In addition to the requirements stated above, any license application must also provide proof of insurance. You will need to at least have public general liability insurance.

You must also supply a surety bond, which is a bond that the applicant purchases to demonstrate intent that they will perform their contracting projects in good faith and abide by every contract.


Find Out Your Dealer Bond Cost
No Obligation - Fast and Secure - All Credit Types
Get a FREE Bond Quote

Instant ballpark estimate

Tell us about your business

powered by

Get your FREE quote today!
Lastly, you will have to fulfill the Master of Record requirement. Keep in mind that this varies based on state requirements. Please visit the state's dot-gov website where you wish to be licensed in order to ensure that you are meeting the requirements.
Does It Cost Money to Become a Contractor?
One question many people have, apart from whether or not there's a license fee (which there is), is whether it costs money to become a contractor. They want to know about training, work experience, any special classes or a trade exam one may have to take.

Generally speaking, becoming a contractor is going to require experience, but that experience is not necessarily going to cost you money. In fact, one of the reasons that becoming a licensed general contractor is so popular in all 50 states is that people do construction, plumbing, electrical, HVAC, and other jobs as a trade anyway. Essentially, people are getting paid to complete tasks that they know how to do already. While they're learning the skills necessary to become a licensed contractor, they're actually making money and not spending money.

Very few people start from scratch and just decide they want to get a contractor's license in order to hire people to work for them. This could be the case, though. One could receive a business license and a contractor's license just to start, say, a roofing business. As long as they fulfill the state license requirements for everything they need, this can be done, technically speaking.

However, almost the entire industry, in every single individual trade and niche, is full of people who used to work as employees on construction projects, and now, they feel they want to use that experience to become business owners. From New York to California, work experience is the primary thing needed to become a contractor, the skill requirement to succeed.

Though that does not mean that becoming a contractor is in any way free. There are still fees one must pay. Here are a few of the different areas where it will be required for you to spend money to become a licensed commercial or residential contractor. 
Paying for the License Specifically
It does cost money to earn your license. Reference the above section in this article to get a quick refresher on what you will need in order to obtain a license. Generally speaking, it costs between $50 and $200 to get a contractor's license. Of course, this number is on a spectrum because contracting work itself is on a spectrum. Example: A license to handle commercial projects like working on sewers for a public municipality is going to be a more niche-specific, involved license than basic home improvement contractors must have to fix stairs and put in new sinks.

That is not to say that one is superior to the other or you should choose one while avoiding the other. Not at all. This is merely pointing out to you that different types of specific licenses will cost more and have more requirements because the work that you're being licensed to perform is more involved and intricate. Just be ready to pay between $50 and $200 as a flat fee. 
Tools of the Trade
One does not need to obtain a costly degree in business management to understand that any contracting business will require work to be done. So, in a financial sense, speaking strictly of costs that will be accrued as any type of contractor, tools and equipment are going to be an expense.

Of course, there is no way to tell exactly how much money you will spend here. If you are an electrical contractor, then wire-cutting and stripping supplies and those sorts of tools are going to be a lot cheaper than if you're a larger commercial contractor building a parking lot at a new school. The latter will require huge expenses for heavy equipment.

You also have to consider buying used versus buying new or perhaps even renting out or borrowing equipment. Then, of course, one has to consider employees who might bring their own tools to a job.

A major skill that is necessary is the ability to assess a project and bid on it accurately. If you consistently underbid, you risk losing money based on a promised rate or angering clients by asking for more capital later. If you overbid, you are likely to lose most jobs to those who know to ask for less.

Simply put, there is no way to calculate or even roughly estimate how much money you may have to spend on tools and equipment for the job(s) at hand. There are just too many variables. Just understand that this is something you have to factor in to your decision on a personal level. Remember that these costs are out there. 
Potential Business Expenses
You also have to factor in business expenses. This is part of the overall cost of becoming a contractor. The license, as we mentioned above, is a flat fee. Though who is going to become licensed to not actually work? It's the work that ends up requiring a much larger investment, which could include things like insurance fees, unemployment insurance, having to pay out for workers' compensation insurance, renting a building as a physical location, work trucks, and so on.

There are really too many variables to mention them all. Keep in mind that there are expenses for operating a business, just like there are expenses for living life in general. The difference here, of course, being that you are performing jobs for people that hopefully pay more than what you spend so that you operate a profitable contracting business when it's all said and done. 
How to Get a Contractor's License With No Experience
As briefly touched on above, the fact is that one does not necessarily need experience to become a licensed contractor, depending on the specific license.

Basically, if you want to become an independent contractor who is going to be dealing in more complex fields, you may have to take a trade exam. People who want to become basic contractors, like home improvement contractors, however, will typically only have to meet the general licensing requirements that you can reference above.

If someone wanted to become licensed without experience solely to start a business and hire employees, they could do this theoretically. The difference here, of course, would entail all of those many licensing requirements for starting a business. This means having a broader type of insurance, having a financial statement to show for IRS and tax purposes, and other requirements of a business.

Though, to be clear, it is very rare that this happens. The vast majority of people who become contractors do so because they have experience in the field and want to continue practicing in the field. Technically speaking, there are ways that one can become a licensed contractor without needing contracting experience in any field, but it can be tricky and expensive to do so.

For instance, you can consider an RMO (Responsible Managing Officer) or RME (Responsible Managing Employee) license rather than a contractor's license. Bear in mind that these do not apply in all states, though. Alternatively, if you have worked with a contractor in another capacity but don't necessarily have contracting experience yourself, you may obtain a letter of reference in order to be approved to take any necessary contracting exams.
---