How to Get a Minnesota Contractor License [Complete Guide]
To perform work as a contractor in the state of Minnesota, you need to get a license from the Minnesota Department of Labor and Industry (DLI). This requirement applies to all residential, specialty, remodeling, roofing, electrical, and plumbing contractors, as well as a variety of others.
Despite there being a number of different license types, the application requirements are largely the same. Are you considering getting a Minnesota contractor license? See our full guide below!
1. Register Your Business in Minnesota
Before you can apply for your license, you must first register your business with the Minnesota Secretary of State. This will require you to determine what kind of business entity you wish to register, depending on how you intend to lead and manage your business.
In addition to the business entity registration, you must also obtain a federal employer identification number (FEIN).
Once you've met these two conditions, you can proceed with meeting the contractor license requirements.
2. Choose Your Minnesota Contractor License Class
There are several different kinds of licenses that are issued and regulated by the DLI. These are:
Residential building contractor
Residential remodeler contractor
Roofer contractor
Electrical contractor
Plumbing contractor
Whether you need a license or not is determined by the work you do, along with a number of other conditions. To determine your licensing requirements, please see the DLI's contractor licensing pages.
3. Meet the Minnesota Contractor License Requirements
To pass through the license application process you will need to submit the following forms and supporting documentation:
Business entity registration
Contractor license application form (see below for a full list)
Certificate of liability insurance
Certification of compliance form with Minnesota Workers' Compensation Law
In addition to the above, the following forms must be submitted by the following license applicants:
Minnesota contractor license bond – for roofer, electrical, plumbing, and mechanical contractors
Qualifying Person Designation Form – for residential building, remodeler, and roofer contractors
Certificate of Responsible Licensed Individual – for electrical and plumbing contractors
Disclosure of Business Owners, Partners, Officers, and Members Form – for electrical and plumbing contractors
These are the main requirements that you need to comply with when applying for your contractor license. To complete your particular license application form, use the links below: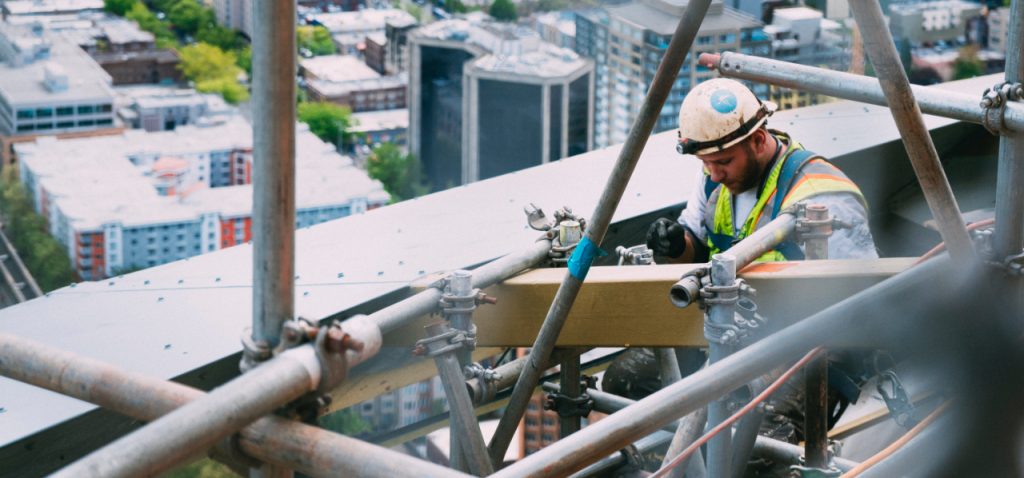 4. Get Your Minnesota Contractor License Bond
Several types of contractors need to obtain a Minnesota contractor license bond when applying for their license. These are the following:
Residential roofer – $15,000 surety bond
Electrical contractor – $25,000 surety bond
Plumbing contractor – $25,000 surety bond
Mechanical contractor – $25,000 surety bond
To get a bond, you must pay a bond premium which is equal to a percentage of the complete bond amount. This percentage is determined by the surety when you apply to get bonded. Typically, the higher your personal credit score is, the cheaper it is to get bonded.
If you want to get a free instant quote on your bond, you can complete the bond form below.
Get Your FREE Bond Quote Instantly
FREE Instant Online Quotes - All 50 States - All Credit Types
Get a FREE Bond Quote

Instant ballpark estimate

Tell us about your business

powered by

Get your FREE quote today!
Note: Mechanical contractors are not required to get licensed but must still obtain a bond in order to perform work in the state.
5. Submit Your License Application and Pay Fees
When you complete the application form, you can choose to either submit it online, along with the remaining documents, or by mail. To mail your application packet, use the following address:
Construction Codes and Licensing Division Licensing and Certification Services 443 Lafayette Road N PO Box 64217 St. Paul, MN 55155
Along with your application, you will need to submit one of the following application fees:
Applicants for a residential building and remodeler contractor license must pay one of several different fees, depending on the gross annual receipts. These are:
$440 fee, if gross annual receipts are less than $1 million
$540 fee, if gross annual receipts are $1 million to $5 million
$640 fee, if gross annual receipts are more than $5 million
Residential roofer contractor license applicants must pay a $120 license fee.
Electrical and plumbing contractor license applicants must pay a $128 license fee.
6. Renewing Your Minnesota Contractor License
Contractor licenses in Minnesota are issued for a two-year period. The different types of licenses expire on the following dates:
Residential contractor, residential remodeler, and residential roofer licenses must be renewed by March 1 of the renewal year.
Electrical contractor licenses expire on March 1 of every even-numbered year.
Plumbing contractor licenses expire on December 31 of every odd-numbered year.
To renew your license, you must submit a renewal application packet that includes all supporting documents listed in the application form.
Do you have any questions about getting your Minnesota contractor license bond? Call us at 866.450.3412, and we will be happy to help you!
---