How to Get a Missouri Money Transmitter License [Guide]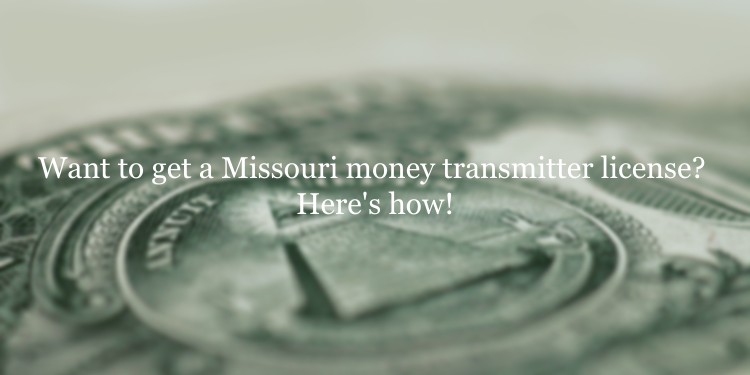 The state of Missouri requires anyone who wishes to operate as a money transmitter or as a sale of checks company to get a Missouri money transmitter license. This license is issued and regulated by the Missouri Division of Finance. You can apply either for a paper license from the Division or through the Nationwide Multistate Licensing System & Registry (NMLS).
The requirements for this license include posting an audited financial statement, a Missouri money transmitter bond, proof of registration with FinCEN, and several others.
See below for a full breakdown of the application requirements for your Missouri money transmitter license!
1. Register Your Business in Missouri
Before you can apply for your money transmitter license, you need to register your business in the state. The registration process will take you through creating a business entity, applying at the state Department of Revenue and, possibly, the Missouri Division of Employment Security.
As part of your business registration, you will also need to apply for a federal Employer Identification Number (EIN) from the Internal Revenue Service (IRS).
2. Obtain a Money Services Business Registration From FinCEN
As a money transmitter, you will also need to register with the Financial Crimes Enforcement Network (FinCEN) as a money services business (MSB).
You need to complete this registration prior to applying for a license.
3. Complete the Missouri Money Transmitter License Requirements
Depending on whether you apply through the Division of Finance or NMLS, you will need to cover slightly different requirements, though the major ones are the same. Below you will find a description of the application process through the Division. To learn more about what you need to do to apply through NMLS, see the official Missouri money transmitter licensing requirements checklist.
To apply to the Division, you must first complete the sale of checks company application form.
To complete your application packet, you will also need to provide the following:
Financial statements which must include a balance sheet, an income statement, and a statement of changes in the financial position

An audit by a certified public accountant (CPA) which must also include an opinion that the financial statements you are submitting fairly and accurately describe the state of your company

A Missouri money transmitter bond in the minimum amount of $100,000

Verification of your FinCEN registration or an explanation of why you are exempt from registering
These are the main requirements you need to cover for your application.
4. Getting Your Missouri Money Transmitter Bond
All applicants in the state must submit a Missouri money transmitter bond as part of the licensing process. This bond guarantees your compliance with the Missouri Sale of Checks Law.
Upon initial licensing, the amount of this bond needs to be $100,000. When you renew your license, the amount of your bond must be equal to five times the greatest amount you have transmitted in a single day during the previous year. The minimum amount of your bond must be at least $100,000 and the maximum $1,000,000.
You can get a free quote on your bond by completing our bond form below!
Get Your FREE Bond Quote Instantly
FREE Instant Online Quotes - All 50 States - All Credit Types
Get a FREE Bond Quote

Instant ballpark estimate

Tell us about your business

powered by

Get your FREE quote today!
5. Submit Your Application Packet and Pay the Licensing Fee
When you have completed the above requirements, you can proceed with mailing your application to the Division. For your license fee, make sure to include a check in the amount of $300 made payable to the "Division of Finance".
Mail your application to the following address:
Division of Finance
P. O. Box 716
Jefferson City, Missouri 65102-0716
Once your application packet and fee are received, your documents will be reviewed by the Division. You will be notified by the Division when your application has been reviewed and approved, and will then be issued your license.
Your license is valid for one year and you must renew it early to avoid its expiration.
If you have any further questions about getting a Missouri money transmitter license, call the Division at 573-751-3463!
---