The Complete Delaware Contractor License Guide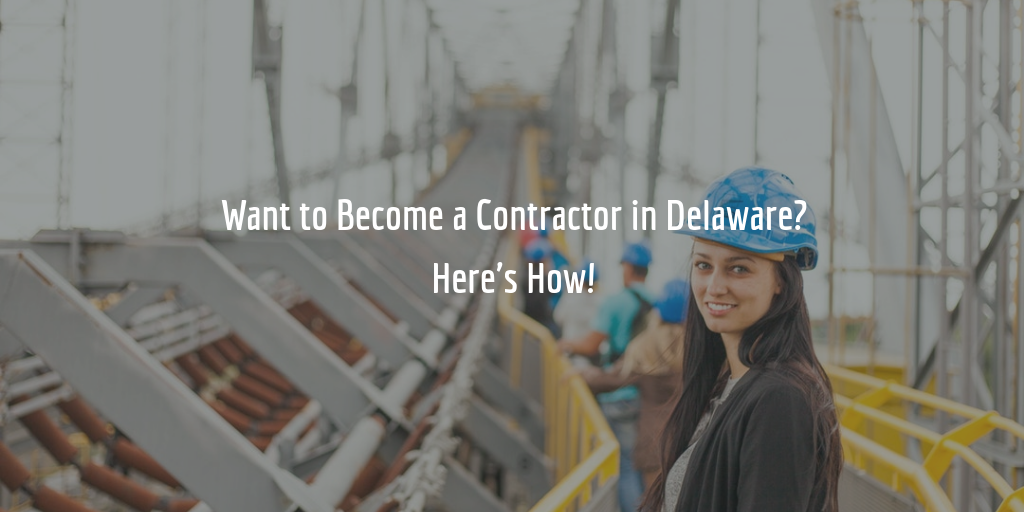 There are several different types of contractor licenses required in Delaware, so getting licensed may seem complicated at first. In reality, the requirements and the application process for every Delaware contractor license are quite straightforward.
Applicants for most licenses must simply complete several license forms, obtain insurance, and pay fees. Some must also demonstrate previous experience, and obtain a Delaware contractor license bond in the process.
See below for an overview of the different license types and application procedures for contractors in Delaware.
Delaware Contractor License Types
Several different contractor licenses are issued in Delaware. General contractors who want to perform on projects valued at more than $50,000 must apply for a license at the Delaware Division of Revenue. The Division issues the following two licenses:
Resident contractor license

Non-resident contractor license
Additionally, two Boards at the Division of Professional Regulation also issue a series of contractor licenses for various trades. The Boards are:
The Board of Electrical Examiners

The Board of Plumbing, Heating, Ventilation, Air Conditioning, and Refrigeration Examiners
These Boards issue several different licenses for their respective trades that are based on the experience and needs of applicants (i.e. apprentice, journeyperson, master licenses, and others).
Finally, New Castle County and the cities of Newark and Wilmington based in New Castle County all have additional permit requirements for contractors based there.
How to Apply For a Delaware Contractor License
The following are the different licensing requirements for contractors in Delaware.
General contractor license application
The application for a general contractor license in Delaware is a Combined Registration Application (CRA) which includes a business registration part, and a separate license application part.
Applicants do not need to register their business separately, as in other states, but must have determined the business type they want in advance. You may also require a Federal Employer Identification Number (FEIN) from the Internal Revenue Service (IRS) if you plan on having employees, or if you have a specific business structure.
To get started, you must complete the relevant form depending on whether they are applying for a resident or non-resident license. Each form has detailed instructions.
Along with the form, you will need to:
File Form UC-1 with the State of Delaware, Department of Labor and attach proof thereof. This form is required regardless of whether you will have employees or not.

Provide proof of Workers' Compensation Insurance OR an Industrial Accident Board Form OR, if you will not have employees, submit a Division of Industrial Affairs form.

Attach a completed Division of Revenue Form 5060 if you plan on subcontracting

Obtain a contractor license bond (for non-resident contractors only

). The bond must be "equal to 6% of the contract(s) totaling $20,000 or more."

Pay a licensing fee of $75
Once you are ready with your application, you can mail it to the Department of Revenue and will be issued your license.
Electrical, Plumbing, and HVACR contractor license applications
All of these licenses are issued either by the Board of Plumbing, Heating, Ventilation, Air Conditioning and Refrigeration Examiners or the Board of Electrical Examiners.
The licenses types for electrical contractors are: Master, Master Special, Limited, Limited Special, Journeyperson, Residential, and Apprentice. Depending on your level of experience, you have to pick the correct type of license and follow the application instructions.
To apply for a Master, Limited or Special license you will need to:
Complete your application for licensure form

Pass an examination

Provide proof of previous experience and employment

Provide proof of general liability insurance of at least $300,000

Pay a processing fee
Applications for journeypersons, residential and apprentice licenses are similar as the above mentioned but have fewer requirements. Applications under reciprocity agreements with other states are also permitted. See the Board website for more information.
The licenses for plumbers and HVACR professionals are: Master Plumber, Master HVACR (includes various specialties), and Master HVACR Restricted.
To apply for these licenses, you will need to:
Complete an application for licensure

Provide proof of previous experience, such as a Journeyman certificate or proof of work experience

Submit a copy of your CFC Certification card (for HVACR applicants)

Pass an examination

Pay a processing fee
New Castle County, City of Wilmington, and City of Newark contractor license applications
New Castle County issues two types of contractor licenses – non-permit endorsed licenses, and permit endorsed licenses. To apply, applicants for both license types must complete the respective application forms, along with several other documents.
Permit endorsed license applicants must also submit a surety bond in one of the following amounts:
Class U Building Contractor – $200,000

Class A Building Contractor – $150,000

Class B Building Contractor – $50,000

Class C Building Contractor – $25,000

Master Plumber Contractors – $10,000

Sewer and Drain Cleaner – $10,000

Decorative Appliance Contractors – $10,000

HVACR Contractor – $25,000

Outside Utility Contractor – $50,000
The city of Newark also requires contractors to get licensed through its Code Enforcement Division of Planning and Development Department. To apply, you need to complete the simple license application form provided by the Department as well as submit a surety bond when applying for one of the following classifications:
Unlimited General Contractor – $200,000 bond

Limited General Contractor – $150,000 bond

General Contractor – $50,000, $75,000 or $100,000 bond

Unlimited Subcontractor (HVAC, Fire, Plumbing, & Mechanical) – $200,000 bond

Limited Subcontractor (HVAC, Fire, Plumbing, & Mechanical) – $50,000 bond

Minor Renovation Contractor – $10,000 or $25,000 bond
Finally, in the city of Wilmington, HVAC, plumbing, and building permits are required of contractors. Licenses are issued by the Department of Licenses and Inspections. By law, HVAC and plumbing contractors require a $3,000 surety bond in order to perform work in the city.
Bond Requirements for Delaware Contractors
All contractor license bonds are typically required as a guarantee, so that the contractor who has been issued a permit or a license will comply with the state, county and city laws, and rules.
To obtain a contractor license bond, you need to pay a bond premium. This bond premium is equal to a fraction of the total amount of the bond you are required to get. Wondering how much your premium might be? Complete our simple bond application form and we will provide you with a free and exact quote on your bond, with no obligations attached!
Get a FREE Contractor License Bond Quote Today!
No Obligation - Fast and Secure - All Credit Types
Get a FREE Bond Quote

Instant ballpark estimate

Tell us about your business

powered by

Get your FREE quote today!
---