How to Get a Freight Forwarder License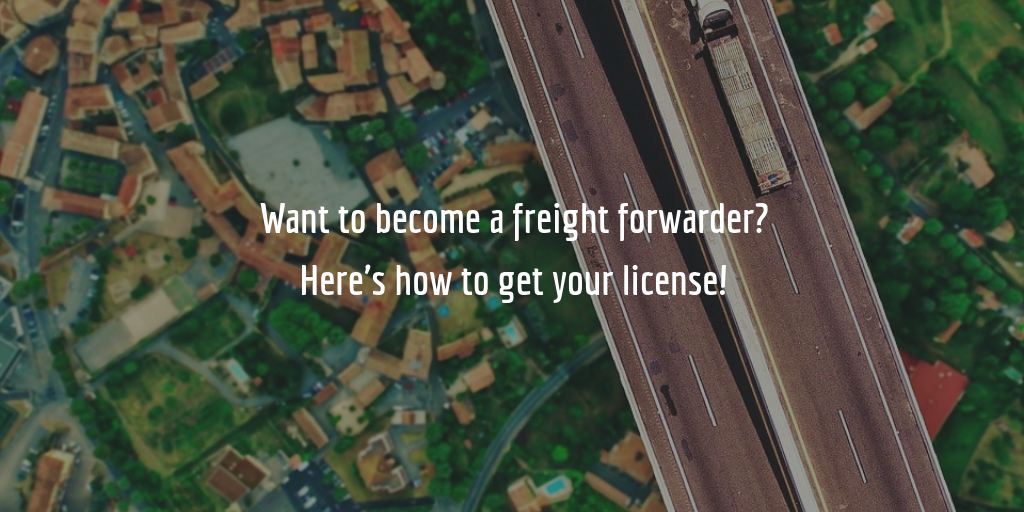 With the constantly increasing demand for raw materials and finished goods throughout the world, freight forwarder job opportunities continue to be on the rise. Freight forwarders play a vital role in the supply chain by securing freight for importers and exporters, and by expediting the shipping process. Once the freight brokers bring the supplier and the buyer together, the freight forwarders get to work with all of the paperwork and logistics after the sale is consummated. It's a challenging and constantly changing job, but freight forwarders play an essential part in any successful physical distribution operation. Many freight forwarders now also have the option of working in or near their homes, which is a welcome alternative to spending all their time on the road.

The requirements for obtaining a freight forwarder license are pretty straightforward. For starters, the Federal Motor Carrier Safety Administration (FMCSA) requires all freight forwarders to buy a $75,000 BMC-84 freight broker bond. We'll be discussing the purpose of the BMC-84 bond in greater detail later, but its primary purpose is to protect the importers and exporters from financial losses resulting from illegal activity and malfeasance. You'll also need to complete the paperwork and pay a $300 filing fee with your application. Here's a quick look at the process of obtaining your freight broker bond and your freight forwarder's license.

What Is a Freight Forwarder's License?
Forwarding freight often involves shipping raw materials or finished goods utilizing multiple modes of transportation. As a freight forwarder, you'll need to secure the appropriate licensure by the governing body for each mode of transportation that you'll be using to forward freight.

American companies or sole proprietorships that operate as Ocean Freight Forwarders (OFFs) or Non-Vessel-Operating Common Carriers (NVOCCs) will need to obtain a license from The Federal Maritime Commission (FMC). Freight forwarders who work with over-the-road and local shipping and trucking businesses will need to obtain a license from the Federal Motor Carrier Safety Administration (FMCSA). Air cargo forwarders will fall under the jurisdiction of the International Air Transport Association (IATA). Other state and local licenses might also be required in certain locations and for certain freight classes or categories.

What's the Difference Between Freight Forwarders and Freight Brokers?
It can be easy enough to confuse the brokers with forwarders, because they both work together and both require a BMC-84 surety bond to operate. But they serve different purposes in the distribution process.

Freight brokers negotiate rates for shippers and secure the most ideal conditions and routes for carriers. They operate as drop shippers or salespeople, and they never hold title to the freight or come into any actual contact with the shipments. Wholesalers count on brokers to find buyers for their materials or goods, and retailers depend on them to stock their shelves. After the broker makes the connection between the suppliers and the consumers, freight forwarders know how to handle the freight logistics after the brokerage closes the deal.

Freight forwarding companies take on many different responsibilities, which depend on the modes of transportation that they use. They might store the cargo onsite, or they might simply act as freight agents on behalf of the shippers without physically handling any of the inventory. The company will make all of the logistical arrangements for the cargo's transportation including completing all of the necessary insurance paperwork, export documentation, bills of lading and international freight customs clearance.

Ocean freight forwarders and air freight forwarders commonly deal with agents from multiple countries, and have to familiarize themselves with numerous international shipping and commerce laws and business customs. A domestic freight forwarding company faces a constantly changing legal landscape, and has to expedite shipping from state to state while remaining in compliance with all local and federal transportation laws and regulations.

How Can You Get a Freight Forwarder License?
Your first step will be determining if you'll be required to obtain a department of transportation USDOT number. If you're operating as both a carrier and a forwarder, you'll need a USDOT number in addition to an Operating Authority (MC Number). If you won't be operating as a carrier, you'll only need Operating Authority and Freight Forwarder Authority (FF) for either household goods and freight or for forwarding of property.

You'll need to complete your freight forwarder application form, and include your FF authority application. You will also need to include personal and company information. You will also need to include your employer identification number (EIN) or social security number (SSN), a $300 filing fee, and your USDOT number (if applicable).

How Much Does a Freight Forwarder's License Cost?
Your $300 filing fee is a flat fee, but the $75,000 freight broker bond is a lot like a line of credit. You'll secure your bond with cash or collateral, and the cost of the freight broker bond is a percentage of the bond. The BMC-84 surety bond is commonly called a broker bond, but it applies to freight forwarders and functions in the same way. As the freight forwarder, it protects your employees, contractors, designees or process agents representing your operation in the event of a claim against you.

The bond is your way of assuring current and prospective clients that their interests will be protected. Your freight broker bond is a legal agreement between you, the FMCSA, and the surety bond company that you will comply with all federal and state regulations for freight forwarders. Your bond functions as a line of credit to protect your clients from out-of-pocket losses caused from negligence or malfeasance. They know that if a forwarder acts in a dishonest or fraudulent manner, they can always seek satisfaction by filing a claim against their bond. The surety company will then back the bond and provide compensation to claimants until their claim is resolved. Once the claim is settled and all of the claimants have been fully compensated, the freight forwarder or forwarding company must then repay the surety up to the full amount of the BMC-84 freight broker bond.

The bond cost and rate will be calculated by the surety company when you apply for your bond. The surety company will review a number of different factors in order to place a value on your creditworthiness and risk and determine your bond cost. These will include your personal credit score, assets and cash flow, and previous work history. You can currently expect to pay from 1.25% up to 12% of the total amount of your freight broker bond, which will be subject to current market conditions when you take it out.


Surety Bond Cost Calculator

Tell us where to send you your
FREE

estimate

SEND ME MY ESTIMATE!

We'll never share your information with third parties

Thank you

for your request!
The ballpark estimate on your premium is: $100 - $167
We've sent a copy of your estimate on your email as well.
Want an exact quote? Simply fill out our online application It's fast and 100% free!
Get a free exact quote
Get another estimate
How to Become a Freight Forwarder
You won't be able to operate as a freight forwarder until you have your BMC-84 bond and insurance. Once the FMCSA approves your application, you'll receive your FF number in your grant letter. You'll need the FF number for your freight broker bond and cargo insurance. Freight forwarders are required to maintain cargo insurance of $5,000 per vehicle and $10,000 per occurrence, and your insurance company must submit a BMC-34 cargo liability insurance endorsement to the FMCSA within 90 days of your application.

If you plan on operating any trucks or commercial motor vehicles (CMVs), you'll also need to submit public liability insurance (Form BMC-91 or BMC-91X) covering bodily injury, property damage, and environmental restoration. If you don't operate any CMVs, you will need to include a waiver with your application. You will also need to post your designation of process agent notice (form BOC-3). Process agents are your designees operating in each state, and your bond protects you and your company from your agents' malfeasance or dereliction of duty.

Once you have your $75,000 freight broker bond and FF number, you'll be officially authorized to operate as a freight forwarder. Obtaining your license is an important first step toward a successful career, and you owe it to yourself to take advantage of all the education and networking resources that you can. Freight forwarding is poised for a lot of future growth, and it is a great way to begin a great career in physical distribution and logistics.

---